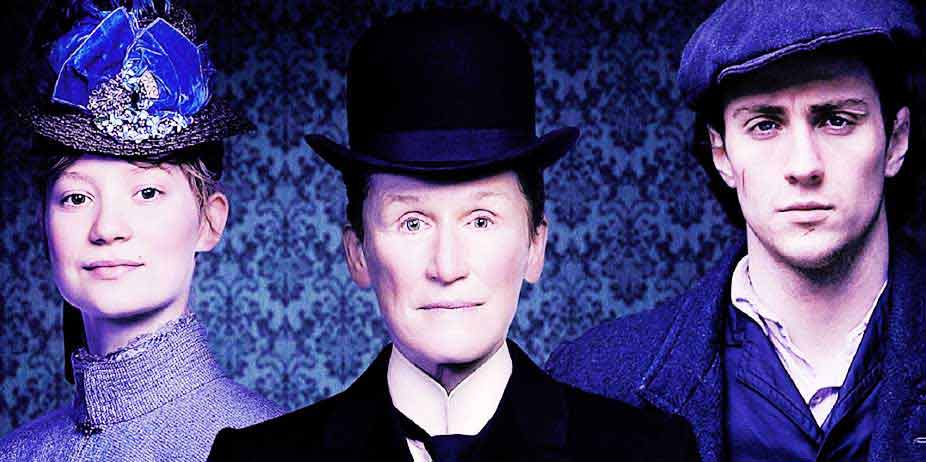 Albert Nobbs (2011)
It is rare that I find myself ambiguous about my feelings toward a film, but upon completing Albert Nobbs, I am not quite certain what to make of it other than that it is a story that takes chances.
Albert Nobbs (Glenn Close) is respected in the reputable boardinghouse where he serves as a butler. A man of few words who keeps much to himself, he is most distressed when it is learned that he must share his room for the night for a man hired to paint one of the rooms -- Hubert Page (Janet McTeer). In the midst of this awkward scene, a secret that he has kept from everyone in the house is found out -- he is in fact a she, living as a butler in a time when a woman cannot make it on her own in the world. At first, Albert is terrified that she will be found out, but then discovers something even more extraordinary -- her dreams of saving up enough to own a tobacco shop are within her reach. Mr. Page is living proof -- for he too has a secret, and it is no different from her own. But he has made a success of it, and even found a wife with which to make himself appear respectable.
Emboldened with a newfound faith that she will not have to go through life alone, Albert begins to shyly walk out with a housemaid, Helen (Mia Wasikowska), not realizing that Helen's interest in her is only for monetary purposes, at the behest of her new boyfriend (Aaron Johnson). The repercussions of these events will change all of their lives forever.
Controversial as the subject matter is, it is also uncertain in drawing its conclusions. Some audiences feel that Albert is not a homosexual but rather a woman who saw a chance to become someone else, someone who would never be preyed on in society, and clung to it, emerging out of an abusive past that made her more comfortable in a disguise. Others, particularly in the gay and lesbian communities, have embraced it as a film that reveals the emotional complexities of gender difficulties in a time when such things were unimaginable. We never get a sense if Albert's desire to have a "wife" and a life outside the boardinghouse goes beyond the desire for companionship, although the presentation of Mr. Page is far more flatly outlined: he/she is very much in love with his/her female partner and they share a complete married life that finds the wife objecting to his/her notice of other young ladies. Even so, it's hard to latch on emotionally to the film; it is awkward and uncomfortable at the best of times, with an engaging subplot and an unsatisfying conclusion. I'm not sure if it is the subject matter that made me uneasy or if there's simply something lacking in the screenplay, but whatever it was, it pales in contrast with the performances, which are rich and memorable in their own right.
I am not quite certain what to make of this film. It made me uncomfortable in certain ways that are inexpressible, possibly because it is so ambiguous as to Albert's sexuality. Women dressing up as men is nothing new to cinema or literature for that matter, but inevitably it winds up that they have fallen for a man and in the end their identity is revealed. That is not the case here and in spite of being beautifully filmed, with a delightful cast that includes cameos from the likes of Jonathan Rhys Myers and Maria Doyle Kennedy, the audience is left not knowing how they are meant to feel, other than in mourning for a life that was not lived to the fullest. Our heart goes out to Albert even as we worry about Helen, but wanting them to be together is difficult, primarily because Helen does not know the truth. Yet it is fear that comes across the most strongly in every frame -- fear of discovery, of being outed, of having to give up the facade. In one poignant scene, Albert dons a dress and walks out on the beach -- she winds up running, laughing, free in the wind, for once liberated from her disguise... and then returns once more to the dour suit of a butler.
Both eerie and disturbing in the smallest of ways, Albert Nobbs is a film I won't soon forget... nor one I care to revisit.
Sexual Content:
There are a few profanities. Nonsexual nudity is present on three occasions -- a brief flash of breasts coming out of a corset, followed by a scene in which Mr. Page reveals his/her breasts to Albert to reassure her that her secret is safe. There's side nudity of a man awakening after a drunken night; we are uncertain if his presence in another man's room implies anything beyond that they passed out. One early scene finds a man orally pleasing a woman under the covers; it's implied several people in the house are involved in intimate relationships outside of marriage, and a child is born out of wedlock. There is a reference to a woman having been gang-raped when she was very young. A woman passionately kisses another woman (that she believes is a man).
Language:
Among the casual conversations are a half dozen abuses of Jesus' name and as many f-words.
Violence:
Violence involves a scuffle between characters; one hits their head on the wall.
Other:
Cross-dressing.