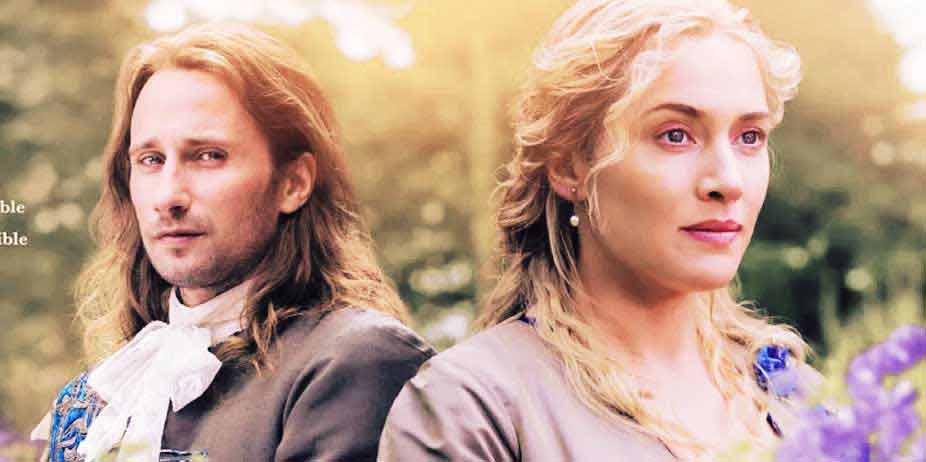 A Little Chaos (2014)
This beautifully filmed story is not based on any historical evidence, but rather a "what if?" scenario explaining why there is an outside ballroom at Versailles.
A fussy, romantic, and fastidious man, King Louis XVI (Alan Rickman) insists that the gardens in his beautiful summer palace be extended and given new life. It is a task he hands over to his talented landscape artist Andre (Matthias Schoenaerts), a self-contained and romantic soul who, according to his promiscuous wife (Helen McRory) "owes" his success to her political savvy endeavors to keep him the topic of conversation. Interested in the designs of other artists, Andre invites them to present their ideas to him and thus meets Sabine (Kate Winslet), a widow whose unusual and "chaotic" style intrigues him. Where Andre is fonder of straight lines, Sabine adds curves and allows nature to shape itself around her overall vision.
Though initially offended that her designs contradict all his own concepts of beauty, Andre assigns her the task of designing and building an outdoor ballroom. But the gentle, quiet, and innocent Sabine has stumbled into court politics, and soon must contend with jealous sabotage, while her own feelings for Andre slowly bloom, forcing her to deal with a deep wound in her past. The result is a beautifully filmed but slow-moving costume drama whose story is unusual but whose romance is not entirely convincing. A few lingering looks and kindnesses passing between two individuals does not make a powerful love story, and it often becomes secondary to the art itself. More interesting are the secondary characters and court intrigues, including a cameo by Jennifer Ehle as the king's mistress, a woman falling out of favor as the monarch loses interest in her. There are some truly wonderful moments, such as when Sabine mistakes the King for his own master gardener and strikes up a conversation with him, as he is mourning the death of his wife; but it felt slow at times.
The production design is exquisite and the cast is wonderful, though part of me is just delighted to see Kate and Alan together again on-screen, albeit momentarily. Putting aside the immorality of everyone involved, though it does hit all the right emotional notes (when we do find out why Sabine is so closed off, her story unravels and we see her for her true self at last), something is missing... a sense of intensity, of purpose, of passion. If a story wants to involve us in a romance, it needs to give us a reason to care, and the tepid tension between the leads does not convince. Even so, as an exploration of art in and of itself, in a period that is not often explored on-screen, it's really quite beautiful to look at.

Sexual Content:
One brief clothed sex scene in a carriage (movement); a woman asks to see another woman's breasts and then shows off her own; a long adulterous sex scene (undressing, movement, heavy breathing, etc). Mentions of mistresses and extramarital affairs.

Language:
None noted; maybe an occasional abuse of diety.

Violence:
A carriage accident results in death; a woman nearly drowns trying to close a water gate.

Other:
The primary romantic relationship is adulterous.