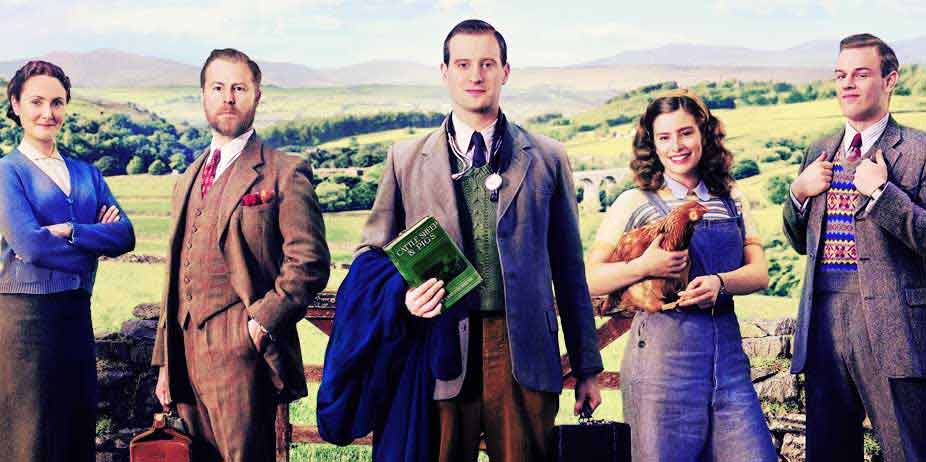 All Creatures Great & Small, Season 2 (2021)
All Creatures Great & Small arrived last year just when it was most needed -- when people wanted to curl up on Sunday nights and watch something pleasant, soothing, and vintage. Season two is now back with even more mild-mannered misadventures, romantic overtures, and adorable animal antics.
A few months after he has passed his exams, Tristan (Callum Woodhouse) still cannot understand why his brother continues to micro-manage him and stick him at home, or send him out with James (Nicholas Ralph) rather than letting him go out on his own. What he doesn't know is that Siegfried (Samuel West) told him he passed, when he failed one class -- so he is not a qualified vet, but his brother can't muster the courage to tell him. While one brother juggles that secret, and the other winds up horrified when the bird whose beak he is supposed to trim winds up dead, James still pines for Helen (Rachel Shenton) -- having left a rich man at the alter at Christmas, she hasn't shown her face again in town, much to his frustration. He also has a brand new job offer in Scotland, that temps him with the promise of sparkling clean surgeries and modern equipment, things the small country practice cannot afford.
James decides to bolster his courage and ask Helen to the dance, around the same time Tristan gets it into his head that his brother has lost his edge, after meekly giving in to a local farmer's demands for free consults because he accidentally left the man off his roster. Throughout the six episodes, the heart-warming and occasionally tear-inducing (this is based on the beloved book series by James Herriot, after all; and he can make you laugh and cry within six pages like no one else!) storylines involve a widow whose cows contract worms, an injured dog who howls half the day away (and whose owner would love to take the housekeeper, Mrs. Hall (Anna Madeley) out for a walk), Helen's awkward reintroduction to the townspeople, the return of her ex-fiancé from abroad, a contentious game of cricket between the poor folk and the nobility, and of course, many a visit to Tricky Woo, the most spoiled dog in the county. There's a little romance in the air, some drama, various misunderstandings, James having to borrow a pair of socks, and the usual antics between two brothers who love each other, but can't stand living in the same house together. And, of course, the overshadowing of a war no one knows is coming.
I won't lie to you; this is my favorite current series and it plagues me to no end that we only get six episodes a season (seven, including a Christmas Special). It's just not enough. The series is so delightful, the characters so fun and enjoyable to spend your time with, the storylines so charming and heart-warming, that so few episodes are frustrating, although I suppose I could argue that it makes each one even more special and something to savor, rather than binge-watching the entire thing in one go. The shortened season also means a few things get rushed, like Helen and James' courtship. We see them together, and they are splendid, but there's less of the will-or-won't that comes in the books. The cast is perfect, and all are true to form and consistent with themselves. Helen is 'bullheaded,' according to her father. James is too nice for his own good. Tristan always has a trick up his sleeve, and Siegfried can never apologize, even when he knows he's in the wrong. Then there's the real scene stealers -- the gorgeous bulls, cows, sheep, horses, and dogs that populate each episode in this charming throwback to a much gentler and simpler way of life. Stream it, watch it live, or buy it. You'll adore it, as I do.
Sexual Content
A woman says her dog is behaving "amorously" with the furniture; they discuss fixing him. Oblique references to his sexual desires throughout the episode, before she lets him off his leash (we see him happily running toward the dog of his desire at the end). Tristan and a girl are passionately kissing outside a dance.

Language:
One use of "godd*mn."

Violence:
A dog is hit by a car and killed (impact off-screen, no blood). Several surgeries in which we see a bit of blood and tissue; a vet invites a man to step closer and see a protrusion of the bowel, which explodes and splashes everyone with excrement. Some situations in which animals might die and dead animals, which may upset sensitive children. We see Siegfried put a box of "horse killer" in his car, but he doesn't need to use it. A bird abruptly dies while someone is holding it.
Other:
Lots and lots of social drinking, in which some characters appear intoxicated.