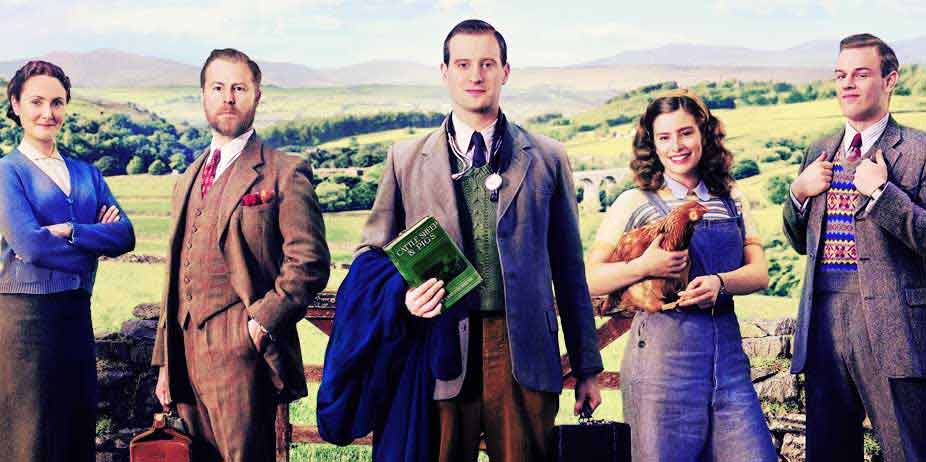 All Creatures Great and Small, Season Three (2023)
Loosely inspired by the beloved books of James Herriot, All Creatures Great and Small showcase more excellent escapades, a few tearjerker moments, and plenty of animals in the spring of 1939, but there's also a few bumps along the way… and a war looming.
James Herriot (Nicholas Ralph) is preparing for his wedding to the lovely but opinionated Helen (Rachel Shenton), much to the joy of everyone around them. His parents come in by bus from Scotland to attend the wedding, and he entrusts the ring to the enthusiastic, if somewhat irresponsible, Tristan (Callum Woodhouse), before their "bachelor's night out" in the pub. But James knocks a few too many pints back (one of them "by the yard") and winds up hung over and sleeping in a farmer's barn, because in his drunken state, he insisted upon examining the man's cows, which are feeling poorly. Though a bit knackered the next day, James assumes he can get his work done in plenty of time to get to the church.
Meanwhile, Helen's family frets over whether she might get cold feet, like she did with her last fiancé. Tristan's responsible older brother Siegfried (Samuel West) pinches the ring off him, but leaves it on the sideboard, and it gets eaten by one of his patients. There's nothing for it but wait for the hapless dog to barf it back up, with a little vet intervention, and hope they make it to the church on time! This season has seven episodes full of various antics, as Helen and James share a tiny bed-sit and navigate the complicated relationships in the house, Siegfried does his level best to protect James and Tristan from following in his footsteps in another great war (and relives some of his trauma from the front lines), and Mrs. Hall (Anna Madeley) tries to keep them all in line, speaking to each other, and even finds a little time to meet a train in the hopes of reconciling with her wayward son before his Navy ship sets sail.
And while there are some hilarious antics here (like a cat that leaves them all scratched up, and Tristan's short-lived career in housekeeping), there's a melancholy sadness over this season, owing to it being on the brink of another great war. The audience knows what they don't, which is that what lies ahead is one of the darkest periods in recent history, and that makes it hard not to feel sad for them all, as we see eager young men heading off to war. The other problem is… well, there's a lot of animal deaths this season, and I can't say I liked it, even if they were mostly implied and not shown. Was it really necessary for them to have to shoot a cow a few hours ahead of James' wedding? Elsewhere, they find out another cow has tuberculosis and pack it off to the butcher. The same thing happens in the final episode. A lonely woman loses three calves before the vets figure out what's going wrong with them. Even more disheartening, one episode expounds on what Siegfried told us in season one, about the military shooting all the war horses rather than bear the expense of bringing them home. Flash-backs of rescuing and befriending horses on the front, and then being told to kill them all, intersperse with his attempts to save a horse with PTSD in the present, under the threat of being "shot" if it doesn't cooperate. All of this plays out against Siegfried mourning a friend who committed suicide.
We find out in another episode the government encourages people to put down their pets if they cannot care for or feed them, and Siegfried says they must find a home for a dog, or he'll have to put it to sleep. Another girl finds out a sheep she loves has foot rot and—you guessed it, it might need "put down." The constant angst over killing animals put a pallor over the season for me as an animal lover, and to be honest, this may be the first season I don't add to my personal collection, for that reason—I found it less heartwarming and more sad and depressing. I would have liked them to spend less time shooting cows and doing TB testing and more time telling some of James Herriot's more eccentric stories. (What I would not give to see Tristan pretending to be the village ghost!) I watch this show to have a good time, not be haunted by the knowledge that they killed thousands of horses after the great war as a reward for their courage on the front.
There are fun and funny instances, however, including Tristan's impromptu courtship of a fellow vet's daughter (Siegfried snarls about him being "competition"), and the ongoing antics of the pampered pooch Trickie Woo. Tristan gets a moment of heroics when he saves a girl's dog from choking to death on a pebble, and grows up a bit. And the Christmas episode is truly heartwarming, with a tiny kitten, a Jewish girl staying among them, and a sweet resolution to many of the earlier season's unanswered arcs. For viewers less emotional and sensitive than me, this season has plenty to offer in the way of good, clean entertainment. I just found it a tad too sorrowful for my taste. It feels like I sat down for a slice of lemon cake and received a pork pie instead.

Sexual Content:
James and Helen kiss and fall back onto a bed; there are other scenes between them in which they kiss and feel disappointed not to spend more time together. Tristan courts a girl, but insists his intentions are "honorable."
Language:
Scattered uses of damn, hell, buggar, and bloody

Violence:
As mentioned in the review, instances and implications of animals being shot (gunshots heard, the butcher's truck driving away; we see a cow's corpse skinned and hanging in a bloody shed). A dog is hit by a car (off-screen) and has his leg popped back into place. A cat scratches everyone up real good (off-screen). A horse throws several riders.
Other:
Tristan, James, and Siegfried get drunk multiple times and it's played as funny.