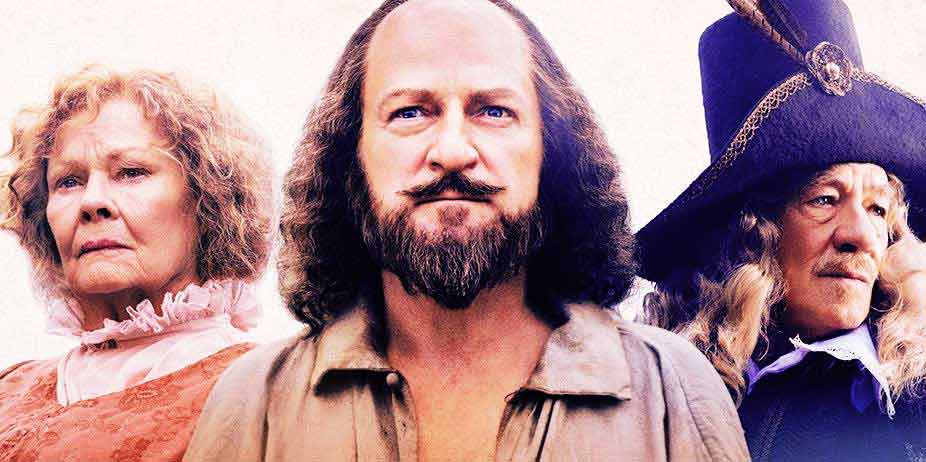 All is True (2018)
After along and lucrative career in performing cinematic Shakespeare productions, Kenneth Branagh takes a crack at portraying The Bard himself in the last few years of his life.
Tragedy has struck the life of William Shakespeare (Branagh). His prized theatre has caught fire midway through a performance and burned to the ground, leaving its disgruntled playwright financially strapped and forced to retire to the country. The man who has spent more time wielding a pen and writing sonnets than getting to know his ignorant wife, Anne (Judi Dench), returns to a frosty reception. Anne has not forgiven him some of those sonnets, which he wrote to other people, and they have for over a decade lived as relative strangers.
With one daughter unhappily married to a holier-than-thou Puritan, and the other refusing suitors altogether, Shakespeare must also cope with the loss of his beloved son, who inherited his genius. Often, the writer clutches the few scraps of paper his son sent him, upon which he inscribed memorable original sonnets, and mourns what might have been, had his son but lived. And into this confused yet idyllic existence wanders the truth, which upsets them all.
Performance-wise, the film is excellent. A host of talented actors, including Ian McKellen, turn in memorable performances, whether extensive or brief. The emotions when they surface through random fits of passion, the rage of unloved children, or the bitterness of a discontent wife, are raw and realistic. One quarrel is heart-wrenching, as it rubs the Bard raw in many different ways. The costumes are also delightful and, for the most part, period-accurate, though the women could do now and again with a few more hairpins. The score has a bit of cheek to it, and some of the dialogue is quite poetic.
And yet, the energy is not there and there are scenes that linger longer than they should in which very little happens. It flirts with dullness and I can honestly say that I'll never watch it again. Both because it did not leave me feeling fulfilled, and because it dragged on in places. But if you enjoy Shakespeare, are curious about the scandals that threatened to engulf his family toward the end of his life, and do not mind a large dose of speculation (almost none of it is based on solid facts beyond the basics), it's well worth a watch.
Sexual Content
A long conversation between two men reveals that Shakespeare as a younger man wrote poems and sonnets to this man, whom he considered beautiful and whom he desired, and references Christopher Marlowe's bisexual habits. A man flirts with a married woman, and their dialogue suggests they may have been intimate; she is accused of adultery since she is purchasing mercury (a cure for syphilis). An unmarried man and woman kiss and fall out of sight behind a counter (implied premarital sex); this man has impregnated a woman in the past, and refuses to marry her, insinuating that the girl has had many different lovers. Shakespeare married his wife when she was three months pregnant. A painting depicts a bare-breasted woman.

Language:
One f-word, common insults (bastard, bitch) and profanities ranging from "bloody" to damn; Jesus' name is used casually thrice.

Violence:
Nothing memorable.
Other:
The story treats Puritans as rigid, moralistic, and unkind; his daughter, married to one, is miserable and possibly adulterous. (Though his wife, Anne, has a lasting and unshakable faith.) The story implies a person committed suicide, and their family covered it up so he could enter into heaven by lying in sacred ground. Shakespeare lie and threatens someone to protect his daughter's reputation. A fair amount of social drinking.