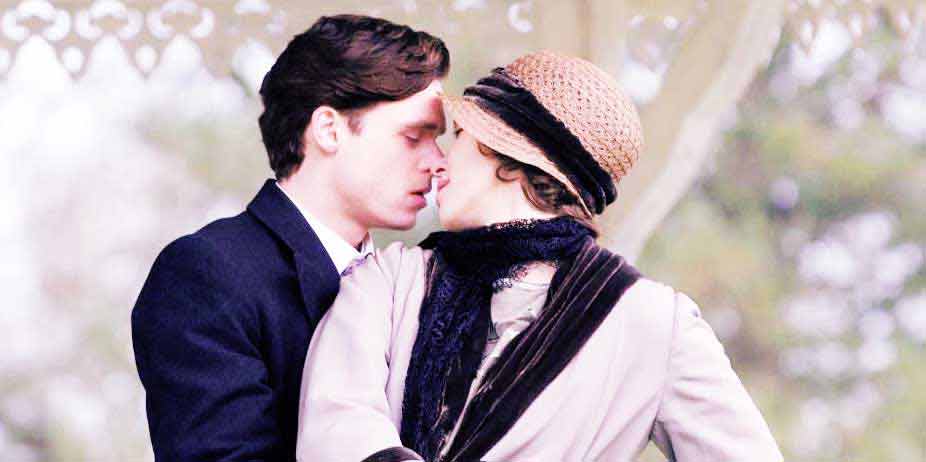 The Promise (2013)
The mark of a forgettable film is when the reviewer sits down to review it and cannot quite remember the details.
Germany is on the brink of war, but the businessmen of the nation are far more interested in profit than in patriotism. Karl (Alan Rickman) hires an ambitious young man as his secretary and soon discovers that Friedrich (Richard Madden) has a keen eye for money-making schemes. He encourages him to invest in mines overseas and gradually becomes such a favorite that Karl invites him into his home.
Once there, Friedrich finds he has much in common with Karl's beautiful young wife Lotte (Rebecca Hall). Though she loves her husband, it is not a match of the heart so much as one of convenience. Lotte does not want to betray her husband, but nor can she halt her affections for his assistant, and their romantic chemistry comes to bloom without attracting much notice. Friedrich is dispatched to America to check the mines, and begs Lotte either to come with him or become his lover. She refuses, but also makes him a promise... that the war may not enable her to keep.
Romances are the bread and butter of period dramas, but if the balance is off, they turn out like an over-toasted crumpet or an under-cooked raspberry tart. Though this film has everything going for it in terms of a decent script and sumptuous costumes, the lack of chemistry between the leads kills it. There is no attraction between these two, which means the sexual chemistry is nonexistent. A tepid script that spends too much time on business details does not help, nor does the weird cutting and transitions. The R-rating comes from a pointless scene of lust between Friedrich and his laundry lady. Events unfold in a fairly predictable format, leading up to an ending intended to be emotional but that instead seems stoic and repressed. The music is forgettable, but the costumes are lovely.
For whatever reason, this film did not hold my interest, invest me emotionally in anything that was going on, and only made me feel sorry for her husband. Rickman is the only spark of energy in an otherwise dull story. It's rare to find a heroine resisting a lover in order to remain faithful to her husband... but despite her faithful church attendance, Lotte clearly has no truly moral reason for this, because she makes a promise that if circumstances had not changed, would have still led her into adultery, which makes her decision to remain faithful to him in the first place rather unusual and unexplained. It's merely to reinforce the "separated lovers" aspect of the plot, and force the audience to hang in there long enough to see if their affections will survive prolonged absences of contact. And even then, the ending payoff is not passionate. It's just listless.

Sexual Content:
A prolonged, clothed sex scene (movement, noise).

Language:
None.

Violence:
A man suffers from heart problems.

Other:
None.