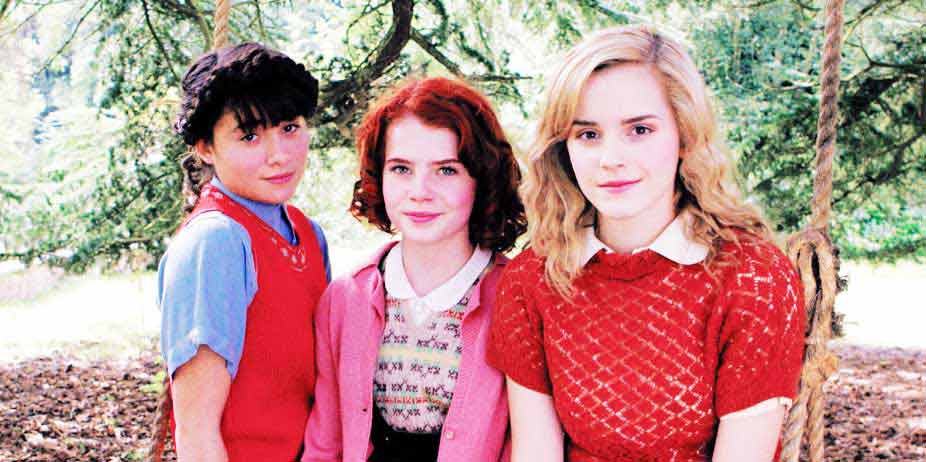 Ballet Shoes (2007)
I had never heard of author Noel Streatfield until Meg Ryan's character in the film You've Got Mail mentioned her by name as one of her favorite children's authors. This recent adaptation by the BBC of her most famous book is beautiful and simplistic but also contains mildly offensive overtones that conservative audiences might find overly progressive and distracting.
There is no room in the house for an orphan. Or so Uncle Matthew states when a young girl is brought to his home under the knowledge that he is her only living relative, but it's not long before he starts bringing other orphans home. Sylvia (Emilia Fox) paves the way for Pauline, Petrova, and Posy, all of whom come from vastly different backgrounds and as they grow older, have varying ambitions. Pauline (Emma Watson) desires to be an actress but has no notion of how she might get there. Petrova (Yasmin Paige) dreams of being an aviator, and redheaded little Posy (Lucy Boynton) wants nothing more than to be a dancer like her mother, who abandoned her in her infancy to pursue a career upon the stage. Uncle Matthew has been gone on one of his endless expeditions for twelve years, and finances have grown tight.
Forced into taking action before they lose the house to bankers, Sylvia lends out the rooms to different borders. There is the compassionate Mr. Simpson (Marc Warren), the two literary professors, and the fast-footed Theo (Lucy Cohu), who finds that all three girls possess natural talent for dancing and persuades Sylvia to enroll them in Madame Fidolia's School of Dance. The Madame (Eileen Atkins) takes an immediate interest in Posy and selects her for private training as a ballerina, while Pauline becomes quite popular on the stage, and Petrova longs to cast her dancing shoes aside and pursue her dreams. One might suspect that this film and the book on which it was based would turn out to be preoccupied with childish problems, but that is certainly not the case. The financial difficulties the family faces and the fame that accompanies their successes are certainly adult problems that the girls deal with through varying amounts of maturity and inexperience.
Pauline changes the most as she learns humility through her mistakes, and Watson seems almost more at ease in Pauline than she does as Hermione; her performance is much more relaxed and it was pleasant to see a different side to her acting abilities. The supporting cast are also quite good and even memorable, but it was Atkins who really took me by surprise, stepping out of her customary grandmotherly role to play the impassioned and often eccentric Madame. Each of the girls are very different from one another and yet love and care for each other to the point of giving up things for another's happiness. In that sense there were a lot of valuable lessons involved about growing up, making personal sacrifices, and learning to become at ease with who you are.
Sexual Content:
Two of the girls share the bathtub to conserve water, and are seen from the shoulders up. There are a couple of mild profanities. Polly likes to tease the other girls about growing out of their gowns "around the bust," and is often told to be quiet about it. In the book, the professors are friends at best and rent separate rooms, whereas in the film they are clearly depicted as a lesbian couple, with one feminine half and the other assuming a more masculine apparel through the use of a spyglass, trousers, and intentionally raspy voice.
Language:
None.
Violence:
None.
Other:
None.