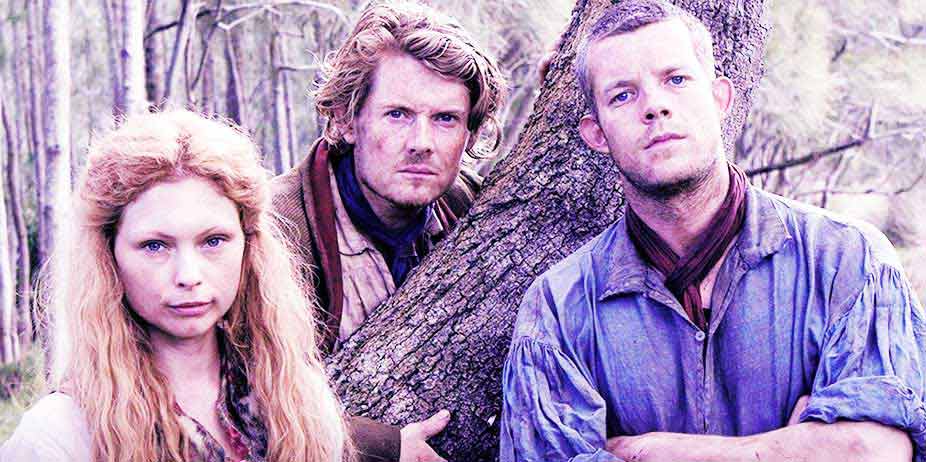 Banished (2015)
If this series has one underlining theme, it is compromise... bodily compromises, emotional compromises, moral compromises. It challenges the complexities of hardship and sacrifice, self-preservation and courage, in a story as maddening as it is harrowing.
Cast upon the shores of New South Wales, a group of convicts struggle to maintain their independence and friendships amid rationing shortages and difficult work conditions. Pleasures are hard to come by, but Tommy Barrett (Julian Rhind-Tutt) has found it in the arms of Elizabeth Quinn (MyAnna Buring). When they catch her in the male quarters, she refuses to relinquish the name of her lover, knowing he will hang for it, and forces their best friend, James Freeman (Russell Tovey), to hold him back from retaliation when they flog her for disobedience.
When Tommy's fiery temper gets the better of him, their "separate or die" relationship falls into the hands of the well-meaning Reverend Johnson (Ewen Bremner), who devises a way to keep Tommy alive after the governor (David Wenham) insists the pastor hang the man personally. This flies in the face of the advice of the brutal Major Ross (Joseph Millson), who finds a distraction in the fair-faced Kitty (Joanna Vanderham). Surprised to learn her soldier shares her with no one, he makes them an offer neither can refuse, setting in motion a series of events that lead toward certain disaster.
When the first episode asserted the unpleasant, sordid truth of the penal colony (the forced rape of its female populace), I wasn't sure I wanted to continue watching it, but I'm glad I did. The series is actually quite good -- thought provoking, with many twists and turns, a sense of completion in its primary arc, and the natural consequences of its main characters' decisions all come back to haunt them. I often started out with one opinion of an individual, only to have that change with additional scenes that hinted at their deeper motivations. It completely engaged my emotions at all times, making me proud, frustrated, angry, and relieved in equal measure. And, even though the show does deal with mass government-sanctioned rapes, it does so without being explicit or abusing its actresses -- there are no rape scenes. And, there's enough villainy to go around -- rational villainy. The series even treats its reverend with respect, allowing him to be pious, compassionate, and moral without being rigid. He's human, and never the villain, which is a nice departure from the norm.
There are flaws within the narrative (the all-white cast and ignoring of the aboriginal roots of the story), the costumes are rather meh, and there's an excessive lack of available hairpins for these convict-maidens. The story can be brutal and heart-wrenching, with scenes of torture, cruelty, and callous disregard for life. But, I appreciated the nuances of its characters, the slow reveal of back stories, the beauty of the ambiguous ending, and the many thoughts it left in my head. Many times, entertainment is just there to divert us for six hours. This made me think. It's a respectful look at the harsh realities of the penal colonies, without passing judgment on its participants.
Sexual Content:
Three consensual sex scenes (movement, sounds); TONS of discussion about having a woman, sharing women among the men (all the women at camp are forced into sexual relationships with multiple soldiers), trading sexual favors for food, etc; a major plot revolves around a man forcing himself on a young woman (lots of talk of her coming to his tent, spending time there; him telling her to undress, etc), then enticing her into a romantic relationship; a woman asks her husband to "make love to her" many times; lots of references to making love, laying with women, etc.

Language:
F-words. Sh*t. Sexual slang (shagging, whore, wank, etc). Profanities. Telling people to "go to hell."

Violence:
Men beat one another bloody. A hanging. A man is shot in the face and lies choking, sputtering up blood, on the ground for several minutes, until they shoot him again. A woman is manhandled and threatened with rape. A man is graphically strangled; a man is beaten over the head with a shovel and sliced in the face (off screen). A man tortures another man by forcing his head into a bucket of water until he confesses. A man puts a gun to his own head. We see a bloated body several times.
Other:
A woman conducts séances and communes with the dead; she entices a pastor's wife into contacting her deceased children.