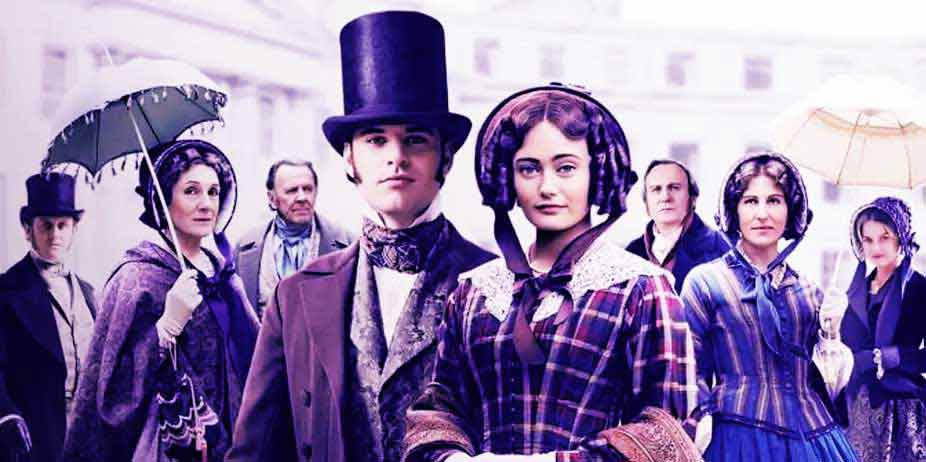 Belgravia (2020)
On the eve of the Battle of Waterloo, a group of young lords and ladies gather in an esteemed ballroom for one last hurrah before the noble gents ride off to defeat Napoleon. Among them is the tradesman James Trenchard (Philip Glenister) and his cheerful but cautious wife, Anne (Tamsin Greig). Their daughter Sophia has caught the eye of an upper-crust gentleman, a flirtation her mother fears may end in disaster. Sure enough, her handsome suitor perishes in the battle and leaves Sophia pregnant outside of marriage. Rather than face a scandal, her mother whisks her away to Scotland to have the child.
Twenty years later, Anne encounters the young man's mother, Caroline (Harriet Walter), at a new teahouse in Belgravia Square. The two strike up a conversation. Anne, unable to tolerate the sadness of Caroline believing her family line will end with the death of herself and her husband, wants to confide in her that she has a grandson. But her husband fears the calamity that may fall upon their daughter's reputation as a result. Nonetheless, Anne takes matters into her own hands... and changes one young man's prospects forever, as well as uncovers a surprise that will impact all of them. In the meantime, her daughter-in-law (Alice Eve) conducts an illicit affair beneath her husband's nose with unfortunate consequences.
Those familiar with Julian Fellowes' better known works, namely Downton Abbey, know what to expect from Belgravia, a lavish big-screen adaptation of his novel by the same name. The scandals are small but shocking for the time. The family is tight-knit. Secrets threaten to tear them apart. It's a well-acted and sublimely costumed affair, but the side characters are never more than caricatures (all the action revolves around one young man, but he never leaves much of an impression). The series belongs to Walter and Greig, whose grandmothers are a formidable, scheming, and downright cunning presence -- a pure joy to watch, whether they are foils for or against each other. There are some missteps, mainly that Alice Eve seems too modern in her appearance for a period piece, and it can be a little dull in the middle, but it's a clean, soapy drama that doesn't mind dabbling in some serious matters of the early Victorian era. It also wraps itself up into a neat, tidy bow at the end.
Though it may not thrill those with short attention spans, Belgravia offers a momentary return to an almost-clean costume drama (there are implications of an affair) in which I heard nary a bad word. In our modern age of excess in everything, it's a welcome reprieve and a return to a more innocent, decadent era.
Sexual Content
A woman has a sexual affair outside her marriage; we see her bare back as she gets out of bed. She dresses and undresses (no nudity) several times. Angst revolves around an unmarried mother, who was fooled into a fake marriage in order to get her into bed. Conversations revolve around bastard children.

Language:
Mild profanities.

Violence:
None.
Other:
Schemes unfolds, blackmail happens, and lies are told.