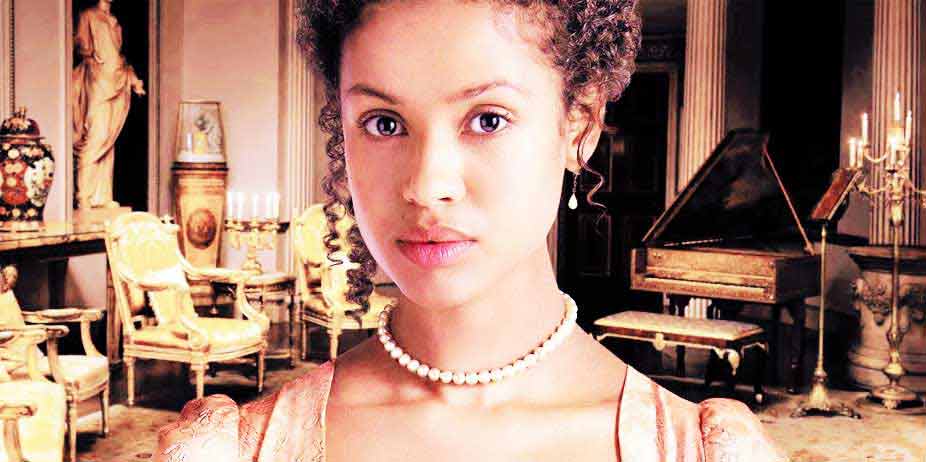 Belle (2014)

Imagine living a life in-between worlds, where you are not good enough to eat dinner with the family but still a cut above the servants. You have chocolate-brown skin, which makes you unsuitable to marry most of the "fine gentlemen" in London society, but you are one of the wealthiest heiresses in England.
This is the plight of young Dido (Gugu Mbatha-Raw), a child of Jamaican-English descent whose aristocratic father brings her back home to England after the death of her mother. His parents (Emily Watson, Tom Wilkinson) are scandalized but soon come to love Dido and treat her well... yet still hold to social limitations and expectations. She cannot dine with guests, but she may speak with them in the drawing room. Like her cousin Elizabeth (Sarah Gadon), Dido dreams of a good marriage... but where Elizabeth has the porcelain skin, Dido has the finances.
Eager to get their hands on the family fortune, the Ashfords introduce their two sons to the young ladies. James (Tom Felton) has a condescending attitude toward Dido as little better than a servant, but his younger brother Oliver (James Norton) is enchanted. Meanwhile, Dido's grandfather undertakes the education of an aspiring young lawyer who hopes to change the system from the inside out. A vicar's son, John (Sam Reid) is a passionate advocate for the rights of all man as part of the abolitionist movement. Through their tempestuous relationship, which starts off on the wrong foot, Dido comes to learn the facts surrounding an important case currently before her grandfather's judicial seat, one whose outcome will change the face of history forever.
This film has all the right elements: beautiful costumes, a lovely cast, and a rich historical backdrop. Its leading characters are all based on actual historical figures. It quite easily captures the imagination and invests the audience in this young woman's story; a girl unafraid to stand on her convictions but also unsure of where she belongs. In all aspects, it's quite well done yet, while there is nothing "wrong" with it, for whatever reason it didn't hold onto my attention as much as I wanted. The story has a beautiful transition at the beginning, but it is also abrupt and feels incomplete. One moment, Dido is a child who won't say a word and the next she is a grown woman not afraid to argue, put others in their place, and disagree with her cousin if need be. The character arc is incomplete and worsened by the fact that the script never informs us of exactly when her heart engages with John. It feels like most of the true romance transpires outside our notice, since the film is unsure of what it wants to be -- a historical epic focusing on the slave trade, or a romantic drama.
Unfortunately, while it tells a unique story there are no unique messages to go with it; these are moral arguments we have heard before, and secondary characters we have met many times in other films. (Tom Felton is sadly subjected to playing a Georgian Draco Malcoy, complete with the sneer and condescending tone.) That isn't to say it's not worth seeing, or a beautiful experience, but it left me a tad unimpressed in a way independent films rarely do. It feels like it is trying to tell a large story without attending to minor details, but it is in those smaller details that true romance is born.

Sexual Content:
Conversation about bedding "negro" women for fun and finding a proper white wife; a man touches a woman against her will; a character is called "illegitimate."

Language:
One or two mild profanities.

Violence:
A man shoves a woman. Conversation revolves around drowning slaves for the insurance fees.

Other:
None.