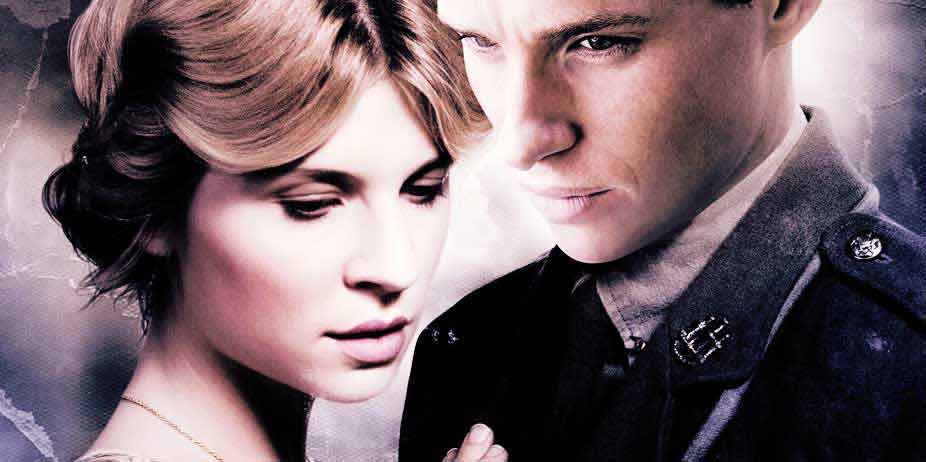 Birdsong (2012)
England is at war, and Stephen Wraysford (Eddie Redmayne) is on the front lines. In command of a group of enterprising young men digging tunnels in order to get nearer foreign forces, Stephen spends most of his time above ground... until a superior officer (Matthew Goode) tells him to take to the tunnels. His timing could not be worse. Gunfire penetrates the underground shaft, leaving him badly wounded...
But conscious to remember a much happier time... when he was employed at a textile factory in France. His employer is the wealthy, older René Azaire but it is his lovely young wife Isabelle (Clémence Poésy) who most attracts Stephen's attention. Quiet and self-contained, she can often be heard weeping at night. Her stepdaughter is not much younger than she is, and is romantically interested in Stephen... but he has eyes only for the beautiful young woman who suffers so much in silence. As their affair unfolds and carries them both into desperate times, the audience travels back and forth between earlier simplicity and later turmoil during wartime. Many films employ this tactic but few accomplish it with as gentle of grace as Birdsong.
Though I have not read the book, I understand that certain things, including the style of the narrative, have been changed. Fans debate heatedly over whether or not the cast is appropriate... I found them a lovely couple to watch with natural chemistry that sparks through lingering glances more than passionate love scenes. One could argue that some of these glances are too long, that eyes meeting over dinner or on the river with music dramatically swelling in the background can at times be a bit dull... and yes, it is true that it prolongs things considerably. The photography is glorious and the costuming exquisite. Too bad it misses the point of the novel, by making it seem as if they are in love. The book is about lust. The miniseries transforms it into forbidden love. There is a distinction between the two.
From a purely entertainment perspective, the first episode is terrific, and the second is considerably less so, in part because the wartime scenes are tedious and the abrupt nature of how the relationship ends is emotionally unsatisfying (we learn later the reason for her flight, but there is little build-up). Much of the last hour is downright depressing as we watch his friends die in battle, some of them brutally. The film gets bland in the second half; Stephen cannot carry the story on his own without Isabelle, and she is absent for the most part in the last hour and a half. It needed a stronger narrative style to go with its beautiful costumes and exquisite period setting. But perhaps the most troubling is that neither character learns anything from their misbehavior or feels remorse for their actions. For me, that left the story feeling empty since when stripped of any redeeming value or moral messages, any adulterous love affair just becomes a story of extreme selfishness, a skeleton of what love could be, built around the bones of immorality.
Sexual Content:
American audiences are spared some of the more graphic scenes (but not all of them) that the British public viewed. In the original are graphic scenes of sexual intercourse that raised eyebrows, including oral sex, and a topless leading lady. PBS trimmed that but treated us to clothed sex scenes (with movement) on two occasions. Stephen takes a friend to a prostitute, who tells him to "finish it." He disrobes the woman (bare back, bare side, partial upper nudity), straddles her, and threatens her with a knife.
Language:
There's at least one f-word, a couple of abuses of Jesus' name, and scattered profanities.
Violence:
When a bomb goes off, Stephen clutches the hand of a man whose insides have been blown out and comforts him until he dies. The camera lingers on his ribs wrenched apart and the gaping, bloody mess of his lungs, heart and stomach. Other characters are blown up, shot (one in the head), and crushed.
Other:
None.