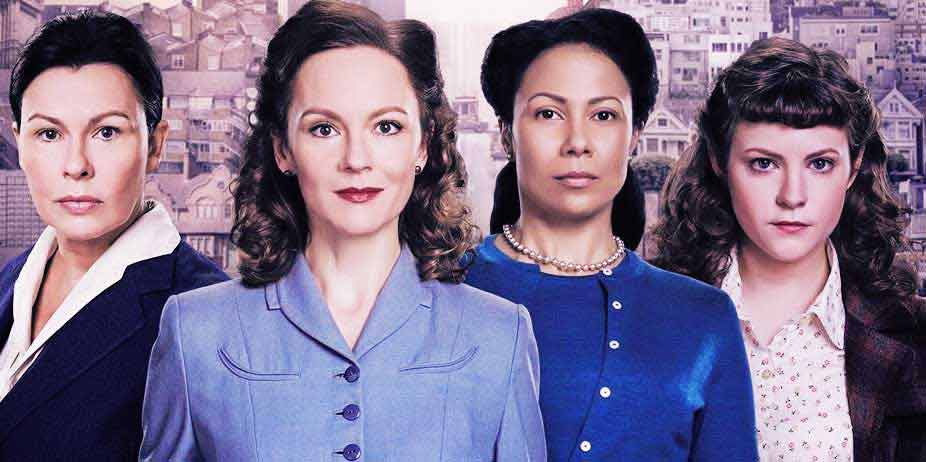 The Bletchley Circle, Season Two (2013)
Reviewer: Rissi C.

When ITV finally aired season one of The Bletchley Circle, news of a possible second was already circulating thanks to its fabulous ratings. Fortunately, for fans, that day has arrived.

Code breaking during the war was one of the jobs that Jean (Julie Graham) at Bletchley Park. When she sees newspaper reports accusing a former colleague, Alice Merren (Hattie Morahan), of murdering someone, Jean remembers having met both of them and becomes suspicious of the allegations. After speaking with Alice, Jean believes she's innocent, which sends her to recruit her former Bletchley friends to help solve the crime -- including Millie (Rachel Stirling) who now works in a translation position and Lucy (Sophie Rundle), a Scotland Yard secretary who has to be careful to conceal her ability to commit to memory anything she reads.
Then there is Susan. Still suffering repercussions of being kidnapped by a serial killer, Susan (Anna Maxwell Martin) is in no hurry to jump back to sleuthing – especially with her role as a wife and mother. With a bit of nudging from her friends, she reluctantly sets about helping to string together the clues that will prove Alice's innocence – or guilt.

This four-part series is different than the first. Not only its format but its attitudes are altered – primarily with a different mindset for its top-billed character, Susan. She was one of my favorites so watching her timidity was heartbreaking while at the same time I understood her reservations and respected, accepted and understood the importance of her decision in the end. There are two two-part stories this time, which I suspect was the best format to better suit wrapping up one character thread and closes its doors to one of the major issues in the first installments.

Most wartime dramas deal with either the emotional aftermath of the war or what happened on the battlefield; it's nice to see a series that takes a fresh approach to the aftermath of the war. I love how these stories set up and are eventually solved – the women use their minds to piece together clues, which means it's more about friendship than romantic entanglements. Fans who saw the first series will smile over the sweet friendship between Lucy and her boss – and it's made ever more cute for those of us who know what Lucy's past is like, to see the sweet girl she is return is ever so rewarding.

Beyond the characters (who are all unique and compelling respectively), I love the setting, costumes and mysteries. This season seemed a little "easier" than its debut because of its tamer start though nonetheless is still immensely entertaining. From red lipstick to old model automobiles, everything about it is done to perfection when it comes to transporting the viewers to the past. The scripts weren't quite as mysterious this go-round though the first two-parter does take some interesting turns. Later on, we dive into the world of illegal goods and it takes a sinister turn. Fans who don't mind "grittier" drama should look into The Bletchley Circle. Its sensational cast and good writing leaves any viewer anxious for more. By the end, there is some resolution but also a few lingering questions as a lead-in to future installments. Or that's what this girl hopes, anyway.

Sexual Content:
There are implications that a woman is selling young immigrants into the sex trade, we see girls coming out of rooms buttoning their blouses and watch a sell in which a young girl is clothed in nothing but a slip while the men visually "inspect" her. Millie is held against a van once as a man's hands roam over her body and up her leg. Another woman has a child out of wedlock.

Language:
Mild British slang and profanity.
Violence:
Several scenes show men with chemical burns over their chests, faces, and arms.
Other:
None.