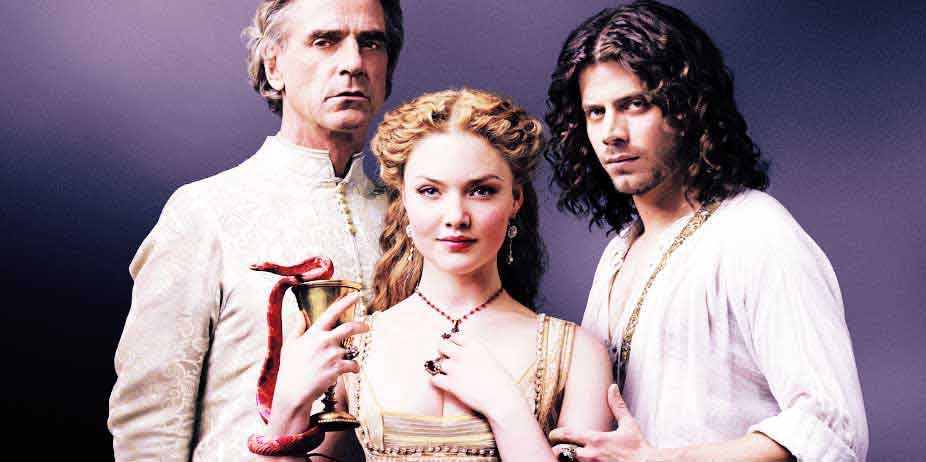 The Borgias, Season 2 (2012)
The infamous Borgia family from the Renaissance period are said to have been the inspiration for Mario Puzo's best-selling novel, The Godfather. Watching Showtime's series, it's not difficult to see the reason why.
With most of his enemies dead or under threat, Pope Rodrigo Borgia (Jeremy Irons) seeks to ensure the approval of the people of Rome and celebrate his success at being the most powerful man in Rome. Inspired by the joy given to him by newly discovered paintings in the ruins of an ancient castle, he proposes that a celebration be thrown not for the nobles but also the commoners. His enthusiasm is shared neither by the Vatican cardinals, who worry at the cost of such a venture, nor by his children. The passionate soldier Juan (David Oakes) is involved in a bitter feud with his cardinal-brother, Cesare (François Arnaud), while their sister Lucrezia (Holliday Grainger) mourns the absence of her lover, the father of her illegitimate child.
The Pope's mistress, Giulia (Lotte Verbeek), is concerned that his eye may stray to other young women, and plots how she might hold his interest. Meanwhile, the King of France is dissatisfied with the Pope's gift of Naples and turns his attention on assaulting Rome, with the assistance of other Borgia enemies.
While very problematic in terms of content, there's something fascinating about this family. It professes loyalty to itself but as Lucrezia and Juan prove, even loyalty can be undone in favor of vengeance. Lucrezia has grown as formidable (and lethal) as her brothers. She's no longer the "innocent" younger sister but fully capable of avenging herself. Yet, she maintains her sweetness. Somehow, the series manages the almost impossible: in spite of his vile behavior, we still find ourselves fond of Rodrigo. His sons, not so much. Juan in particular is horrible. The series is magnificent in some respects, and falters in others. Sometimes the plot slows to a crawl. Other times, we're left trying to remember which priest we are dealing with. There are the usual romantic entanglements, accompanied with political maneuvering.
History is nonexistent for the most part; the first season tried to remain true to known facts but this season fiction takes hold. The entire cast is wonderful but Jeremy Irons turns in an incredible performance, particularly in the season finale as he deals with multiple grief (one son's death, another's betrayal) and an assassination attempt. There are sweet moments and violent ones, instances in which we love the characters and hate them. It's impossible to recommend due to its insistence on nudity and sexual content (some episodes have little or none, but most have enough) which is a shame, because it's a talented cast working with an intelligent script.
Sexual Content:
All but two episodes feature either nudity or graphic sexual content, sometimes both. This season introduces homosexual scenes as well (three kisses, one sex scene). A woman kissing another woman leads to an implication of a threesome (one woman slips out of bed the next morning). A man forces himself on a woman.
Language:
5 f-words, mild profanities.
Violence:
Men are hanged, stabbed, poisoned, and tortured for information. Heads are lopped off, arrows shot into eyes, and fingers are cut off (blood spurts). Men and women are burned at the stake for heresy.
Other:
The Pope conducts affairs with unmarried and married women; his sons show little hesitance in doing the same. He makes heretical statements on occasion (such as a threesome having been "a holy trinity in his dreams").