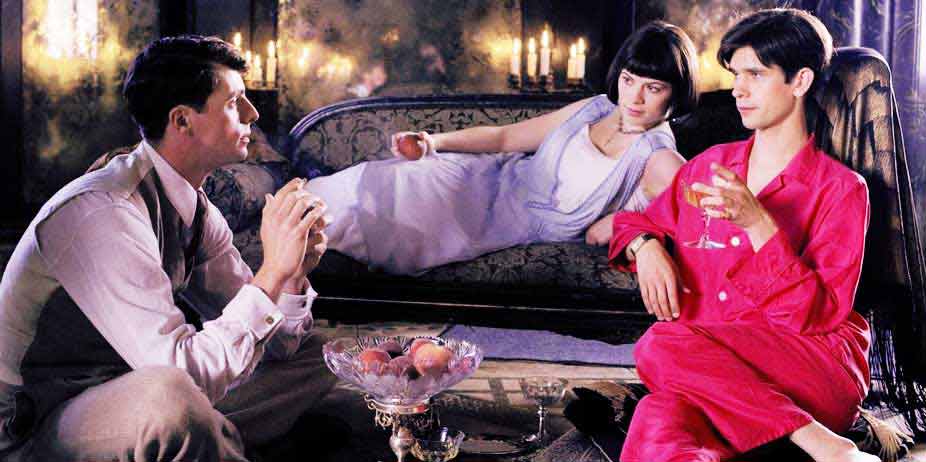 Brideshead Revisited (2008)
Audiences are divided when it comes to this adaptation of the novel by Evelyn Waugh. I can understand why, as in some respects it diminishes the true themes of the book but in others remains very faithful to the source material. Most fans of the novel are also fans of the original miniseries, but that proved a bit long for my taste. While this film has moments in which it drags as well, it also leaves the audience with a lot to consider.
Abandoning his home and less than congenial father for a full-fledged education at the prestigious college of Oxford, young Charles Ryder (Matthew Goode) never anticipates the unusual friendship that will be formed in his first several days in residence. Having obtained first-floor rooms and being warned that all sorts of people are likely to take advantage of them, he has an unhappy mishap when his first evening there a drunk Sebastian Flyte (Ben Whishaw) vomits through the window. The following morning, an invitation to dine with the apologetic boy is delivered -- and an unusual friendship begins that blossoms into long drives in the country and occasional shared confidences, wine tasting, and dinner parties. Over the summer, Charles is introduced to Sebastian's sister Julia (Haley Atwell) at Brideshead, the family estate. Julia is accustomed to her brother's eccentricities, but their mother Lady Marchmain (Emma Thompson) is not impressed.
She is determined to "save" her son but only succeeds in pushing him further into a self-loathing alcoholic lifestyle. The events that follow over a number of years reveal the darker secrets of the house and the struggle of her children to come to terms with their faith. The screenplay is very close to the source material, right down to certain conversations and patches of dialogue. Where audiences start to divide in their opinion of the film all comes down to its religious subtext or lack thereof. The book is a semi autobiographical account that parallels the author's own life and ultimate conversion. This adaptation may or may not offend you depending on how you look at it. Catholicism is prevalent and has various depictions based on individual characters. Lady Marchmain is an unforgiving force who constantly attempts to strong-arm her son into becoming a different person than he is (namely, she dissuades his effeminate inclinations). The unfortunate consequence of this is that he is left sexually-confused and guilt-ridden (much later Sebastian informs Charles he has been searching for a love all his life that only God could give him) due to his homosexual tendencies.
In the book, these characteristics are ambiguous but the film makes it apparent Sebastian is gay in inclination if not in practice. "Romantic" friendships were common in the period and did not always progressed to sexual affection, but were rather a deep, intense same-sex bond -- so you may choose to think of their friendship what you will. Julia commits adultery before repenting and changing, for she desires a deep relationship with God. Another character who expresses anti-religious sentiments throughout the film on his deathbed makes the sign of a cross, indicating his last-minute conversion or return to his former faith. The book was written in the defense of Christianity and the film has tried to conceal its true themes but they remain so poignant and prevalent to the plot that many of them slip through. The ending establishes that through his experiences, Charles has gained a respect for faith.
Brideshead Revisited will change your life but will haunt you. Some might consider it a story of transition and repentance where others might find its references and depiction of faith offensive. I cannot speak for anyone other than myself, but in my estimation it is an overly-maligned adaptation of a book that seems to be no more than a collective gathering of fragmented lives but in reality is a harsh look at religion vs. individual faith, and the consequences of our decisions. I don't know that I would recommend it to everyone, but I do know I am not likely soon to forget it.
Sexual Content:
There are four or five instances of backside nudity (the boys go skinny dipping, we see Sebastian climbing out of a tub, and Charles paints a nude model) and a rather long, fairly graphic clothed sex scene. Sebastian's alternative lifestyle is never explicit but hinted at through two kisses (one in greeting a flamboyantly gay friend, another when drunk with Charles). Adultery is present both in the main storyline and a subplot in which we learn Sebastian's father now lives with his mistress.
Language:
None.
Violence:
None.
Other:
Anti-religious themes.