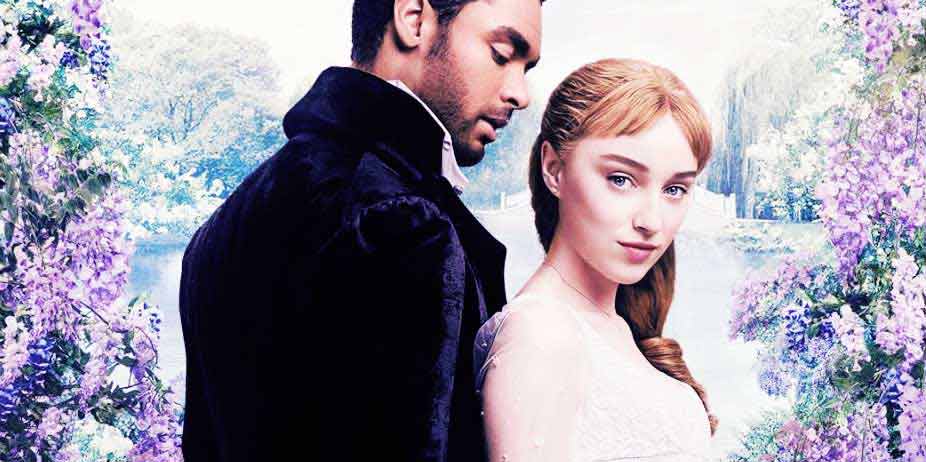 Bridgerton, Season One (2020)
Less Jane Austen and more steamy romance novel, Bridgerton offers up a salaciously gossipy and gorgeously costumed period drama that you may not want to watch with your mother.

It's that time of year again, when a gaggle of hopeful mothers drags their debutante daughters out for "the season." At the head of the pack of hopeful husband hunters is Daphne Bridgerton (Phoebe Dynevor), a pretty but mild-mannered girl whom her mother hopes might catch a good match. But her overbearing and pretentious snob of a brother, Anthony (Jonathan Bailey), is determined to chase away any suitor "not quite good enough" for his sister and soon thins the pack so much, Daphne despairs of anyone paying her a call after the latest ball. While all of London's eligible female society has set their sights upon Simon (Rege-Jean Page), a marriageable duke fresh into his sizable inheritance, Daphne does not find him impressive.

Simon soon tires of the endless appeals for his attention, and the persistent encouragement of Lady Danbury (Adjoa Andoh), his childhood mentor and adult friend, to settle down with a nice girl, despite his reputation as a societal rake. He concocts a scheme that will suit both him and Daphne quite well—they shall pretend to fall in love. This will make other men pursue her, since anyone good enough for a duke is worth chasing, and he can refuse to dance with anyone else. The plan works. Or does it?

A fresh scandal sheet has caused a ruckus among high society. Its anonymous author takes various families 'to task,' both manipulating the rise and fall of the young debutantes; taunting the queen for her choice of favorites in one column and probing at dark secrets in the next. Daphne's intrepid younger sister Eloise (Claudia Jessie) has decided to ascertain just who the writer is, if it's the last thing she does. She tries to enlist her best friend Penelope (Nicola Coughlan), but that's the last thing the poor girl cares about, since a new member of their household (Ruby Barker) has caused a fuss by stealing all the attention for herself. This will never do!

Based on a set of steamy Regency romance novels that many critics call "Jane Austen with sex," Bridgerton has exquisite costumes and interiors, an "alternate history" setting (in which the king has married a black woman, thus giving rise to a black nobility that is treated as equals), witty writing, and a few memorable characters. Eloise has the most memorable role as a girl whose main priority in life is to unearth the "ingenious" writer behind the weekly scandal sheet that has all her neighbors in a continual uproar; the rest of the characters are passable, but not particularly memorable. Simon is dashing, but also a serial philanderer and sends out a great many "mixed messages." It's fun to see something original that plays out like Gossip Girl for the 1800s, and there are clever twists here and there as it takes us through the whole Regency playlist, from sun break duels over a woman's honor to its heroines not having the least idea "how babies get made" until after their weddings.

Episode one has two saucy bits and then it's quite chaste until the end of episode five, and from there it's all downhill as the series treats us to graphic montages of sex scenes. Some people wish Jane Austen had written more explicit material, but I am not one of them. I have no need to see a Regency orgy or follow two romantic leads into the bedroom (and into the summer house, and into the garden gazebo, and into the library...) again and again. If you don't mind a lot of moaning and panting and naked backsides, it's a fun frolic through an earlier period in history… but I prefer my leading men a little more chaste and a lot more dressed.

Sexual Content:


12 individual scenes of graphic sexual content, all of which include nudity, movement, moaning, and sometimes oral sex, and some of which are up to five minutes in length; there are two scenes in episode one, an extremely long "marital consummation" scene in episode five (along with a brief orgy scene in which a man stumbles into a room to find two other men entwined; he starts kissing two women), a half dozen sex scenes in episode 6 that range all over the house and grounds (some of them oral), and two subsequent scenes in the final two episodes. Conversations about unmarried mothers, about how to make babies, about self-pleasuring (episode four has a scene in which the heroine does just that while imagining the man she loves). Nude models pose for artists (we see bare bottoms and breasts).

Language:


Scattered f-words (four or five total) and mild profanities.



Violence:


Boxing matches and instances where fights break out among men who pummel each other and leave each other black-eyed. A duel bullet goes astray and causes a woman to fall off a horse.

Other:
A woman confronts a young woman with her bed sheets and says she has not bled in over a month. A woman's period starts (we see her cupping a napkin full of blood). A woman tries to abort her child by drinking herbal tea.