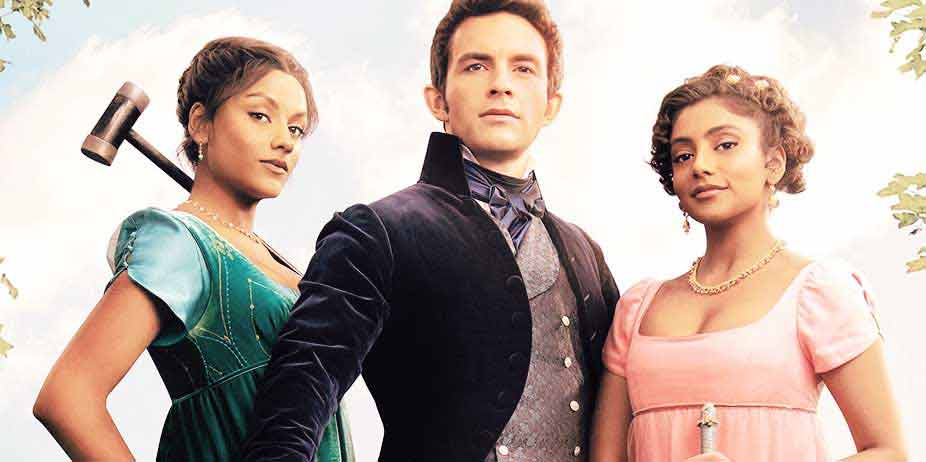 Bridgerton, Season 2 (2021)
While much cleaner than its premiere season, Bridgerton drags out its romance for a little too long, but makes up for it in the development of its side characters. It begins as the season opens in the summer, with the arrival of Edwina Sharma (Charithra Chandran), her mother, and her draconian older sister, Kate (Simone Ashley). Banished to India after their mother married beneath her station, the now fatherless girls have come to London under the sponsorship of the formidable Lady Danbury (Adjoa Andoh) in order to find a husband for Edwina. Beautiful, refined, polite, and sweet, she soon has men swooning over her, but it's not until the queen names her "this season's diamond" (the catch of the year) that the men line up to court her. Among them is Anthony Bridgerton (Jonathan Bailey), who having recovered at last from his broken heart over his failed romance with an actress is now dead-set on finally settling down with a proper wife. The problem is, he confesses too loudly that he has no intention of finding love, just a woman who can raise his children. Kate overhears him, decides her sister deserves better, and contrives to keep them apart.
Meanwhile, society awaits the next addition of Lady Whistledown's gossip sheets with baited breath. Last season, she broke the scandal of the century, so what will she do this year? Never fret, dear reader, she tells them, "I have been sharpening my knives." What no one realizes is that it's actually Penelope (Nicola Coughlan) who is cleverly keeping out of the angry queen's clutches (she wants Whistledown's head on a platter for her questioning of the royal taste), but who is now facing a crisis in her own home. Her father's suicide has left them penniless and dependent on an uncouth American cousin to settle their dowries. And her best friend, Eloise Bridgerton (Claudia Jessie), can no longer hide -- she must come out into society, kicking and screaming in protest. But that doesn't mean she will accept dance invitations! But a little romance might be in the cards for Eloise after all, if she meets a man with as singular a mind as she possesses!
Bridgerton is all about racial-blind casting, in that it deliberately casts various ethnicities and marries them off with no racial concerns. Since this isn't authentic to the Regency era (they would never marry someone of a different racial background), it's easier to think of this as being set in an "alternate reality" where no one cares what color you are, and slavery does not exist. Remarkably, this season manages to make it eight hours with only two sex scenes, which is way easier to tolerate than last season's soft-core porn (including one episode that was pretty much all about sex). And the pairing of Anthony and Kate is dynamo, because they are so much alike as to detest each other! Both of them are used to doing whatever other people want, while going about it in a harsh and competitive manner. So it's fun to see them banter and tease each other, fall in a mud puddle together, chase each other across the fields on horseback, and share a passionate kiss that Kate says later, "should never have happened." Their respective social morals keep them apart... but admittedly, this goes on a little too long. I got tired of waiting for them to admit their feelings. And there's the additional problem of Anthony being a Regency "rake." I like to root for moral heroes to get the virtuous girl, but this one pays prostitutes for sex, so... no thanks.
Of greater interest to me was the subplot involving Eloise, the reluctant debutante who would rather read a book. She is so uncouth, so protesting of all the social niceties, so inclined to almost faint from relief when her debut is interrupted, that she remains the series' most lively, engaging, and hilarious character. Her friendship with Penelope gets a great deal of development, including Penelope's struggles between keeping her secret from everyone, seeking her best friend's approval through what she writes, and having the harm she has done "come home" to her in a difficult way. I also appreciated how much more depth and nuance the script brought to the existing characters, especially in developing Anthony and showing us where his need to protect his family comes from.
The costumes range from intentionally gaudy to absolutely gorgeous; they stepped up everything this season, and everyone has spectacular gowns. And I loved the addition of modern songs, put into classical tunes, as a way to add some fun to the ballroom scenes. The characters dance to "classical" Madonna and even "Wrecking Ball." Even the queen has her fare share of screen time, which shows the heartache she faces from the love of her life being insane. Kate has the more challenging part, but Edwina turns out to be the surprise delight of the season. She is gentle and kind, but also fierce when she comes to see the truth, and changes the most in deciding at last to do what she wants, rather than what others ask of her. That's the theme for this particular story--that all of these characters are living too much for their loved ones, and not enough in their hearts. While I still don't like some of the moral choices made, I can see myself watching this over again one day soon.
Sexual Content:
Several instances of backside nudity, as men leave prostitutes' beds and/or fall into bed with a woman; we see a nude model's bare breasts when she poses for men (twice), and again when she removes her clothes and climbs into bed with a man. One long sex scene, which is mostly touching and kissing (no nudity) toward the end of episode six; another sex scene (with female breast nudity) in the final ten minutes of the last episode. Discussions of philandering. Characters mill around in a museum full of naked marble statues.
Language:
None.
Violence:
A woman falls off a horse and hits her head, winding up unconscious for several days.
Other:
Alcoholism, wealthy women take pinches of snuff, and most of the men are immoral.