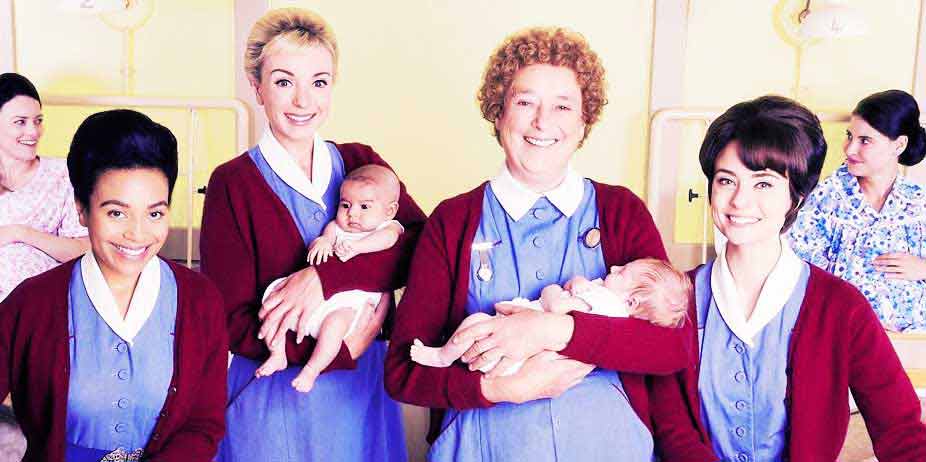 Call the Midwife, Season 5 (2016)
Call the Midwife has never pulled any punches, either in tackling ethical topics with no easy answers, or in its tear-jerking storylines, and season five may be its strongest, most contemplative series thus far.
The nuns and nurses of Nonnotus House are still delivering babies around the clock. As Easter approaches, the entire household is in an agreed-upon Lenten fast from sweets, much to the distress of resident sweet-toothed Sister Monica Joan (Judy Parfitt). The blond bombshell Trixie (Helen George) is secretly going to AA meetings, and has decided to start up a "Keep Fit" class. Sister Julienne (Jenny Agutter) is distressed to find all her nurses in attendance on the same night, leaving no one to man the phones. Patsy (Emerald Fennell) is distressed that her girlfriend Delia (Kate Lamb) may never return to London after her accident. Barbara (Charlotte Richie) is forming an attachment to the local parson, but fears Trixie may be upset, since they are only a year separated. After a difficult case, Sister Evangelina (Pam Ferris) sets off for six months of "silence" at the mother house. And Phyllis (Linda Bassett) must decide whether to extend the hand of friendship to someone who betrays her trust.
And then, there are the women in their lives... when a deformed child is born missing its arms and legs to a devastated family, Dr. Turner (Stephen McGann) and his wife Shelagh (Laura Main) search for answers -- which come full circle in the season finale, which delivers a sucker-punch of breaking a medical scandal the same episode as one of the series' staple regulars passes away in her sleep. Balancing intense emotional arcs with humor, moments of friendship, and occasional bickering, this season proves the strongest in its decisive ability to tackle difficult topics with sensitivity and grace. The unwed mother forced out of a job for the scandal, who tries to abort her child. A family dealing with a deformed child. Two episodes in particular are hard-hitters in the tear department -- where Sister Julienne grapples with the awfulness of discovering deformed babies are left to die in hospitals, alone, and where one of the nuns is brutally attacked and beaten up, then left to ask "why?"
Faith is always a cornerstone for many of these women and their individual journeys, and the contrast between the more liberal-thinking nurses and the conservative nuns is striking, but never preachy, never formulaic, and rarely intrusive. The series asks questions, and hints at answers, but does not pretend to have all the solutions. The acting is, as always, stellar, with several episodes giving individual cast members opportunities to shine in their respective roles. Throughout, it values women -- in all walks of life, in every situation imaginable, and their struggles, hardships, and triumphs. The series has done such a good job of making us care about these women, from the gruffest to the sweetest, that when we reach the finale episode, and see the fitting send-off it gives one of its most beloved figures, it's hard not to feel a flicker of joy amidst the pain, because it's rare that a series manages to be both devastating and uplifting at the same time.

Sexual Content:
Unwed mothers; an adulterous affair leads to a woman's dismissal from a teaching position; a man and woman heavily kiss and grope one another; a frank discussion of contraception; two lesbians are affectionate with one another (cuddling, sleeping in the same bed, dancing together at a gay bar, almost kissing).

Language:
Several uses of "Oh, my God!" Minor profanities from time to time.

Violence:
Childbirth related trauma; in episode 6, three women, including a nun, are brutally attacked and beaten up (off-screen, we see the related bruises).

Other:
Moral discussions about "the pill" promoting "recreational intercourse" among unmarried people; a deformed infant is left naked by an open window to die; a woman performs a home abortion (off screen) that nearly kills her, and ruins her womb for life.