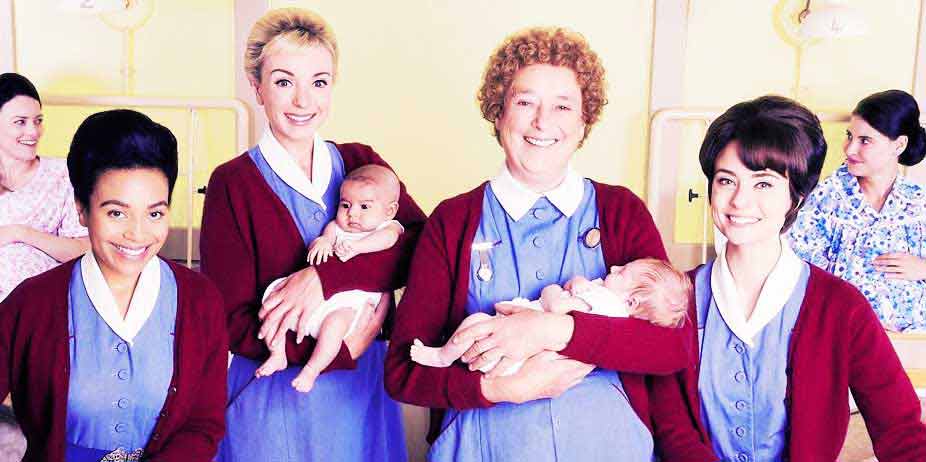 Call the Midwife: Season Nine (2020)
After an eventful Christmas trip to Scotland to establish a new hospital at the behest of Mother Mildred, the shivering nuns and nurses alike return to a diphtheria outbreak in Poplar. Fraught with guilt over the role she played in incarcerating her grandmother for illegal activities, Valerie Dyer (Jennifer Kirby) tries to avoid visiting her in the prison, until called out on it by a belligerent cousin. Sister Julienne (Jenny Agutter) faces the potential eventual closure of Nonnotus House, once London demolishes the entire area. Fred Burkle (Cliff Parisi) and his adopted son Reggie stumble across a sick old man whose only family is pigeons. And the Dr. and Mrs. Turner (Paul McGann, Laura Main) face the potential loss of their semi-adopted daughter, when her mother arrives from China determined to take her back.
Phyllis (Linda Bassett) objects to the arrival of a bunch of young doctors, whose antics upset the household -- and force her to abandon her comfortable room. Lucille (Leonie Elliott), cannot seem to find the time for her handsome young man. And Trixie (Helen George) wears the shortest ever seen miniskirt in a fashion fundraiser that raises more than a few eyebrows. All in all, it's another season of laughter and tears among the fresh faces and daring fashions of 1960s London. If you have seen the previous seasons, you know what you are in for -- lots of unwed mothers, single mothers, struggling mothers, overbearing mothers-in-law, and freaked out fathers now allowed to attend home births -- even if most of them would rather not. The nurses face everything from breach births to a man pulling double duty as a father to his pregnant finance and his girlfriend.
As usual, the show tackles controversial and difficult topics with sensitivity and compassion. Sister Julienne, an adamant anti-birth-control woman, changes her mind confronted with the harsh realities of life for a London prostitute, whose bad decisions have left a wake of abandoned children. The newest addition to the household has a secret that threatens his medical degree. And though the episodes shift around, each cast member has a chance to shine. Though not always pleasant, the show has become a favorite of my mother's and mine, as we wander through the lives of women in a different time and place. The costumes are less beautiful than previous seasons owing to the garish style of the '60s, but the acting remains top notch, the scripts have not suffered from a nine year stint, and each episode knows how to make you laugh and cry. It reminds us of the beauty of life, the joy of new creation, and the wonders and trials of motherhood.
Sexual Content
Lots of births, and lots of conversations about female parts in a medical sense. Unmarried mothers. One plot line revolves around a prostitute; we see men going in and out of her room. Discussions about birth control, cervixes, periods, and other birth-related topics.

Language:
Occasional mild swearing.

Violence:
None worth noting, although we see a few drunken fathers and one of them tries to turn violent (a doctor tosses him out into the street).
Other:
None.