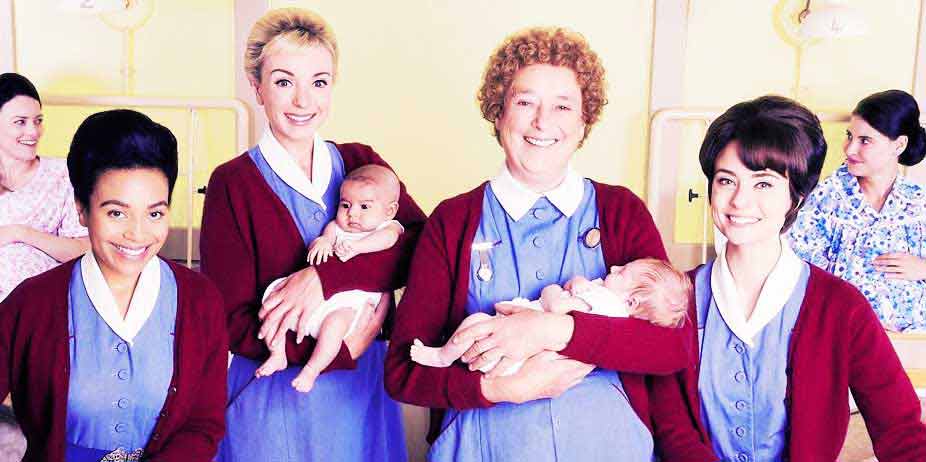 Call the Midwife, Season 2 (2013)
Reviewer: Rissi C.

There's a new piece of soap opera candy on the block in the BBC's new go-to, award-winning serial, Call the Midwife, based on Jennifer Worth's remembrances of life in 1950's London.
Life at Nonnatus House is about to test the faith of its midwives. Since they began working together, the girls have formed familial ties and are happy going about their full (albeit busy and exhausting) tasks. Nurse Jenny Lee (Jessica Raine) encounters a troubling case when her latest patient appears to be a victim of abuse – Molly's meek attitude defends her husband at all costs, which is what Jenny finds most upsetting. Already Molly has a little girl and is very near term with her second. Her husband is cruel and cares little for her or their children. Jenny to reaches out to help her while also dealing with resurfaced feelings for her best friend, Jimmy.
Trixie (Helen George) finds an unexpected challenge of her own when she and Sister Evangeline are summoned to assist a patient residing on a ship full of foreigners, and Cynthia (Bryony Hannah) questions her medical education when she loses a patient. Caught up in their work and the security of a roof over their head, no one pays mind to Sister Monica Joan's rambled warnings to expect darkness, nor are they prepared for an announcement from Chummy (Miranda Hart) that sends her on a sixth month hiatus. Meanwhile, Sister Bernadette (Laura Main) also comes to a crossroads in her life.

Through watching this Heidi Thomas penned series, I've had to rethink my stance on post-regency era period pieces. Looking back, I have no idea what objections I had to the 1950 timeframe that were actually legitimate. There doesn't seem to be an excuse good enough for me to be so standoffish towards the fun and sassiness of this retro era because golly, this series is marvelous. Call the Midwife goes beneath the façade of "pretty" things to face the unexpected; it looks deeper into the emotional turn-out of the events and situations of its women. It's only drawback is how it glosses over the pasts of its characters; we know next-to-nothing about Trixie, Cynthia or even Jenny. All we're offered are odds and ends into what makes them tick. In a usual moment of clarity, we're set straight on the kind of girl Trixie really is – her sassy personality is no reflection on how she expects to be treated by men, and new wounds are opened in Jenny's life with Jimmy popping in a time or two.
Fortunately, the series does offer us some delightful surpises, among them a fabulous blossoming relationship with Dr. Turner. Every nuance in the series is full of nostalgia and delights. From the costumes and settings to the language, each installment swept me up and refused to let go of my heartstrings. How life projects to screen is charming, heartbreaking and poignant. It may be one of the "bravest" shows in the line-up of British TV but it's got so much to offer. It's a wonderful eight hours that I was terribly sad to see come to a close. Our fear for one character and happiness for another in the final hour brings everything full circle and ends in a brimming bubble of happiness. It's enough to erase the tears viewers may experience, and yet continuously rooted in realism with enough questions to make a good lead-in to the eventual third season.
Sexual Content:
A ship captain brings his daughter on board for the express purpose of keeping his men "happy." The girl becomes pregnant and is unaware who the father may be; a man makes unwanted advances by pushing his hand up the inside of a woman's leg before pinning her down – she pushes him off and leaves. Minor references are made to contraception and other innuendoes.
Language:
Perhaps the rare use of a minor profanity or British slang.
Violence:
One man abuses his wife (other than yelling and bruising, it happens off-screen). There is one scene of a fist fight breaking out, though it isn't disturbing.
Other:
Every episode deals with something relating to childbirth; everything from unwed mothers to one to three scenes of childbirth – women are seen on beds, tables or the floor with their legs apart (each varies in their degree of how visual it becomes). There is often blood present and a time or two, the scene is more intense if the mother's life is in danger. One woman attempts abortion before paying a woman to perform one – the scene involves the woman's facial reactions as she's lying on the table and later the repercussions of the traumatic event. Another episode involves twin sisters we presume are married to the same man.