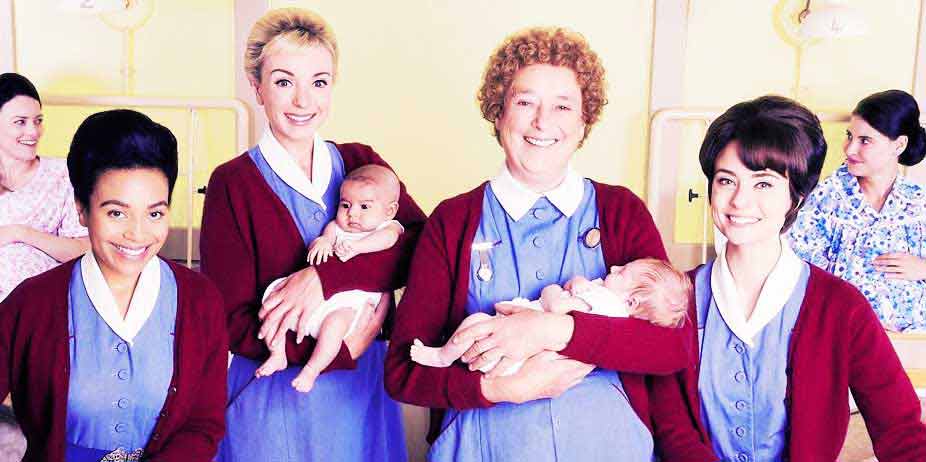 Call the Midwife, Season 8 (2019)
Christmas arrives in Poplar with news from the Mother House -- the mother superior is dying. Sister Julienne (Jenny Agutter) rushes to her side only to learn that her last wish is for Julienne to take over her responsibilities. Torn between her love of Poplar and her relationships there, and her sense of duty to fulfill the needs of the Mother House, she faces a decision that will shape all their lives.
Soon, two new sisters arrive in Poplar to help out with midwifery, one of them experienced, and the other just learning. Trixie (Helen George) discovers something wrong with one of the ladies in her Keep Fit Class, with shocking implications for Poplar. Nurse Crane (Linda Basset) attempts to thwart the aggressive courtship techniques of the local constable. And Dr. Turner (Stephen McGann) and his wife Shelagh (Lara Main) wind up foster parenting a child from China. May brings great joy into their life... and increasing pain as they contemplate her eventual departure for her "permanent" family. Sister Monica Joan (Judy Parfitt) plays matchmaker for Lucille (Leonie Elliot)... and a family secret devastates Valarie (Jennifer Kirby).
Eight seasons in, Call the Midwife is still as fresh and energetic as its earlier episodes. The new nuns are likable and the writers balance the ensemble cast well, allowing each character an episode or two in which to shine as well as longer arcs. Since they are now in 1964, the televising of the Olympics, the introduction of Doctor Who into living rooms, and other pop cultural references abound along with abortion, this season's hot topic. An early episode finds a woman dead from a backstreet abortion; another finds a woman whose womb must be removed after the same hatchet job; the abortionist goes on trial in the finale.
From a Christian perspective, you can look at this in one of two ways -- that they are making the case for legalized abortion (because these women are doing it anyway and dying and/or having severe complications as a result) or that like everything else, the series is tackling a difficult issue with sensitivity and respect. It gives equal airtime to its characters, those of faith and those without, but never presents a pro-life stance, just the drama playing out around women's decisions. It has likable characters, week to week adventures, and a tolerant attitude toward showing the struggles women face in all walks of life. It does not shy away from birth or death. And it remains a real tearjerker. If you loved the former seasons, you'll love this one.
Sexual Content:
The usual stuff (babies out of wedlock, examinations out of camera range, etc). A woman discovers she has male parts also, the entire episode revolves around discussing that and her gender confusion.

Language:
Rare.

Violence:
Botched abortions (off-screen) have severe results -- lots of blood on the floor, people going into shock and/or dying as a result. Various scenes of childbirth with waters breaking, etc.
Other:
None.