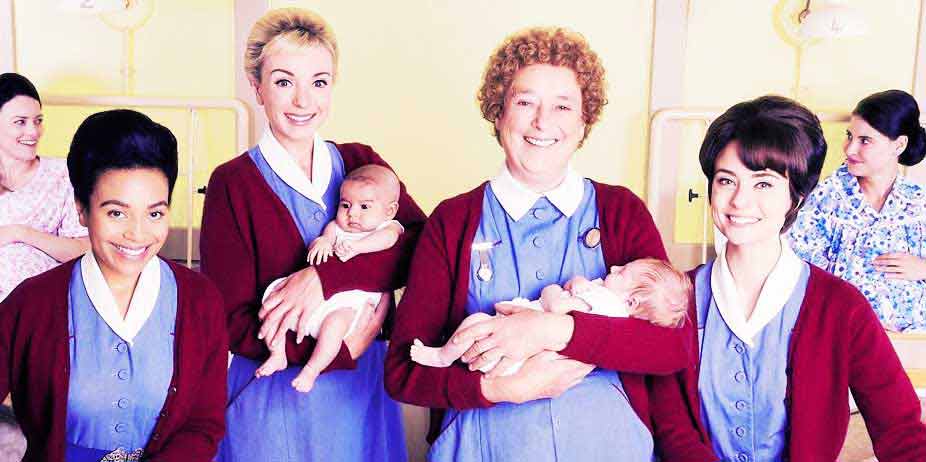 Call the Midwife, Season 4 (2014)
The 1960's are upon Poplar, bringing change with them... much to the distress of Sister Evangelina. Skirts are shorter, hairstyles different... political interests are rising... and the nuns and nurses have just as many babies to take care of.
One case hits close to home for Trixie (Helen George), when she discovers a horrible situation of neglect involving several children. These events coincide with a marriage proposal and wedding plans, but will also reveal a darker side of her personality as she is forced to confront her own demons. Her emotional upheaval plays out against the arrival of Beverly (), a fresh-faced vicar's daughter determined to prove herself. Her heart is soon easily engaged with her patients, leaving her running personal errands on the side.
Sister Julienne (Jenny Agutter) continues to worry about Sister Evangelina's (Pam Ferris) health and finally convinces her to get it looked into. Sister Monica Joan (Judy Parfitt) continues to be the enthusiastic eccentric, and Cynthia (Bryony Hannah) considers becoming a novice ... much to the dismay of Trixie. Meanwhile, Patsy (Emerald Fennell) must deal with the trials and tribulations of concealing her love affair with another woman. The Turners are enjoying parenthood but will soon face their greatest trial yet, and a new nurse intending to whip things into shape turns the house and neighborhood upside-down with her gruff manners and kind heart.
Call the Midwife has been one of my favorite programs since I discovered it only last summer; I sped through all three seasons in record time and greatly looked forward to this new season... only to be truly disappointed. It's merely good, whereas I was spoiled by excellence when the stories were pulling from the life of the real Jenny Lee. The truths are not as profound, the cases not as touching, and it felt in some ways that too much of the original cast was absent for most of the season. Not only is Jenny gone, but Chummy is only in the first and last episode, and the series feels flat and lifeless without her. Cynthia is gone for several episodes, as is Sister Evangelina. Sister Julienne has two episodes where she features prominently and is relegated to the background for the rest. Trixie is spirited and enjoyable for the first half of the season and then spirals into uncharacteristic depression for the rest. The newcomers are nice but nothing we have not seen before ... Barbara lacks personality and Phyllis Crane is merely Sister Evangelina without the nun's habit.
That is not to say that the writing isn't good (it is, and continues to tug at my heartstrings), or that the acting is not excellent (it is always wonderful), just that some of the magic has gone away for me. I can't deny that there are flickers of genius here but it feels crowded and cheerless at times. The best episode deals with Dr. Turner's relapse of post-traumatic-stress. It pulls out all the stops for an emotional ride that ends on a tearful but joyous note. The series touches on serious matters ... including homosexuality and new drugs that next season will wreak havoc (in one episode, to cease endless morning sickness, the Doctor proudly hails the benefits of a "new drug" -- that we know now caused miscarriages)... as well as more trivial ones... such as a man from Sister Julienne's past reentering her life... it has as many sweet and touching moments, as profound of insights, and as much emphasis on faith (though not with as deep of resonance as former seasons)... but the absence of three-fourths of the original cast throughout more than half of this season left me feeling a bit cold.

Sexual Content:
Couples have babies out of wedlock; a homosexual man comes on to another man in a public bathroom (he unzips his trousers and passionately kisses the man), which leads to his discovery and arrest; that episode deals with prejudices against homosexuality in the 1960's; one of the nurses is a lesbian, whose secret romance with a fellow nurse is important throughout the series.

Language:
Profanities and some abuse of deity.

Violence:
The usual blood and gore associated with childbirth; a man tries to kill himself by gassing; fighting.

Other:
Some discussion on ghosts and hauntings.