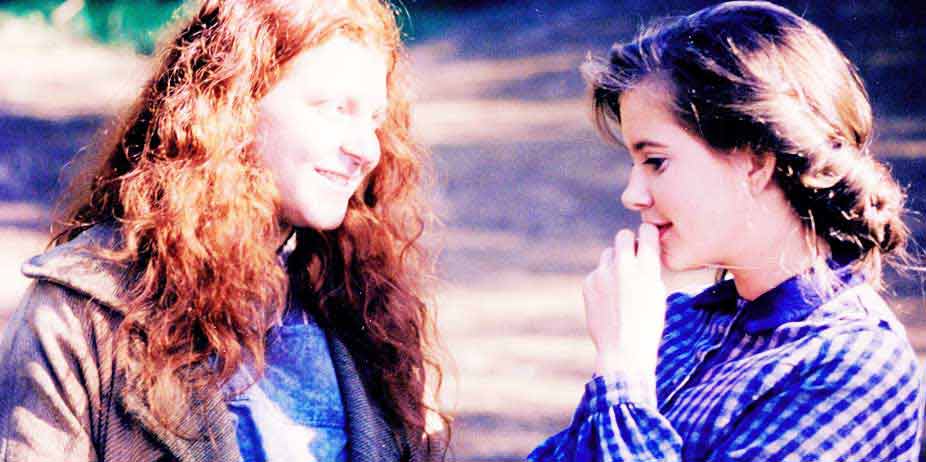 Christy: The Complete Series (1994)
Christy was one of my mother's favorite novels when I was a little girl. What I remember most about the first time it premiered on television was how excited she was. Little did she realize that her fascination would become mine as well, a love for a show so beautiful and touching that it has only grown over the long years since I first heard the haunting opening coo of a dove. Though it does stray magnificently from Catherine Marshall's book, it keeps the heart of the characters all the same.
Barely eighteen and unprepared for life as a missionary and school teacher in the back woods of Tennessee, Christy Huddleston (Kellie Martin) leaves her life in Ashville behind and joins the mission post of Cutter Gap. Lost amidst the mountains, where strangers are told to "holler out" a hello whenever they pass by a cabin, lest they get shot at, and only a handful of the numerous children own a decent pair of shoes, Christy is overwhelmed with the prospect of being the lone teacher in the district. She quickly becomes a favorite of the handsome Reverend David Grantland (Randall Batinkoff), and has a natural jibe with his temperamental sister Ida. Her mentor and inspiration, Miss Alice (Tyne Daily) encourages her to keep the faith and trust that she was meant to come there, but Christy's first few months are difficult. Outsiders are not welcome in the cove, and most of the community has not yet learned to trust her. The one exception is the quiet offer of friendship from Fairlight Spencer (Tess Harper).
Lingering in the background is the mysterious Dr. McNeill (Stewart Finlay-McLennan), who keeps a locked room in his cabin and will never speak of his diseased wife. Christy's fascination with him becomes a constant struggle between potential romantic interest and frustration at his staunchly atheist sensibilities. That is merely the beginning, for she soon learns the dangers and struggles faced by the mountain people. There is a feud between the Allen and Taylor families that results in violence whenever their children are together in the school yard. Prejudice often disrupts their lives while superstition causes many an unfortunate death and the word of granny is gospel, no matter how absurd it sounds. From drunken men storming the mission while David is gone, to Little Burl nearly losing his life after a fall, to Christy's own search for hope and meaning in a world that is overwhelming at times, the series follows the lives of those involved with tenderness and adoration, sparking a deep response from its audience.
We laugh and cry, tears of sorrow and joy, as we witness the struggles and triumphs of the faithful band of characters that have won their way into our hearts. Creed with his pet raccoon, Scallywag. Rob and his desire to become a writer. Ruby Mae's desire to be respected and loved. As a child, I could not fully appreciate or even begin to understand the spiritual depth of the series, and re-watching it so many years later as an adult has given me a respect for its messages shared by few others. The level of faith depicted in the characters is miraculous, made even more so by the fact that they are very real. Not a single one is saintly or pious, for all of them make numerous mistakes, even the deeply spiritual Miss Alice. Faith is deeply revered throughout, mingled with a delightful amount of the miraculous. Was it a glimpse of God that Creed saw on the mountaintop as a mighty white buck? Did a spirit lead Rob to his wounded brother in the darkness, or was it heavenly intervention? One child even comes back to life after losing a battle with scarlet fever, as the result of the combined thoughts and prayers of those who loved him. There are constant conversations about God, faith, forgiveness, compassion, and virtue, but in no way is it preachy or overly melodramatic.
The characters live what they believe, and I admire them for that. The series also has a delightful sense of humor that is never absurd, but very true to life. Each episode features a different chapter in Christy's life, and while ultimately they do stray so far from the book that only the characters' names are the same, they never lose the series' delightful charm or impact. Some of the most memorable or poignant episodes come in the second half of the series, but there are some heart-wrenchers early on. "Amazing Grace" is one, while "Green Apples" is another. It is an excellent family show but there are elements of violence and thematic elements. Two of the families in the Cove are feuding, and this is depicted not only in attempted hangings and men turning up with bullets in their back, but also in schoolyard fistfights. There are a half dozen instances involving guns; Miss Alice often uses them to break up fights or frighten off intruders. One harrowing experience involves a trip into the South, in which Klu Klux Klan men storm into a Negro community and frighten the children.
In another episode, David is shot and Christy is kidnapped by a maniac. Neill must attend to many sick or wounded individuals over the course of the series. A half dozen mild profanities are scattered throughout. There's no outright sexual content but a handful of episodes do reference it in some form. Early on, Christy is concerned that she might need to inform some of the girls about the "facts of life." After being seen out late on the porch with David, one of the parents accuses her of dabbling in sin. Sly conversation hints that the girls want to know "how to be a good wife," but Christy turns it to more serious depictions of motherhood. In "The Lie," a girl becomes jealous of Christy's attention to her boyfriend and spreads a malicious rumor about her being "in sin" with a man down by the river. Miss Alice speaks several times about her illegitimate daughter and the shame she faced as a single mother. A married couple flirt with one another. The most "questionable" episode is the very last one, in which some of the men become obsessed with a "tea house" in town. The most they ever do is watch the girls slink around in their pantaloons and corsets, but it will make more than a few parents squirm. There are some lovely guest appearances by various actors, including John Schneider, Dixie Carter, and songbird Judy Collins. It is my deepest hope that if you have not seen Christy in many years, you will relive the experience and bring this set home, and if you have never been introduced to the characters of Cutter Gap, that you will learn to love them as much as I do.