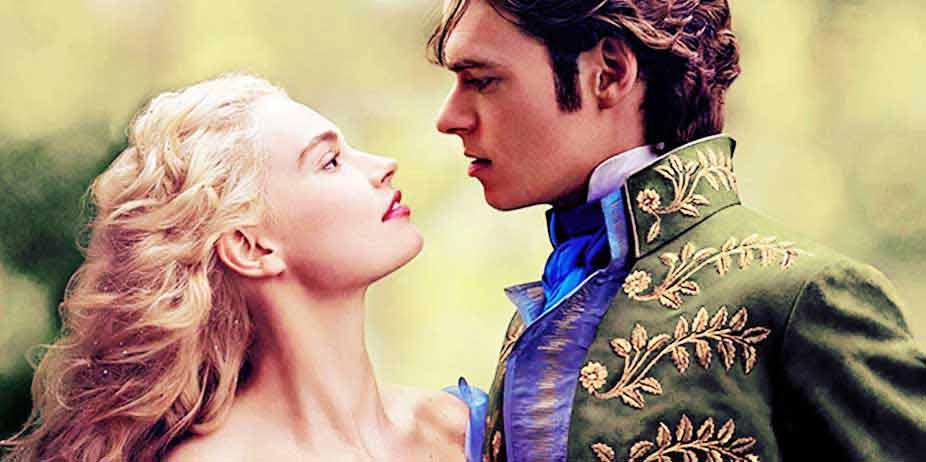 Cinderella (2015)
The story of the long-suffering peasant girl with an evil stepmother and a glass slipper has been brought to the screen many times, but never with quite as much charm. Disney has taken its animated classic, breathed new life and humor into it, and given us a magical story that boils down to a simple but profound message for its audience: "have courage, and be kind."
Those are the words Ella (Lily James) most remembers from her mother's lips prior to her death. She carries them with her into young adulthood, when her father (Ben Chaplin) decides to marry Lady Tremaine (Cate Blanchett), an icy beauty with two terrible and "stupid" daughters (Sophie McShera, Holliday Grainger). Soon thereafter, tragedy strikes and Ella is left under her care, banished to the attic and left to play the role of a servant in her own household. An act of unkindness one morning sends her out into the woods, where she encounters "Kit" (Richard Madden), the prince of the realm. Fascinated with her gentle spirit and country ways, he convinces his aging father (Derek Jacobi) to open up the ball where he must choose a future wife to all the women of the kingdom, not just the highborn.
With a little assistance from her fairy godmother (Helena Bonham Carter), and a small group of mice, lizards, and a large pumpkin, Ella's life is about to change forever...
Sometimes the best stories are the ones closest to our heart, and Disney was wise in keeping this tale close to its animated classic. The basic trappings of the original are all there (including Ella's adorable mouse friends, and Lady Tremaine's cat, Lucifer) but it is fleshed out to include more of the politics of the realm, as well as providing motivations for Lady Tremaine's reprehensible behavior. Evil as the woman is (and she is only slightly more sympathetic than her animated counterpart), it's hard to hate Blanchett, even with all her glorious, simpering, scheming iciness. There are some charming additions, including the teethy footmen (well, they are lizards after all) that add comedic relief. Director Kenneth Branagh doesn't interfere too much with the narrative and allows several moments to pay homage to classic paintings (including a slipper flying off the foot of a girl in a swing). He also carries out moments just long enough and then delivers punch lines with aplomb (by the time Lady Tremaine tells her daughter to "shut up" after a long, painful rendition on the piano, she is merely echoing the audience's sentiments).
Beyond the charming script and decent acting (everyone is well cast and either entertaining or delightful), the thing that most impressed me was the bold costuming. It shifts between Victorian ball gowns and a 1950's style that immediately makes the film impossible to date and also gives it real texture and interest. And... the wedding dress is exquisite, Grace Kelly meets woodland creatures. Though it may appear to be all style and no substance at first, there are some wonderful lessons herein about the power of forgiveness and kindness itself. Cinderella as a character has taken a beating at times for being so "anti-feminine," a girl who takes what life hands her and simply does what she is told in the hope of better things. The undercurrent of the story is that good things come to kind people in time -- that justice is always around the bend for the downtrodden, provided they do not allow harsh circumstances to corrupt their spirit. Here, the message is subtly driven home by contrasting Lady Tremaine's decision to be cruel with Ella's choice to be kind. Our society so craves vengeance for misdeeds that to find a heroine willing to offer forgiveness to those who have wronged her in her moment of triumph is sadly rare yet wonderfully inspiring.

Sexual Content:
Cleavage in the period gowns.

Language:
None.

Violence:
Cinderella's stepmother and stepsisters tear her dress.

Other:
None.