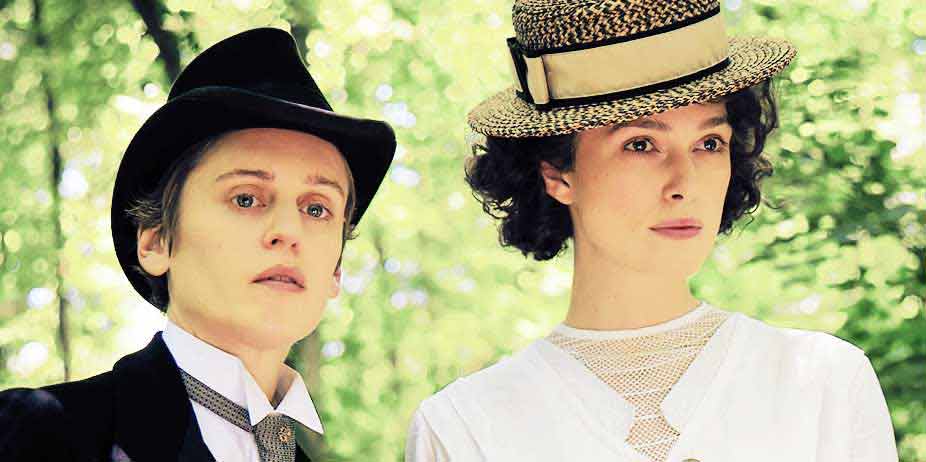 Colette (2018)
The Victorian era was not as prudish as history would lead us to believe, but none challenged its social conventions more than the novelist Colette. This biopic explores her unusual relationship with her husband and female lovers, and the incredible sensation of her Claudine books... none of which she published under her own name.
The sweet and accommodating but witty Collette (Keira Knightley) knows not what marriage promises her, but gets more than she bargained for when she weds popular writer and critic, Willy (Dominic West). A man about the town with mistresses on the side, who insists he's just doing what men do, Willy over-spends and encourages others to ghost write reviews, letters, and articles for him. Why not a novel? When his wife recounts a few of her schoolyard experiences, he urges her to write them down. Disappointed at her "literary prose but no plot," he tosses the manuscript aside. Later, when his checkbook suffers, he pages through it again and reconsiders. Together, they create "Claudine," a sexually adventurous heroine who takes Paris by storm. Content to bring in a few francs, Collette turns her attention to other things... until her husband insists she write another book.
The increased popularity of "their" novels brings her into the social circle of a wealthy American wife (Eleanor Tomlinson), bored with her husband. With Willy's encouragement, Collette experiments with a same-sex relationship. Through eventual betrayal, falling in love with a cross-dressing socialite, and pushing the boundaries of public opinion, Collette becomes famous for her experimentation in a world not ready for her. The film tackles its topics with sensitivity and an appreciation for an author hidden in her husband's shadow for decades. He took all the credit for her genius and she allowed him to get away with it, for a long time, before she broke away. The movie does not touch on what happened to her later in life (penniless and homeless, she made her living on the stage) and bounds through her life at an alarming pace, hitting a few key moments and scenes but not having much time to flesh her out. Beyond her love for her husband, I never quite understood why she allowed him to take credit for her books. And while her relationships pull the audience in, most of her lovers are not around enough to establish them as characters in their own right, so it comes across like a "history lite" version of her life story.
The acting is sublime and the costume design wonderful. It establishes her both as a feminine ideal and as someone willing to push boundaries. Colette herself is a beautifully written character, and her husband is so utterly pretentious, full of himself, and downright bullying that you wonder why she puts up with him. Something the film does well is cover the phenomenon of her early books -- to an absurd degree. I watched incredulous as Persian girls copied the haircut, style, and attitude of the book's heroine. It also paints Willy as a fetishist, in lust with his wife's own creation, and a hypocrite (he can have affairs, and she can see other women, but not men). The film also does not stray away from the hypocrisy of Victorian Paris society, which embraces a novel about sexual experimentation but not a stage production. Some of the best scenes include confrontations between husband and wife, including one that likens Claudine as a character to a child they forged in love and fostered into adulthood. I think it's best to watch it without knowing the true story, because then you won't know in advance all the twists and turns her life takes.

Sexual Content:
Many sexual references in dialogue; a man has a particular fondness for salacious and sexualized novels. Bisexual themes and same-sex kisses, as well as hero sexual and homosexual love scenes (most of them brief, but one of them is clothed but prolonged; 6 in all. A woman opens her robe to reveal her breasts; another woman has her breast exposed in front of an audience (it's part of the play). A woman dresses as an identifies as a man, though Paris shuns her for it. Much of the plot revolves around a man encouraging his wife in her lesbian affairs.

Language:
Many uses of "bastard," "damn," and "sh*t." One use of GD.

Violence:
A riot breaks out at the Moulin Rouge after two women kiss on stage.

Other:
Open marriages, a man justifies his adultery.