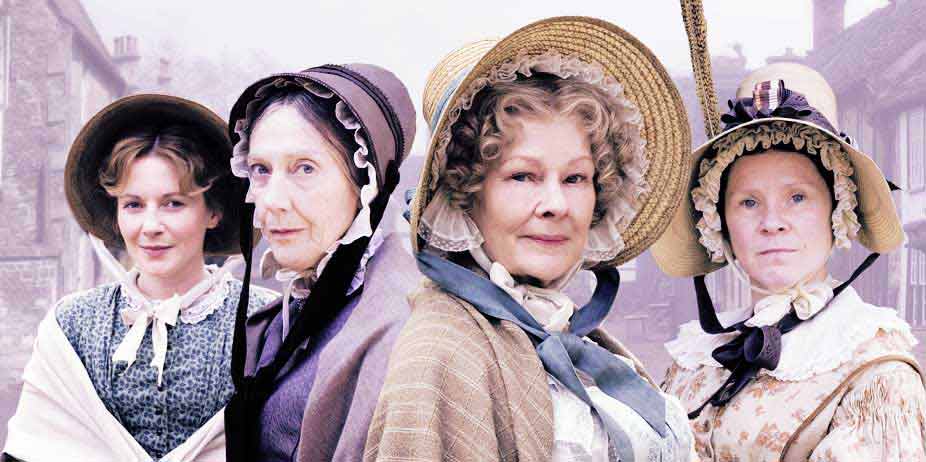 Cranford (2007)
Elizabeth Gaskell is best known for her stirring emotional drama North & South, or her lighter fare, Wives & Daughters. The books that Cranford were based on have a blend of both, with occasional moments of madcap hilarity to offset truly heart-wrenching instances of personal loss. The result is a mixed bag of genius and mediocrity.
In the small country town of Cranford, change is inevitable but resisted with all the might of the inhabitants, particularly when it comes to forward thinking and "progress." The staple of the community is the sharp-witted Miss Deborah (Eileen Atkins), who has very precise opinions on everything from how to properly eat an orange (sucking is not allowed) to how her household should be run (without men involved). She lives with her younger sister Matty (Judi Dench) and their somewhat tranquil existence is about to be interrupted through the presence of their niece, Mary (Lisa Dillon). Incapable of coexisting with her stepmother after her father's death, Mary has come to the country in the hopes of losing herself amongst the townsfolk, but her appearance on their doorstep coincides with another arrival, that of Dr. Harrison (Simon Woods).
Having been trained in the finest medical schools in London, Harrison's forward notions somewhat scandalize the villagers but his expertise succeeds in saving the broken limb of the local carpenter, and from that moment on, emotions warm toward him. Having met the beautiful Sophy (Kimberley Nixon) on one of his house calls, he cannot help falling in love with her. Then there are the antics of the rest of the community to deal with, from the cat that ate the lace collar to the boy who thieves milk in the middle of the night. And that doesn't even touch on the fact that Miss Matty's former gentleman friend (Michael Gambon) has returned to town. The result is a five-episode series in which individual incidents seem more important than the overall arc. It's true that there is an astounding amount of talent involved; it seems as though the BBC has gathered all English actors over the age of forty to play the nosy, self-important, and curious members of this charming little society.
From Imelda Staunton to Francesca Annis, there is always something going on. The old rich woman on the hill who wishes her spendthrift only son would come home. The gruff land overseer who has compassion for a local child and wishes to further his education. The widower who moves in with his two daughters and loses one, only to discover too late that the other has missed her chance for marriage and happiness in the process. Watching the first episode, I was struck with how fun it was to follow the individual storylines as they progressed, but as the series went on, I felt there were moments it foundered in seemingly meaningless incidents. I do not believe it is Gaskell's best work, but it is quite an accomplishment and boasts only one rather weak and depressing episode. When it first premiered, I heard it compared to Bleak House in terms of brilliance, but it is nowhere near as complex, however enjoyable. One of the most interesting aspects of the story to me was the solitary existence of the old aristocrat on the hill, waiting for a son that will never willingly return. There are tricks played on residents in town, a mixed bundle of confused emotions when it comes to matrimonial fates, and the customary and much appreciated happy conclusion that will bring more than a few tears to the audiences' eyes.
The acting is quite good (particularly from the droll Eileen Atkins, who can say more in the twitch of an eyebrow than most actors can an entire page of dialogue) and the costuming is decent. There's not really any content to speak of apart from two specific incidents that might disconcert animal lovers. In one of them, a cat is given a laxative in order to expel a piece of lace he has accidentally eaten; there is some crude humor in the expressions of the ladies watching the result, but the cat is just fine and purring in the next scene. More squeamish-inducing are the shrieks of a rabbit caught in a trap before it is killed. There is a gruesome operation scene, and a man has his broken arm protruding through his skin. In some respects, Cranford would have almost been better as a week to week series rather than a five Sunday night event, but it does have a grand conclusion.