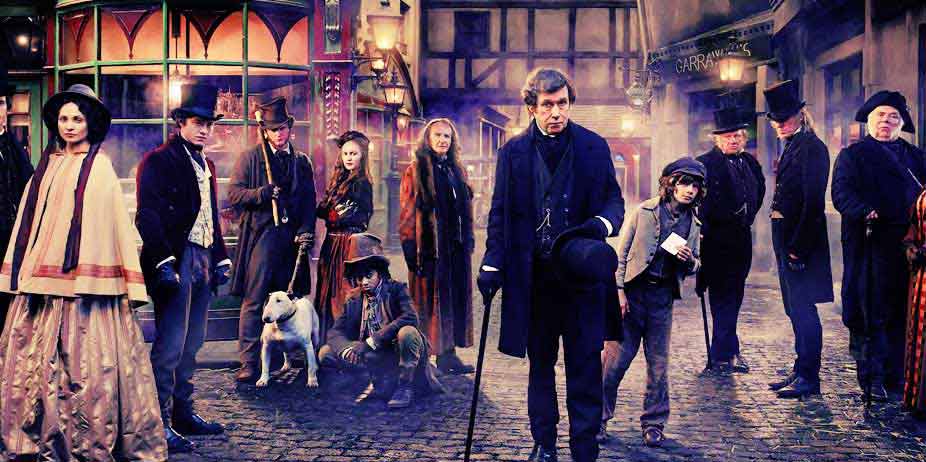 Dickensian (2016)
What if the many characters of Charles Dickens were contemporaries and could muddle about in London together? Dickensian takes up the challenge by throwing familiar faces all in together in Victorian London.
Life is interesting on the small street frequented by a number of fascinating folks. Ebenezer Scrooge (Ned Dennehy) and Jacob Marley (Peter Firth) run a tight loan operation, with Scrooge routinely calling in debts and his partner maliciously bullying the sum out of people. But one evening, Marley leaves work early for an hour with Nancy (Bethany Muir) and ... turns up dead in an alley a couple of hours later. The intrepid Inspector Bucket (Stephen Rea) is called in to investigate, the first private detective of Scotland Yard. He knows this case and his solving of it will set a president. But as he soon finds out, there are no shortage of suspects, because most everyone along the street had reason to hate Jacob Marley, including his employee, Bob Cratchitt (Robert Wilfort).
Meanwhile, Amelia Havisham (Tuppence Middleton) has just buried her father, and received the full extent of his vast inheritance -- much to the anger of her resentful brother Arthur (Joseph Quinn). Desperate to punish her for it, Arthur enlists the assistance of a stranger (Tom Weston Jones) to help put Amelia in her place... but soon realizes that Compeyson is more dangerous than he first thought. Amelia's best friend Honoria Barbary (Sophie Rundle) is somewhat oblivious to her family's impending destitution, and her sister Francis (Alexandra Moen) pins her hopes on Sir Lester Dedlock. And over them all, the master thief Fagan (Anton Lesser) keeps a watchful and suspicious eyes...
These are only a few of the characters on display; others flit in and out of the narrative, drinking in the pub, rubbing shoulders at local weddings, purchasing items from The Old Curiosity Shoppe. I went in with high expectations, was a bit disappointed by the initial episode, but as subsequent installments progressed have found myself drawn into the narrative and curious to see where it will end. It does require a fair amount of patience, because it is in no hurry to reveal who murdered Jacob Marley. Knowing where these characters are going gives an interesting dynamic to the series... because we get to see them before they "became" who they were in Dickens... Miss Havisham is a proper and prim woman of society, not a madwoman in an ancient wedding gown. Honoria has yet to be the emotionally repressed Lady Dedlock.
The cast is wonderful, the costumes terrific. Some characters do grate a bit, but that may be intentional. It's a lot of fun to play "spot the Dickens character," as some dart in and out with only a few lines only to vanish again. My feelings on it changed from week to week. The Bumbles bored me, but the Barberys and the Havishams proved to be an immersive experience. There is, however, a sense that the writer doesn't fully understand Victorian England or its morals. The idea that two high society ladies would engage in premarital sex without batting an eyelash stretches probability a bit. I suspect it's something that will grow on me even more with subsequent viewings.

Sexual Content:
A man hints that another man is a homosexual, and reveals himself to him after a bath (we see backside nudity) to unnerve him. Nancy serves as a prostitute but is never shown in the act. A man throws a woman's skirt up and climbs on top of her, mistaking her innocent remarks for an invitation (she is wearing bloomers and kicks him off). Innuendos transpire between man and wife, and between a bartender and a customer. An unmarried woman sleeps with a man (he is shown undressing her). A man grabs a woman, shoves her against a wall, and starts groping her.

Language:
Occasional profanities.

Violence:
A man is found dead of a blow to the head. A woman shows signs of having been struck by a man (a bruise on her face). A man beats another one with a cane and leaves bloody bruises on his back. Two men are shown after being murdered. A man drops a sack in the river containing a dog to let it drown.

Other:
None.