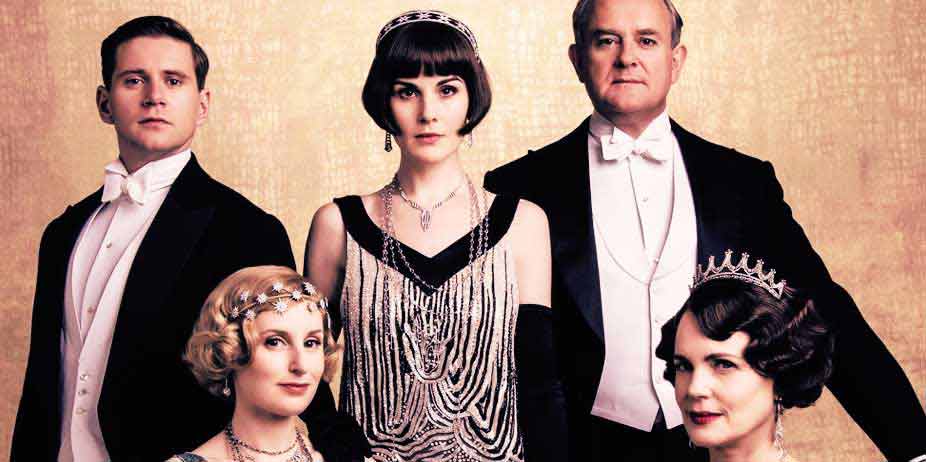 Downton Abbey, Season Two (2011)
Considered one of the most successful "darlings" in the history of television, the first season of Downton Abbey achieved international success and a worldwide following. Its second season includes the same likable (and some not so likable) characters, but in an entirely new world…
When last we left Downton, the house was in turmoil at the recent news that war has begun with Germany. Some time later, the inhabitants of the great old estate have seen their lives immensely changed. Robert (Hugh Bonneville) feels inadequate and wants greatly to once more go to battle rather than staying at home and raising the morale of the women, and his wife Cora (Elizabeth McGovern) is too distracted to take much notice of his melancholy mood. Each of his daughters have embarked on individual quests to be of some use: Mary (Michelle Dockery) is both pining and praying for her beloved Matthew (Dan Stevens) at the front, Edith (Laura Carmichael) is learning to drive a tractor (among other things), and Sybil (Jessica Brown Findlay) is hoping to become a nurse at the local hospital.
Downstairs, Carson (Jim Carter) is attempting to contend with a limited staff and even scarcer resources. Mrs. Hughes (Phyllis Logan) is confronted with the antics and perils of a brand new maid with ideas above her station, and the would-be-romance between Anna (Joan Froggatt) and Bates (Brendan Coyle) is put on temporary hold when his wife (Maria Doyle Kennedy) arrives with a startling proposition.
While each of the characters confronts their fears and struggles to find a way to fit into a world that is altering all around them, the second season powers forward with purpose and sentimentality... although it does sometimes stray into convenient clichés and predictable outcomes. One of the more remarkable things about it is how this series manages to involve us so completely in the lives of its many protagonists, whether we love or hate them, find them irritating or are frustrated with their bad choices. This season finds a dramatic change in Lady Mary for the better, makes us feel sorry for Thomas (I never thought it possible!), and invokes tears of both joy and sorrow as each installment comes to a close. The writing is sometimes magnificent and sometimes subpar, its main problem in moving too quickly through situations (in some instances, I would have advocated slowing down) and not permitting the audience to really spend much time on some of the romantic relationships. It also on occasion suffers from "telling" rather than "showing," which is a shame. Some moments are very, very good (such as an attempted assassination, the return of a missing soldier, and the final ten minutes of the finale) while others are downright cringe-worthy – Mrs. Bates in particular is too conveniently evil for my taste.

Season two has taken a lot of heat from critics and audiences alike for its predictable storylines and rampant clichés. Much of this criticism is deserved, since while some of the character development is believable (such as the transformations of Mary and Edith) other departures are completely unexpected and unlikely. The series hits all the right emotional notes but doesn't quite have the spark of its predecessor. Gone are all the wonderful conversations and moments that were used to build character and humor and forthright plot-driven exposition is in its place. Even so, there are some terrific one-liners from Maggie Smith and the happy ending to one couple's crisis is more than enough to redeem any of its mistakes.
Sexual Content:
A woman offers to become a man's mistress; twice, we see unmarried couples in bed together. A man kisses a woman who isn't his wife several times and considers having an affair.
Language:
Mild abuses of deity and a few profanities.
Violence:
Wartime scenes (a man is shot in the head, another in the hand; explosions go off and there are a number of badly injured soldiers wandering around Downton).
Other:
Drinking. The finale features characters playing with an Ouija board; a spirit speaks to them through it.