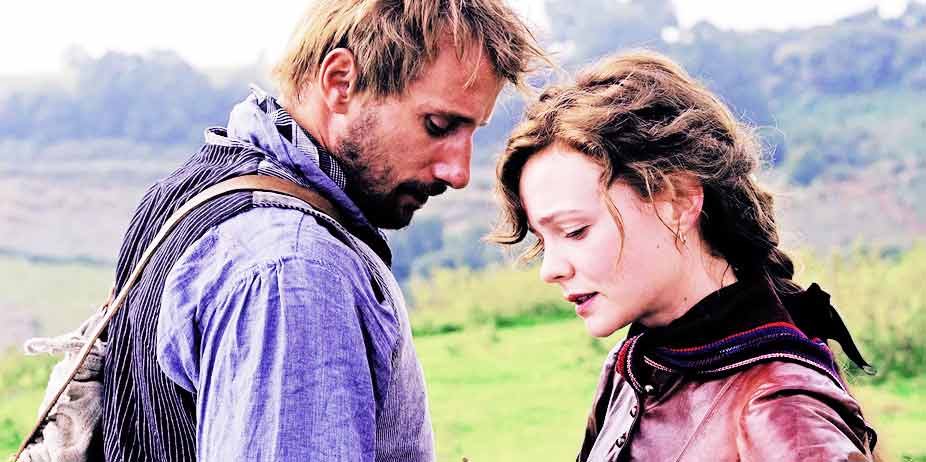 Far From the Madding Crowd (2015)
Victorian novelist Thomas Hardy was known for his flawed and often headstrong heroes. Bathsheba Everdene (Carey Mulligan) is no exception. She isn't quite certain what she wants out of life, but she refuses to have any man "lord" over her. So when the perfectly nice farmer Gabriel (Matthias Schoenaerts) proposes to her, she doesn't say yes but she also doesn't say no. His heart broken, he returns home only to find that the safe, secure home he invited her to share is in peril, because all his sheep are lost in a terrible accident involving a rogue dog. Gabriel sacrifices the farmhouse he has worked for, and sets out to find work.
Just as his fortunes turn for the worst, hers turn for the best -- Bathsheba's wealthy uncle has died, leaving her his prospering farm. Tackling the work straight on, she intends to make a success of it. And when Gabriel saves her barn from fire, she hires him on the spot. The two have a tempestuous relationship fraught with differences of opinion, while she struggles to make her way in a man's business world. Under the encouragement of her interfering maid, Batsheba sends her wealthy neighbor (Michael Sheen) a valentine... with repercussions. And with the regiment in town, her heart is soon captured by a dashing young officer (Tom Sturridge).
I am actually neither a fan of this novelist nor any of his stories, but this is a wonderfully engaging adaptation that tones down Batsheba's less likable qualities, with the result that she is more "tolerable" than her literary counterpart. It is a story about youthful innocence and foolishness, about the destructiveness of willfulness and the human heart, but also a tale of abiding patience and the abolishment of pride. Each character must tackle their pride head on and come to terms with it, from the isolation of the neighbor to Bathsheba being forced to ask Gabriel for help. In a story like this, whether or not it succeeds entirely depends on how much the audience responds to the primary romance, and Mulligan and Schoenaerts have just the right amount of chemistry... ever present, slightly teasing, but never overstated. The film is engaging and never seems slow; the costumes and music are appropriate and even beautiful. How certain dramatic scenes are staged is interesting, and it intentionally strays away from anything that might seem too melodramatic.
Though Bathsheba does rather foolishly play with men's hearts, it's hard to hate Mulligan and her luminous performance. The PG13 rating surprises me a little bit, since the content is rather tame (presumably, it has more to do with thematic elements than anything). I suspect that, much like some of her other films, with time this one will grow on me.

Sexual Content:
A woman has a child out of wedlock; a man kisses a woman and gropes at her clothed crotch; a married couple kiss tenderly in bed.

Language:
None noted.

Violence:
A sheepdog runs sheep off a cliff (we see them striking the ground) and is then shot (off-screen); sheep are punctured with a blade to help them survive bloat. A man behaves aggressively toward a woman, yanking her arm and yelling at her. A man is shot and killed.

Other:
None.