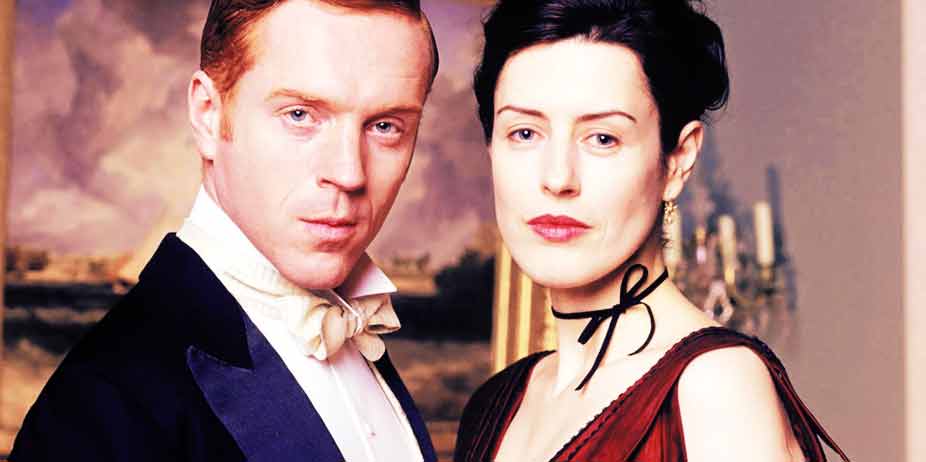 The Foresyte Saga (2005)
This series focuses on the lives of several branches of the Forsyte family, wealthy upper-crust English aristocrats who "own half of London." Episode 1 opens in the home of Jolyon Forsyte (Rupert Graves), an enigmatic artist and dreamer. He is strongly attracted to his daughter's French governess Helene, much to the concern of his old-world father and the dismay of his wife. When Mrs. Forsyte demands the woman leave the house, Jolyon and Helene's mutual affection for one another is shown openly and he chooses to leave his wife and daughter and take Helene as his mistress. The resulting scandal ends in his disownment, leaving them to poverty. Nine years later, his proper and businesslike cousin Soames (Damian Lewis) is drawn to Irene (Gina McKee), a mysterious but beautiful woman whose father has recently died, leaving her with barely fifty pounds a year to live on. Convinced she would make him a proper wife, Soames pursues her relentlessly despite her avid rejections of his overtures, but eventually she is forced into marriage out of fear for financial ruin.
Her condition is that he willingly consent to a divorce if the marriage is not a success. Two years later Soames is happy with their lavish lifestyle, but Irene has grown to loathe her husband. "I do not love him," she confesses to his mother when concerns are raised toward separation. "I do not want to love him!" Her unhappiness draws her toward the passionate young architect Philip Bosinney (Ioan Gruffudd), who also happens to be the fiancé of her cousin June. Their affair and the tumulus results on the family name and estates form a turbulent backdrop which trembles in the wake of Soames' wrath, the general unhappiness of all involved, and the eventual dramatic conclusion. The danger in this production is how lavishly portrayed a sinful lifestyle is. There is never any overt regret on the part of Jolyon, who lives with Helene until the death of his wife, on which event they are eagerly married.
One nice consequence of this is that his father seeks to repair their damaged relationship and becomes involved in his grandchildren's' lives; he also shows compassion for Irene when the Forsytes turn their back on her for leaving Soames. However, what little good the miniseries offers is far outweighed by the bad. There is barely a single character worth rooting for. Irene is likable at first, purposefully aloof and jesting; one of her best scenes with Soames is when she intrigues him to abhor society's restraints and dance with her while still in mourning. But later her character fades and she becomes stubborn, selfish, and wretched, choosing to ruin the lives of those around her with flagrant marital affairs. Soames, who I liked early on, takes a sinister twist in the last half by raping his wife. This action leaves us no one left to root for. Even young June attempts to keep her fiancé in her power by offering to "come to his rooms" on Sunday afternoon. He refuses this overture -- so he can spend time with Irene. Amanda Root's character is the only one even remotely likable -- as the young Forsyte married to a gambler. The birth of their first child, the ardent admiration and respect for her husband, and the shock of having bailiffs take personal items to pay for debts endear her to the audience. It's also nice to see her play someone who isn't pathetic for a change.
The lavish London homes, the magnificent gowns, hairstyles, and hats, the stirring English countryside, and beautiful horse-drawn carriages lure the audience into another world they yearn to like for its own merit. The acting is also first rate. Damian Lewis carries off the weight of the film with his interpretation of Soames. Rupert Graves, Corin Redgrave, and Ioan Gruffudd round out the male spectrum, while newcomer Gillian Kearney makes a memorable June. Gina McKee seems slightly restrained as Irene; one wonders why so many men are attracted to her, but fleshes out later in the production. I learned years ago that Masterpiece Theatre can be just as racy as many PG13 films distributed to wide audiences. I was delighted to find restraint in their production of Daniel Deronda, which dealt with excessively heavy topics in a refined and respectable manner. Unfortunately this adaptation falls prey to graphic sexual content.
Dialogue intrudes on several occasions under a "proper" guise, but the innuendo is evident. In the first episode we see Soames making love to his wife; Irene's revulsion is evident. Passionate adulterous kissing is seen many times. A man insists his wife join him in his room; later he enters her room, climbs into bed with her, and forces himself on her. The scene contains brief, shadowed side nudity and heavy breathing. While not overtly graphic, there's no question what's going on -- and we see the horrified reaction of Irene's maid as she passes through the outer corridor. Many times we see Irene and Bosinney tangled up in the sheets, kissing one another, or sleeping in one another's arms. June, in a fit of rage, informs Soames that Irene took precautions to prevent becoming pregnant. Language is present in general mild profanity. Violence also intrudes, not only with Soames struggling with his wife (the next afternoon shows her badly bruised) and attempting to force his way in one night; but in a carriage accident when a main character is brutally trampled by a horse. The grisly image of his dead face lingers on the screen as blood trickles from his lips. His battered body is witnessed later in the morgue. An old man has palpitations of the heart (he has a mild heart attack in one scene) and is shown dead.
I find it hard to like any of the characters; most of them are incredibly selfish and don't care whom they destroy in their pursuit of what they wanted.