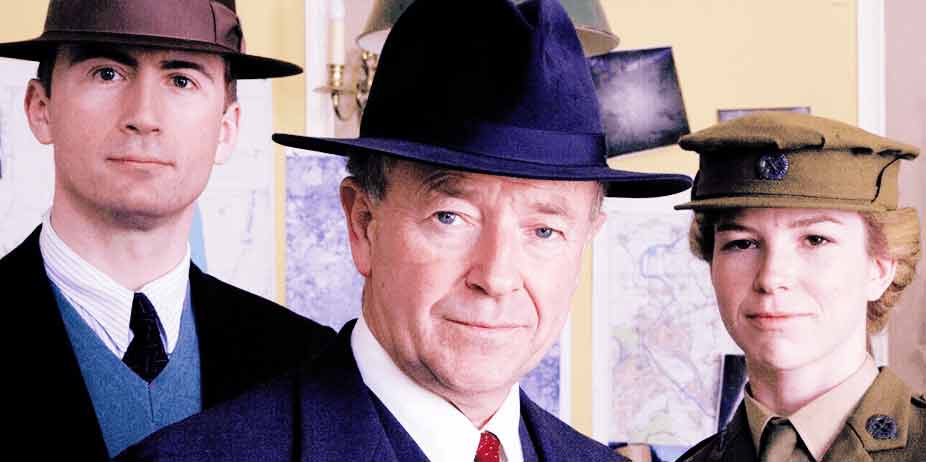 Foyle's War
Reviewed by Rissi C.
After a mildly lackluster fourth series, Foyle's War is back and better than ever.
The departure of DCS Foyle (Michael Kitchen) into retirement has left the Hastings police department in upheaval. Most of the employees are unhappy with the changes, none more so than Sergeant Milner (Anthony Howell) who is working under a new superior, DCS Meredith (Nicholas Day). Thinking of leaving since the two cannot seem to get along, Milner must put aside his personal feelings when Meredith is murdered and evidence suggests he was the intended target. Foyle is busy dictating a memoir with former driver Samantha (Honeysuckle Weeks) at the typewriter... which she cannot seem to master, but before long Commander Parkins (Michael Jayston) is urging him to return and solve the case. Reluctantly, Foyle takes the job only to be thrust into another murder -- that of a young cartographer Henry Scott (Martin Hutson), an invaluable member in his work.
As the investigation begins, Sam's new job helping the war effort leads her to discover that Henry and roguish co-worker Adam Everitt (Vince Leigh) didn't get on so well, while Henry's former girlfriend Jane (Fiona Glascott) is devastated by his death. Unaware of the changes in Mr. Foyle's circumstances, Sam reports her findings to the police, hoping it will help solve the murder. As Foyle probes deeper, he finds that Henry confided a great deal to his priest (Malcolm Sinclar) since he was often burdened by his work and the lives it cost. Following "Plan of Attack" is "Broken Souls," which finds a broken soldier returning only to discover his wife allowed a German POW to work their farm, causing much rage on his part. Rumors of war's end brings a sign of relief as English await the "All Clear." But before any sort of normality can be established, the murder of a doctor leads Foyle to uncover an American mission gone wrong.
Initially, series five was to be the last in this serial due to a shake-up at ITV, but since then things have changed yet again and three additional episodes have been ordered, hopefully premiering in the States by next summer. An impressive feat all throughout this series has been the guest stars and while many faces were unfamiliar this time, BBC veteran Natasha Little does guest star in the second episode. Once again the chemistry surrounding the leading stars is engaging and subtle humor placed just when audiences need a bit of a laugh. Assuming the final episode was to be the last, creators did conclude on a note of finality that holds bittersweet emotions for those of us that have watched this through the many "ups and downs" of our favorite characters. The return of Andrew is both wise and entertaining since I always liked him despite his reckless way of breaking a girl's heart. Seeing him changed by war was something completely new for his character while providing him with a maturity that suited him. Knowing he wouldn't be leaving was favorable on creators' part, seeing Foyle too would experience changes in his life.
For a historic WWII drama that combines mystery in the form of murder, each season has been pure genius both as individual one-hundred minute shows and as a sequential drama that has some continued plots spanning a successful five seasons. From the opening credits, everything sets the tone for a dynamic continuity. Because of this I do recommend watching these from the beginning (for example there is some interplay between two key characters form the moment they meet). Creators bring in many different characters in the runtime so viewers can conclude and guess who is to blame. Seeing criminals caught and brought to justice always makes for a positive conclusion, but occasionally there's dread at discovering the killer. Unfortunately, they aren't always who you thought and sometimes the killer isn't evil, just misguided.
Violence takes precedence again; a man is seen hanging, another is bludgeoned in the head, someone is stabbed. There is much talk of suicides; two men attempt it, one is more brutal (slicing his arm while lying in a pool of water) the other less so (overdosing on pills). Another man commits suicide by shooting himself (we see his lifeless form with a pool of blood forming). A man becomes harsh with his wife and almost strikes her, only to stop himself first. An angry husband suggests his wife had an affair (she didn't); an unmarried woman became pregnant; extra marital affairs are discussed.
Some people may feel this season vilifies Americans to some degree. I didn't see that to any great extent but also can see where one might form that opinion. With the close of the war there are many characters who seem to be shattered beyond repair, whether it was the men who fought to keep the home front safe or those who remained behind. Apart from many other redeeming qualities, this show almost always portrays a happy ending for its characters. I appreciate the fresh start given to so many of the guest characters, because essentially everyone was forced to begin again, caused by a war that left no one untouched. And these brave souls deserved a second chance.