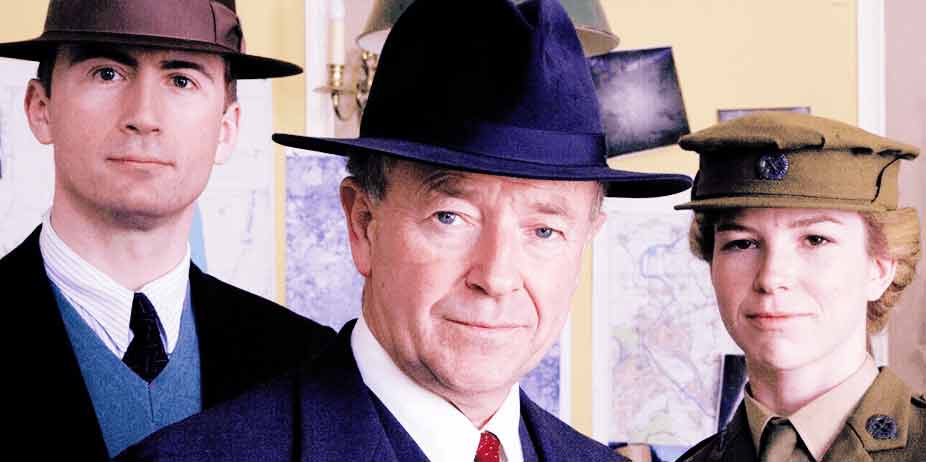 Foyle's War, Season Four
Reviewed by Rissi C.
About two or three years ago, someone who discovered how well my family enjoyed Columbo introduced me to this BBC mystery series. Ever since then, any new installments have found us eagerly looking forward to (and many thanks for the introduction) each of the series releases with high expectations. Series four is yet another brilliant addition to a "classic" series.
The winter of 1942 finds a world at war. England has been embroiled in bloody combat longer than they care to remember, but since the Japanese elected to bomb Pearl Harbor some four months ago, the Americans have joined in the war effort and many have been assigned as allies to the British. More specifically a troop of soldiers have been sent to a region just outside Hastings to construct an airfield base. Captain John Kieffer (Jay Benedict) is in a bit of trouble from a local farmer (Keith Barron) who isn't pleased to see his land requisitioned and destroyed by people who haven't assisted till now. Knowing he has the right to be on the land but none too anxious to be on the receiving end of a shotgun again, Captain Kieffer seeks help from the local police, leading him to Detective Chief Superintendent Christopher Foyle (Michael Kitchen). Agreeing to have a talk with Barrett, Foyle is bribed into making a speech for the Americans on English culture. Before long, and despite the ocean separating their homelands, Foyle and John become friends united by a common and noble purpose.
As time passes, the English become more accustomed to an American presence while a flirtatious private, James Taylor (Peter Youngblood Hills), wastes no time romancing Susan Davies (Zoe Tapper), who may not be so sweet as she appears. Her fiancé (Tom Bennett) is a local boy who has been in Iceland because of the Navy, but is due home on leave any day. Foyle's second-in-command, Sergeant Milner (Anthony Howell) has run into one of his old war buddies at a local pub only to learn the next morning he has died in what appears to be unusual circumstances. Foyle and Milner are caught up in a murder when Susan is found dead during a dance held by the Americans on base. During these events, Sam (Honeysuckle Weeks) is left heartbroken by Andrew and responds to the attentions of a good-natured American soldier named Joe (Jonah Lotan).
Foyle's War never ceases to keep American viewers begging for more as BBC continues to produce such wonderful programs all while wondering why on earth American television isn't even half as good. Certainly, Foyle's War has flaws, but each four-part series has been superb thus far. Rounding out set four is "Bad Blood" which finds Foyle investigating a mysterious illness that could be connected to the war effort but kills a woman and threatens Sam's life. "Bleak Midwinter" intertwines the murder of two women who at first glance didn't know one another, but the further the investigation leads, the more apparent it becomes that something is amiss. In "Casualties of War," Foyle's goddaughter and her young son appear on his doorstep, claiming all sorts of untruths, while Milner is occupied by an illegal gambling ring.
I will confess, this set isn't quite as brilliant as the earlier ones but is still thrilling in its pursuit of a well-crafted mystery. Of these, the best although not necessarily the favorite is "Bad Blood." The rest I'm afraid were all rather "simple" when it came to solving who the murderer was who stood to gain the most at the victim's death. "Bleak Midwinter" and "Invasion" both seemed intent on all but verbally announcing who the murderer was. By becoming so intent on solving the mysteries surrounding the leading characters, audiences easily lose sight of the moral and interesting questions raised. It multiple re-watches to see the underlying, complex principle, so deserving of serious thought. Foyle isn't just any policeman; his character had to have been a challenge to write. True, he has a brilliant head for solving crime but he always looks at what is morally right, no matter how it affects the outcome. Many cases involve personal relationships, which puts Foyle in an awkward situation. Foyle never revels in laying out the truth whenever things end badly but knows that no matter the circumstances, a crime has been committed that is lawfully wrong. Many instances (such as "Casualties of War") attempt to justify an evil deed by playing on sympathies, often saying it was for the good of the war. On occasion you understand but never condone these crimes.
Much as with previous seasons, violence is the main concern. Flashbacks show a woman being strangled, a man is stabbed and shown with the knife in his stomach (there is some blood). A woman is poisoned and while working drops a fuse, blowing herself up. Implications tell viewers a man was shot in the head, along with a brief shot of his dead body. Affairs are hinted at in two episodes and episode three opens with an unmarried couple in bed (we see her bare back/side as she dresses). An unmarried girl becomes pregnant and her boyfriend's response is to "get rid of it." A man is demented to the point of being psycho. Profanity is sprinkled throughout and many lies are told, ranging from protecting a war secret to pride. Drinking is also present.
In addition to having a wonderful production team, this series couldn't have gotten a better cast. Michael Kitchen is fabulous as Foyle and no one could ever replace him. I love his character's ability in solving crimes; his keen and quiet observations and careful attention to details are what make his character, and when you least expect it, and despite his seemingly careful attitude about emotions and personal relationships through work, he often surprises you. Both Howell and Weeks were also a dynamic casting choice and make a wonderful counter to Foyle's more calmly cool demeanor. Sam is a bubbly chatterbox who cannot seem to keep her nose out of a good murder while Milner is a man who has a great respect for his superior and is moving toward a new life after suffering psychical and physical scars. Additionally, newcomer Jay Simpson as desk sergeant "Brookie" is hilarious. What I love so much about the screenplay and this cast is their ability to provide laugh-out-loud moments when you least expect it. Foyle's dry humor and Sam's cheerful personality make for an excellent source of comic relief in what is often a bleak story. This season ends on a bittersweet note that leaves you screaming at the creators for their untimely plot twist, but on reflection you cannot but applaud Foyle for his merited accusations all while refusing to be bullied or bribed.