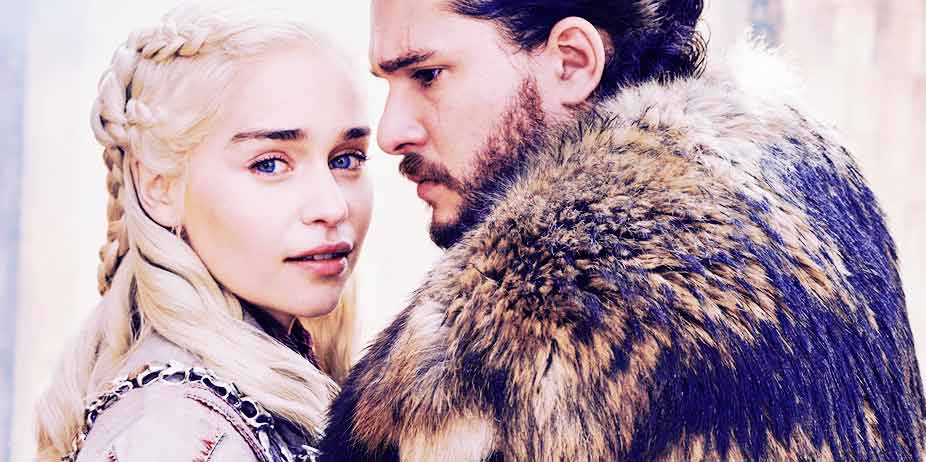 Game of Thrones, Season Four (2014)

Book readers have anticipated this season for a long time. It brings much-needed justice to some characters while sending others further along their journey toward greatness (or death, whichever way the wind blows).
Much has changed in King's Landing, since the Red Wedding. Unfortunate Sansa (Sophie Turner) is unhappily married to Tywin Lannister (Peter Dinklage), but refuses to share his bed or his heart. His refusal to be unfaithful to her, and his concern that his father will learn of his mistress' presence, leads to complications with Shae (Sibel Kekilli). The kingdom bustles with preparations for the far more pretentious royal wedding, between the sociopathic Joffrey Baratheon (Jack Gleeson) and the beautiful Margaery Tyrell (Natalie Dormer).
John Snow (Kit Hraington) faces the bitter hardships of leadership with the growing knowledge that the White Walkers are moving north of the wall; his younger half-brother Bran (Isaac Hempstead Wright) continues to have visions of future events that force him northward. Arya (Maisie Williams) is on a mission to avenge her parents' death by killing everyone involved in their murder, watched over by the ruthless Hound (Rory McCann). Across the sea, her dragons half-grown and increasingly more wild, Daenarys (Emilia Clarke) struggles to maintain control over the cities she has conquered. And the true heir to the throne, Stannis Baratheon (Stephen Dillane) hasn't forsaken his claim. With the assistance of his seer, Melisandre (Carice van Houten), and his loyal supporter Davos (Liam Cunningham) at his side, he intends to bankrupt the Lannisters and buy their debts out from under them.
Dozens of characters, complex and entwined plots, diabolical treacheries and blood scores to settle? It must be another season of Game of Thrones. This one keeps better footing than the last by focusing more on its primary characters and less on insignificant subplots. It also has the asset of including one of the most anticipated scenes in the series' history (the events of a second wedding set the rest of the season in rapid motion), as well as revealing the true mastermind behind the deviousness of the first season. Finally, there is a conflict at the Wall, but we are still left wondering if and when the White Walkers will make a real appearance. The cast is is wonderful, as usual, although a fair amount of things are significantly altered from the books. Some characters live who should be dead, and other plots are tweaked here and there for cinematic reasons. Some of the additions, like Margaery's interactions with her grandmother, are brilliant. Others, like the rape of a main character, are not so marvelous.
Frankly, I am of two minds when it comes to Game of Thrones: enjoyment of an epic story as it unfolds, and disgust that so much profane content taints the experience. I eagerly await owning each season since it allows me to legally edit the series for my own enjoyment, but also feel irresponsible in supporting financially such needless sex, nudity, and gore. The success of this series, in spite or perhaps because of, its emphasis on distasteful things, leaves us with some interesting thoughts to ponder. What is it about this series that appeals to so many people on so many levels? It's more than escapism, because it's not always pleasant to wander in this world. Everyone is capable of tremendous evil, few people have consciences, most are selfish, yet we keep returning for more. Is it to see who eventually takes the Iron Throne, or does it run deeper than that? Maybe its success shows us something about ourselves… unpleasant as it may be; that deep down, we're more drawn to darkness than to innocence.


Sexual Content:
Many sex scenes involving male and female nudity (some heterosexual, some bisexual) and nude scenes outside sexual context and in (brothels feature bare-breasted women, women bathe at the river, etc); it's implied a man rapes a woman, and a group of men force a dead man's wives to accommodate their sexual needs.

Language:
The f-word is frequent, along with s**t, c*nt, and other profanities.

Violence:
Grisly battle scenes include people being speared, cut in half, and shot full of arrows; one man is beaten bloody in an arena and his head is crushed. Lots of gore -- blood, severed limbs, entrails spilling out of dying men, horses cut down in battle, torture scenes, physical abuse toward women and children, etc.

Other:
References to dark magic, to foreign gods, and to prophetic foresight.