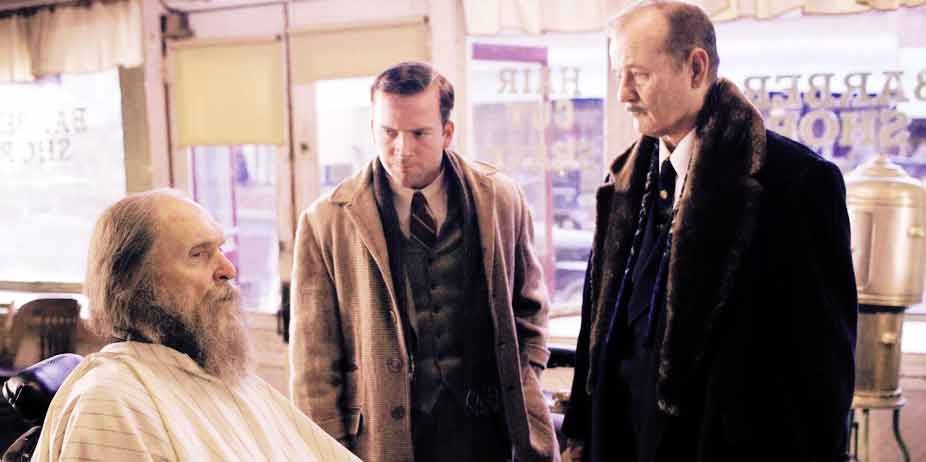 Get Low (2009)
What does one say about a quiet little movie with some meaning but not an enormous amount, that is beautifully acted and a little quirky? I have no idea...
Everyone in town has a theory, or a story, about Felix Bush (Robert Duvall). He lives alone in a cabin in the woods, drives a horse and cart into town on rare occasion, and warns off trespassers with insulting signs and occasional buckshot. Oh, yeah, and the local kids are scared to death of him. When the minister (Gerald McRaney) turns up to inform Bush that a friend of his has passed away, this sets the old man to thinking about dying, and out of the blue he decides he'd like to have his funeral right now, before he's dead and cannot enjoy it. The minister isn't too keen on the idea, but Bush doesn't really care -- and he is fortunate enough to be overheard by Buddy (Lucas Black), who works at the local funeral parlor. Business has been slower than usual over the last few months and they are in need of some financial assistance. His huckster boss Frank Quinn (Bill Murray) tells him to go after it -- get Bush whatever he wants.
As it turns out, there's more than first meets the eye to Bush's desire to have people come and tell stories at his funeral. You see, there's a story he wants to tell ... if he can work up the courage. Ultimately, this little story is about redemption and the quest for forgiveness; it's about a man who shuts himself away from the world as self-punishment who wants absolution before his death; it's a story about someone finding peace in the later years of his life. In that regard, it's quite touching and does contain a lot of moving conversations and moments. It's a sweet little movie in the sense that beyond its quirks, it has some interesting characters and a good heart. It even casts Christianity in a nice light, although both the reverends we encounter (including one played by Bill Cobbs) are a little crusty at times. Gus repeatedly encourages Bush to ask for forgiveness, but Bush remarks that he doesn't know why he needs to ask it from Jesus, because he has never done anything bad to Jesus. His responses may be a little flippant, but how his story comes to an end is ... well, inspiring and sad.
The performances here are quite lovely and understated; Duvall is superb and extremely likable in spite of his eccentricities and he plays well off Sissy Spacek in the role of a woman from his past. Viewers can sort of sense what is coming from early scenes but there is a twist to it. My favorite character actually was Buddy, a nice family man who takes an interest in Bush beyond his wad of "greasy" money. In terms of content, there is a mild amount of violence; a man is shown escaping a burning house; after a stranger throws a rock that hits his mule on the backside, Bush calmly takes a piece of wood and smacks the man hard with it, several times. Verbal descriptions talk about a terrible fire and people being burned alive. There is no sensuality but conversation revolves around an extra-marital affair, or at least the beginnings of one (they planned to run away together). Unfortunately, Bush spends more time abusing God's name than praying it -- there are a half dozen uses of GD from him and other characters, as well as several uses of Jesus' name, and quite a few scattered profanities ("son of a..." is the most popular).
I am not sure what I thought of this movie; on one hand, it didn't quite resonate with me the way I wanted it to, but on the other I found certain of its aspects both intriguing and moving. The quirks are rampant and the twists are numerous (most of them having to do with humor and drama) and in the end it left me thinking. That is always a plus. I'm not sure if it will be your cup of tea or not, but for me it was worth the under-two-hours I spent watching it.