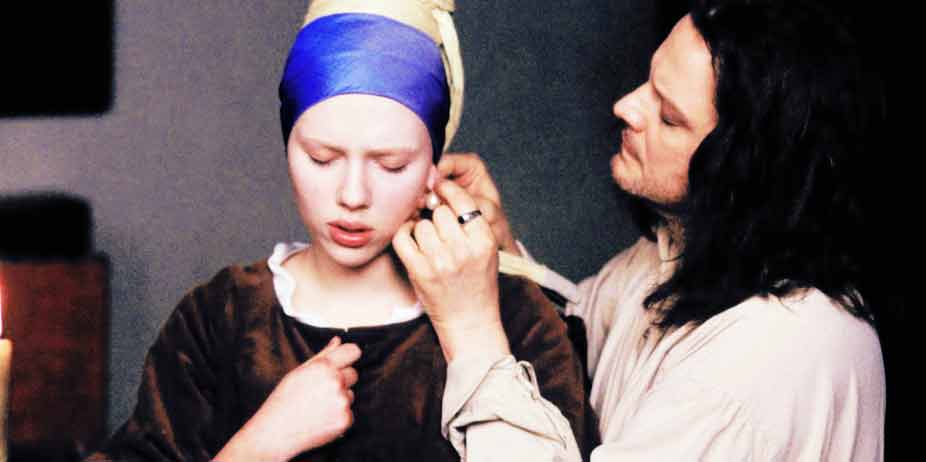 The Girl with the Pearl Earring (2003)
Girl With a Pearl Earring is a gently moving tale about art. We know very little about the true story behind the painting that inspired this film (and the corresponding novel by Tracy Chevalier), so it's primarily a work of fiction but does center around a real-life artist.
After her father is forced out of his kiln-work by sudden blindness, young Griet (Scarlett Johansson) is forced to find employment in an effort to help support her family. She is brought into the household of Johannes Vermeer (Colin Firth), a famous local artist popular for his unusual techniques. The head of a large Catholic family and a perfectionist by nature, Johannes struggles to keep his family financially independent. He is an artist, a solitary man disinclined to enjoy company around the fireside or friendly chats on street side corners. He is not a businessman, leaving such tactics to his pipe-smoking mother-in-law. In fact, Griet does not even see him for several days after her arrival. Kept busy in the kitchens with linen washing, food preparation, and quick trips to the local butchery, she is enthralled when asked to tend the cleaning of his art studio. Nothing must be disturbed, she is cautioned. Leave everything just as it is, for he is painting. She is intrigued by the craftsmanship of his nimble fingers, their ability to create texture, light, and shadows. The painting is finished and shown off to its buyer, their single patron (Tom Wilkinson), whose taste runs to young ladies.
Desiring to dangle his "pet artist" on a string as punishment for taking so long with the painting, Van Ruijven declines commissioning another, leaving the artist with no muse. One afternoon while cleaning the studio windows, Griet inspires in Johannes a new work of art, a young woman standing in the sunlight. As she watches the painting unfold and even contributes to its increasing perfection, Griet is lured into her employer's world of color and texture. He teaches her how to mix his paints. This forces added work to her already hectic duties around the house, but she does it both to please him and for her own enjoyment. They are forming a unique attachment, one that could be potentially explosive. Van Ruijven now wants another painting. He has seen Johannes' interest in Griet and desires her to be the subject. Johannes cannot afford to slight his patron, but to allow such a thing would damage Griet's reputation beyond recovery.
Girl With a Pearl Earring doesn't move rapidly but gracefully manages to captivate its audience with the same tranquil beauty of Vermeer's masterpiece. Not only is it glorious to look at, the story is intriguing, and we become fond of the characters and their various plights, from Griet's struggle with her emotions and independence to her employer's withdrawn mannerisms. The attraction here is not only a beautiful period film, but also the acting. Scarlett Johansson received a Golden Globe nomination for her quiet portrayal of Griet, Tom Wilkinson astonishes us with his abominable villain, and Colin Firth is exceptional as the eccentric, obsessive painter. The production is very tasteful with lovely lighting and texture.
Some reviewers have been offended by the "tension" between Johannes and Griet, but to me it never went beyond an artist's obsession with recreating beauty. Johannes has a wife and family, and is a good father. He is affectionate with his wife. He spends time alone with Griet in a professional capacity but never makes any advances. He comforts her with a partial embrace after piercing her ear, but this is the only subtle flirtation present. Each time they come near touching, even merely their hands on the table, both pull apart.
Girl With a Pearl Earring will not appeal to everyone, but is an intriguing story with a unique premise and ambiguous ending. I enjoy movies that go against the grain, and this one dares to be different. It is not a story about lust, but about beauty. Beautiful souls, beautiful art, beautiful people. Best of all, it captures the very spirit and nature of the book, and gives us a glimpse to the "what if" of one of the most mysterious and haunting paintings of all time.
Sexual Content:
One brief clothed sex scene; references to affairs; a man shoves a woman into a wall and tears her dress (his intention is rape; he is stopped); innuendo.
Language:
Several crude expressions, mild abuses of deity.
Violence:
Griet slaps a child, who is later punished (her hands are struck with a willow rod); an ear is pierced.