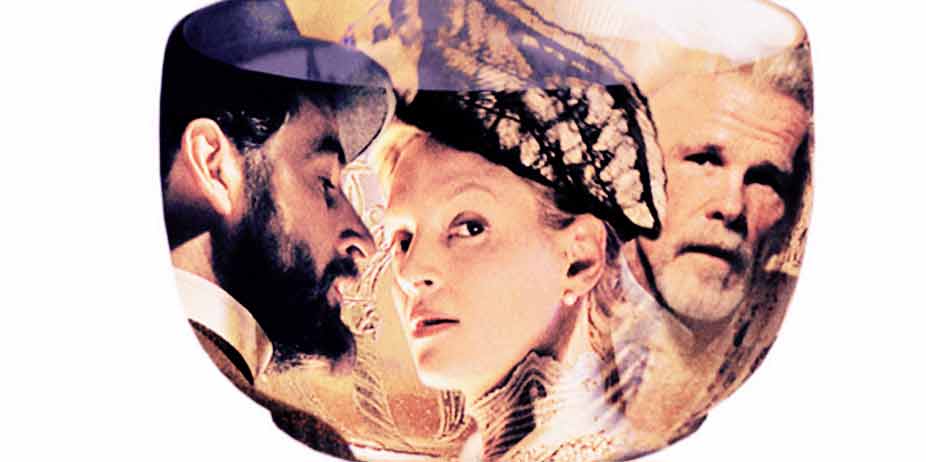 The Golden Bowl (2000)
Merchant Ivory is known for their lavish, breathtaking period films. The Golden Bowl is no exception, an intriguing, visually beautiful production with an exceptional cast. It opens with Prince Amarago (Jeremy Northam) recounting the brutal history of his family's estate to the interested American Charlotte (Uma Thurman). Their friendship is shortly to be threatened by the engagement of Amarago to another young woman. With an estate to look after and no money with which to end it, Amarago has been forced to choose a fiance out of convenience rather than love. His pride will not allow him to marry Charlotte, for she is nearly as penniless. His hopes are that she too will marry well so they can overcome their individual heartache. It's decided his future wife Maggie (Kate Beckinsale) will know nothing of their friendship but instead they will meet as strangers.
Maggie has been a close friend of Charlotte's since they met in boarding school. She is blissfully unaware of the sparks flying between husband and friend in the weeks before the wedding. Wanting to purchase them something exquisite as a gift, Charlotte considers a golden bowl made out of a single piece of crystal. Amarago advises her not to purchase it, for he says it is "flawed." Several years later, Amarago and Maggie are tolerably married and have the beginnings of a family. Charlotte has come back from abroad for a summer visit and finds herself favored by Maggie's father Adam Verver (Nick Nolte). He is an art collector in the process of building a museum, but cannot find anyone to share his passion. Charlotte manages to touch just the right note, and after several trips abroad they announce their engagement. Maggie is thrilled that her father will no longer be alone, but the marriage becomes tiresome.
Adam only seems happy when in his daughter's presence and they are often traveling together, leaving Amarago and Charlotte to entertain themselves. Fanny (Anjelica Huston), the family friend who was responsible for arranging the marriage between Amarago and Maggie, believes the two idle spouses are involved in an affair. To reveal them would, however, jeopardize her friendship with Maggie, who must "be protected." As the story unfolds, feelings will be hurt, friends betrayed, and lies spun before it all comes back to the infamous affair of the golden bowl. The story is intriguing because of what foundation it builds. Charlotte is less moral than Amarago and it is she who entices him into a relationship. For many years he remains strong but then gives in once -- just once, but it was enough to create a landslide of suspicions. The two are thrust together quite by accident but could have chosen to walk away. They didn't.
One might blame Maggie and Adam for much of it, since they are "absent" from their husband/wife's lives a great deal of the time. It's natural for mankind to seek affection when there is none at home, but that doesn't make it forgivable. It's both a lesson in submission and seduction, and also the part we so innocently play in the ruination of other lives. All of the characters are intensely likable and alluring to the point of being empathetic. Even though Charlotte is a schemer, you cannot help feeling sorry for her. Amarago is so completely charming, even when resistant. Maggie is completely insecure but also places her father's happiness above her own, a feeling mutual with Adam. We get the feeling he catches on fairly rapidly but never comes right out and says it, instead alluding to Amarago that if he hurts Maggie in any way, he'll pay for it with his life. These cords bind together an interesting story, beautifully acted. The actors were all in top form for this production. I'd become so used to them in various roles that it was like watching an entirely new cast.
The Jeremy, Uma, Kate, and Nick I'd seen before were nowhere to be found. They pulled off their accents with relative ease and were surprisingly accurate (within reason, sometimes Huston overdoes it). Production design is also breathtaking... beautiful paintings, exquisite gowns, lovely patterns of light falling through windows and across woven carpets. There's an aura of mystery to it as well as romance. The movie also has only one primary content concern. There's barely any language, no violence whatsoever, and limited innuendo. Some of the gowns show cleavage, but not obsessively. The only scene inappropriate scene in the film comes when Charlotte and Amarago share a hotel room. They fool around on the floor, breathing heavily and kissing before the camera pans out. There are several passionate adulterous kisses, but it's implied the lovers failed resistance only once.
When Charlotte wants to continue the relationship, Amarago refuses. He says he is coming to love his wife more by the day, and it will take a lifetime to erase all the lies between them. The film has a rather strange ending but concludes on a positive note. I feel the messages conveyed about fidelity, true love in comparison to attraction, and seeing the characters ultimately do the right thing were worth the single flaw.