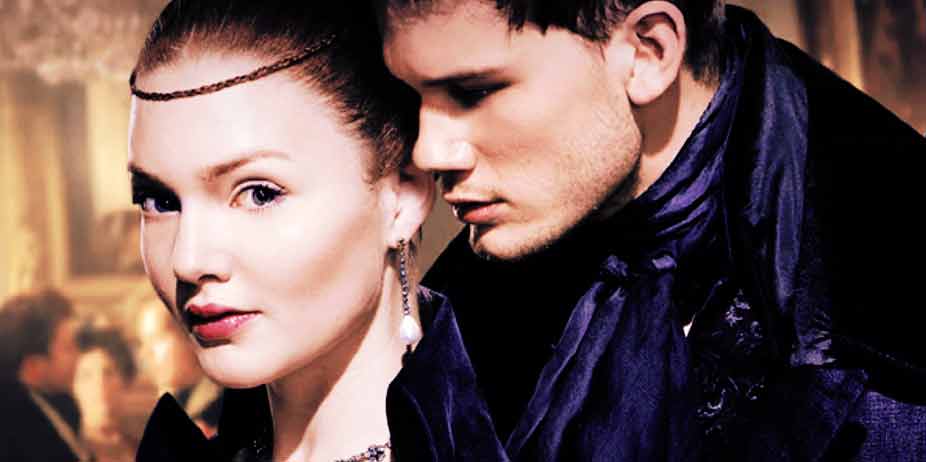 Great Expectations (2012)
Dickens' story about a mysterious benefactor, a haughty young woman, a kind-hearted boy and the eccentric older woman who brings them all together has captivated readers and film audiences for generations. Once we've met her, we never forget the woman in the rotting wedding gown much less the wonderful cast of characters that surround her. This new adaptation of Great Expectations is beautifully written and perfectly cast. It's worth however long you must wait to see it.
Young Pip (Toby Irvine) merely wants to visit the grave of his parents on Christmas Day. He never anticipated that a criminal (Ralph Fiennes) would loom up out of the mist and threaten him with violence unless he procures a file to help him out of his shackles. Frightened but kind-hearted, Pip steals not just a file but a meat pie as well. The tumult this causes at dinner is interrupted by soldiers in search of two escaped convicts. Magwitch is captured and hauled once more off to prison but before he goes, he confesses to the theft to keep Pip from the wrath of his bitter aunt.
This adventure sets the stage for another transition in his life, when Pip is invited to the home of Miss Havisham (Helena Bonham-Carter), a woman whose house is decaying as much as the wedding gown she hasn't removed since being jilted at the altar many years before, to act as a playmate to her ward, Estella (Helena Barlow). Though finding the girl haughty and cruel, Pip forms an attachment to her that is cruelly interrupted when he is purchased an apprenticeship with his uncle as a blacksmith and forbidden to return. Estella seems beyond his reach forever, until years later when Pip (Jeremy Irvine) is made the recipient of an enormous fortune. Leaving behind his kind-hearted uncle (Jason Flemyng) and best friend, Biddy (Jessie Cave), he journeys to London.
Mr. Jaggers (Robbie Coltrane) sets him up in an apartment with Herbert Pocket (Olly Alexander), but won't reveal who his benefactor is. And when Estella (Holliday Granger) resurfaces, Pip soon finds himself involved in social climbing as he unravels the mystery surrounding not only the woman he loves but also his inheritance.
Since this film is just over two hours long, it doesn't detail every nuance of Pip's life and his experiences with other characters in the way the miniseries from last year does, but it's one of the best short Dickens adaptations I have ever seen. It chooses its contents carefully so as to offer us delightful moments that aren't too familiar, in addition to the anticipated revelations and twists and turns. Here present is the little drawbridge of Mr. "Portable Property" Wemmick, as well as the character of Biddy. If anything suffers from the condensed plot, it's that we don't see much of a change in Pip's behavior (this makes him likable throughout, rather than frustrating at times). But I didn't mind it so much because the cast was so wonderful -- and many of them are "unknowns." Helena burst out of her usual "crazy" to play a downright pathetic Miss Havisham. This Estella has simmering emotions beneath the surface, and Pip is terrific. But if anyone stood out, it's Olly Alexander as Herbert Pocket, who completely steals the movie.
The costuming is sumptuous, the score subtle but powerful at the right moments, and I love how the director handled even the more unusual shots, which never take you out of the film but do compliment the lovely cinematography. Fans of the book should know that this adaptation, like many of them, changes the ending to make it more "likable" to modern audiences. I've become so used to these endings that I didn't mind. My only complaint was the "squished" filter on some of the flashbacks, but that minor fault aside, there was never a moment I was not in love with it.
Sexual Content:
Cleavage in the period gowns.
Language:
A few mild profanities.
Violence:
Two men try and kill one another in a swamp (one tries to drown the other); flashbacks show a woman strangling another woman, and the second woman stabbing her arms with a knife (no contact, some bloody aftermath). Two men struggle in the water and are caught up in a boat's water wheel; a man surfaces bloodied. Someone catches on fire and is shown badly burned (bloody/burned face and hands, before they die).
Other:
None.