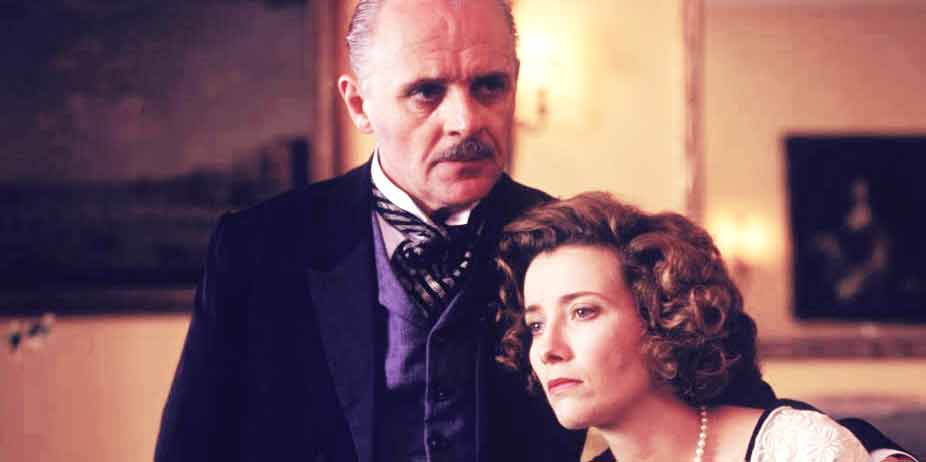 Howard's End (1992)
After one viewing, I cannot understand why this film won three Academy Awards. Choppiness aside, it was highly confusing and while the acting was excellent, it's also quite dull. The story is of two sisters of limited means, Margaret and Helen (Emma Thompson, Helena Bonham-Carter), and their adventures in dealing with the wealthy but interminable Wilcoxs as well as the poor and unhappily married Leonard Bast. Helen is a passionate and flighty girl staying at Howard's End for several weeks on holiday, being of an acquaintance of the elder son. While there, they have a misunderstanding in that Helen writes to her sister Margaret that she is in love and will be engaged.
Their well-meaning aunt takes it upon herself to take up the duty of proper chaperone, despite Helen's urgent telegram that it was all a mistake -- that they are not to be engaged. Jilted by young Wilcox, she returns to London and the flat where they were born to take in the drudgery of a cold England winter. Having kidnapped unintentionally a young man's umbrella at a music program, Helen is pursued by Mr. Bast, who only wants the return of his property... but finds instead a charming pair of young ladies. Returning to his flat, where his would-be-wife awaits him, he finds life extremely dull. Having dropped Margaret's card, his wife believes him to be involved with her and shows up a year later to ask where he's gone.
In the meantime, Margaret has befriended Mrs. Wilcox, and when the older woman dies, she leaves Howard's End to Margaret. However as it is not a legal document and therefore not binding, it is destroyed by the two jealous children. Mr. Wilcox (Anthony Hopkins) takes it upon himself to find out what he can about Margaret and winds up falling in love with her. Helen, in the meantime, is struggling with her feelings for Mr. Bast, who finds his marriage interminable. And eventually what will come of this muddled mixture of passion and secrets is a scandal worthy of notice that could destroy Helen and Margaret forever.
The film is a highly controversial and miscalculating piece of work. With an excellent cast, it lacks one thing and one thing only... a plot worthy of praise. I found it highly disjointed and dislikable, mainly in the fact that morals were so loosely condemned. Mr. Bast and his lady friend have an apparently intimate relationship well before their marriage and this is expressed in a sensual scene between them in the bedroom. Although nothing is seen, very little is left to the imagination when the screen cuts away. Helen has no scruples in having an affair with a married man -- and winds up pregnant by him. Margaret forgives her husband's past forbearances in cheating on his wife.
The characters are underdeveloped, the film poorly edited, and while the dialogue does include some witty lines, I've never watched it twice.