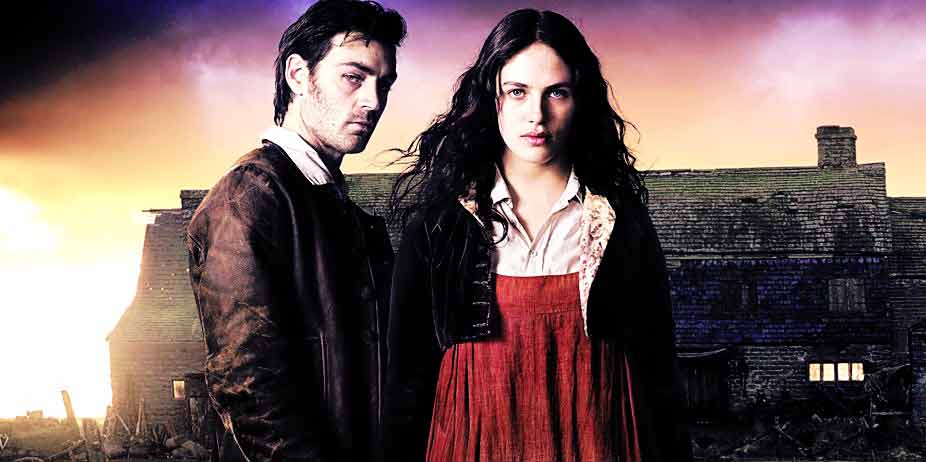 Jamaica Inn (2014)

Daphne du Murier is best known for her most famous novel, Rebecca, but she also wrote Jamaica Inn, a shocking story of smuggling and murder. Alfred Hitchcock successfully translated it to the big screen early in his career, but it has gone largely untouched since. This English dramatization takes awhile to get going, contains sometimes inaudible dialogue, and revolves around a bipolar heroine, but is nevertheless a complex and interesting story.
After the death of her mother, stubborn young Mary Yellan (Jessica Brown-Findlay) turns down the romantic overtures of a local boy to move halfway across England into the home of her aunt and uncle. Upon her arrival, she is surprised not to be expected. Her Uncle Joss (Sean Harris) is a temperamental and abusive man, and her Aunt Patience (Joanne Whalley) is protective of him to a fault, enduring his slights with simpering pleas. Mary starts standing up for her aunt, which puts her in her uncle's crosshairs, but she isn't afraid of him... even though everyone tells her she ought to be.
Joss' younger brother Jem (Matthew McNulty) is a local horse thief and con man who takes an immediate liking to Mary. She battles her attraction to him and distaste for his immoral behavior, while contemplating what to do about the "family business," which is smuggling. When the local magistrate pays the inn a visit to investigate allegations against her family, she stands up for them... and then realizes that they do far worse than strip the ships of their wares: first, they lure them onto the rocks so they shipwreck, and then they murder the entire crew and any passengers that swim ashore. Her emotional turmoil drives her to confide in the local cleric (Ben Daniels) what is going on, whose younger sister (Shirley Henderson) encourages her to act as a double agent against Jem, in the hope of uncovering who gives him the orders. Romance, danger, unexpected revelations and murder unfolds as Mary is caught up in the mystery.
I have mixed feelings about this three-part miniseries. On one hand, it's nice to see something adapted from a lesser-known work, which means the story seems fresh and new and the plot twists are unexpected unless you have read the book. They unweave a little more obviously as time goes on, but in doing so, are a hook for the third and final episode when everything comes to its conclusion. The problem isn't so much the mumbling actors (which isn't as bad as I had heard it was) as the bipolar personality of Mary, who says one thing one minute and does the opposite the next. She isn't the only one to engage in completely bizarre antics, either; much of the time, I was left wondering why the characters acted how they did, since their motivations aren't always apparent and many of their choices are downright inconsistent with earlier behavior. One also wonders why so many men are infatuated with Mary, considering she's so sullen and temperamental.
The costuming is gritty and realistic and the music is quite interesting. The scenes of smuggling along the beach are harrowing, but not being able to rationalize out the decisions everyone makes throws it of its moorings. Then too, we have the uncomfortable element of a romantic attraction between Mary and her Uncle Jem. He is an uncle through his brother's marriage to her aunt, but it's still a bit creepy, particularly when he manages to get her into a hotel room five minutes after she has berated him for his immoral behavior. It's elements like this, where Mary says one thing and does another, that weakens her as a heroine, and she never quite recovers.

Sexual Content:
A man tries to molest Mary in the pub; he pins her against a wall and pulls up her skirt; Jem tries to get her into bed and nearly succeeds (he invites her, kisses her, they start to kiss and undress one another and are interrupted; she laments to a man that she ought to feel glad they didn't succeed, but she can't fight her feelings).

Language:
One possible use of the f-word (it was probably something else, but the dialogue is muttered so it was inaudible); a couple profanities.

Violence:
An abusive husband hits his wife several times, blackening her eye; a man is viciously strangled; men, women, and children swimming ashore after a shipwreck are either beaten to death or held underwater until they drown; several people are shot and killed; we see blood-covered bodies after a murder.