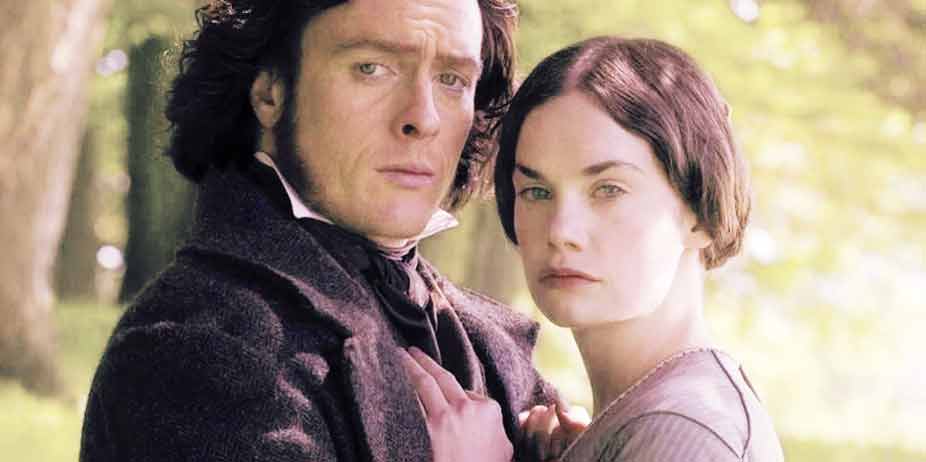 Jane Eyre (2006)
When Charlotte Bronte penned the literary masterpiece Jane Eyre, it was a mild book, not meant to ruffle feathers or cause undue attention, but in the years since its conception, it has been taken time and again to the screen in an effort to capture its sense of mystery and romance. Of the numerous attempts made that I have seen, this is by far the most enigmatic and powerful.
When young Jane Eyre (Georgie Henley) is cast out of the household of her vengeful aunt (Tara Fitzgerald) and sent away to a strict religious school, she cannot imagine experiencing anything of happiness in her life. Many years later, having sought a position as a governess to the wilds of Thornfield, a majestic house set in the brooding English countryside, Jane (Ruth Wilson) finds contentment in teaching her French student, Adele. Then returns the master of the house. Edward Rochester (Tobey Stephens) is gruff but charming, distant but flirtatious, a complex study of human nature and its immaculate peculiarities. He immediately catches Jane's attention. After she prevents him from being burned alive one night, he reveals what appears to be a genuine romantic interest in her. Flattered by these mild attentions, Jane is crushed when he immediately leaves for town and returns weeks later, bearing the full brunt of London society.
Beautiful and wealthy Blanche Ingram (Christina Cole) is determined to marry him, and her mother has more than her share of comments to make about the dreadful state of governesses. Jane has more to be concerned about than her love for the temperamental master of the house. Strange and sinister events are unfolding around them with alarming rapidity, from an assault in the middle of the night on a seemingly unsuspecting guest, to the ghost Adele has seen walking the corridors, and even Rochester's strange disinterest in casting out one of the servants. Most adaptations take a dreadful approach to the subtleties of the plot and miscast the leads. This is the first I have seen that is both rich in visual drama and carries powerful performances, not only from the leads but the supporting cast as well.
It is sheer brilliance from beginning to end. For the first time, Jane Eyre is not an emotionless, colorless heroine whose features reveal nothing of her thoughts, but a two-dimensional, troubled young soul who responds to Rochester's flirtations with the innocence of a naive but strong young woman. There is a wonderful spark between Wilson and her co-star, most evident in their moments of playful flirtation that reminds one of an adolescent romance without becoming immature. I was not thrilled to hear of Stephens casting in the role, but within a half hour I was completely sold on his Edward. Most actors make the dreadful mistake of taking a far too lenient approach and making Rochester too mild-mannered, or going too far over the edge and performing him with such gruffness that one wonders why on earth Jane would ever be drawn to such a dreadful imp. Stephens has his rougher moments, but they are meant to appear much as in the novel, to be attempts to conceal his true emotions.
There is not much to be disconcerted about in the miniseries, but one addition I was not fond of was the presence of a Victorian-style Ouija board in evening parlor games. The audience is not certain whether it truly works, or if Rochester is manipulating it with the assistance of a friend to play with feminine emotions. An old gypsy woman comes in to tell fortunes, but it is ultimately discovered to be no more than a trick. Far more disappointing is the introduction of brief sexual content in a flashback concerning the first Mrs. Rochester: her husband walks into their parlor to find her engaging in clothed fornication with a stranger. Apart from that, content issues are minimal and mostly thematic. There is some blood on a wound, a figure leaps to her death off a roof, and after a botched wedding, Rochester attempts to seduce Jane with kisses. The two are laying on a bed, but he does no more than kiss and hold her.
Once again, much to my disappointment, the religious aspect of the novel has been overlooked. In the book, Jane left Edward because she could not bear to become his mistress, and knew it would be wrong. Her struggle with God over this was evident, but in the film there is little made of her religious faith, and the audience is left to draw their own conclusions as to why she would leave him. The careful exploration of the characters of Jane's cousins is one I appreciate. Most adaptations leave him to but a few moments, with no consideration of the deeper meaning behind his sullen nature. It is indeed a masterpiece.