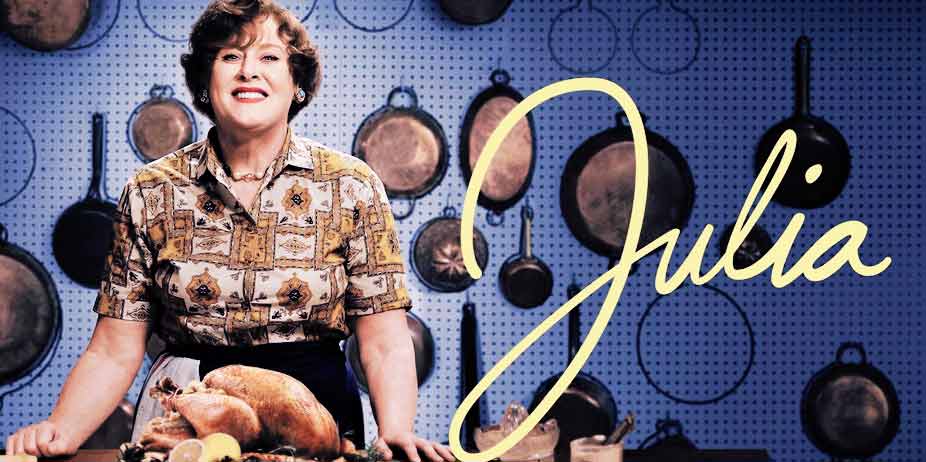 Julia, Season One (2022)
Like most people, Julia Child enchanted me when I saw the film Julie & Julia a few years ago. She was by far the more interesting half of that production--and now HBO has given us a series about her filming her famous cooking show, the first of its kind on network television, and a huge hit for what would become PBS. And, I wish it were just a little bit more perfect.
It's 1962, and Julia Child (Sarah Lancashire) has published a cookbook. A bright young executive at WGBH, Alice (Brittany Bradford), thinks she might make an interesting guest for their snobby book review club, so she convinces the network to invite her. To everyone's surprise, rather than talking about her book, Julia cooks the host breakfast right there on a hot pad! The idea for a cooking show is born and they shoot a pilot. Julia loves it, Alice loves it, Julia's agent Judith Jones (Fiona Glascott) loves it, and her best friend Avis (Bebe Neuwirth) loves it. Who doesn't love it? The men around them, who scoff at the idea of a cooking show. This even includes her husband, Paul (David Hyde Pierce), who is skeptical about the idea and worried that if it doesn't succeed, Julia will feel heartbroken. Leaving Avis to distract the newly retired Paul with a project that will keep him out of her hair, Julia offers the network a sweet deal -- she wants to do this series so much, she will pay for the episodes out of her own pocket!
Little do any of them know what fun, hilarity, and success will come their way because of the intrepid women around them, not only Julia and her infectious personality, but Alice and her mighty ambitions for her career. It's mostly Julia's story, but delves into the people around her as well--Judith at the publishing house, as she works beneath a powerful and abrasive editor, Alice fighting her way through racial stereotypes at the studio (her story is made up for dramatic effect), and even Avis, a brilliant editor in her own right, who hasn't managed to find her footing again since losing the love of her life. The series is charming, funny, and heartwarming. Sarah Lancashire has big shoes to fill--literally in Julia's case, but also by walking in the footprints of Meryl Streep. She takes the role and makes it her own; her Julia can be hilarious one moment, and break our hearts the next. One of the most gut-shattering exchanges is when Julia runs into caustic feminist Betty Freidan at an award's ceremony. Betty is unpardonably rude to her and accuses her of setting feminism back, by keeping women in the kitchen. In tears, Julia retreats to a safe distance to sit by herself--only to have a young Fred Rogers come sit by her, and tell her "I like you... just the way you are." Cue the audience waterworks! Even if this never took place in history, it's just an example of how good the writing is at making us like and support its oversized heroine.
There are two problems with this series, however. One is that in raising up all the women, they do a disservice to some of the men. They need them to be antagonists and Paul bears the brunt of it. The loving, supportive husband of history and the earlier film is more self-centered and doubting of his wife's ambitions in this version. He's a bit slandered in the process, although the series does let him learn and grow and become supportive without question, especially through the Betty Freidan incident (he saves the day, when he points out to Julia that what others think doesn't matter, provided the show gives everyone who works on it and sees it joy!). The second is the foul language. HBO can't seem to make very many series without adult content, and they throw in the f-word here just to keep it "MA." It's unnecessary, uncreative, somewhat uncouth for the time (especially coming out of a woman's mouth) and above all, makes it so I can't recommend it to the person I know would love it the most -- my very proper mother. She would have loved this, from the female relationships to the comedic incidents in the kitchen, but she has high standards. She's a lady. In the same way you'd never hear the f-word come out of her mouth, she doesn't want to hear it, either. And that's the biggest flaw with Julia. I want to share it with her, but I can't.
Sexual Content:
Soft romantic scenes between a married couple (they kiss and roll around on the bed -- then she has a hot flash and pushes him away); another scene has them afterward and/or after kissing (he rolls off her in bed). Some sexual references and cooking innuendos (her famous statement about this dish being hotter than a stiff c**k). Julia has a flamboyantly gay chef friend, who takes her to a drag club (she is shocked and a little uncomfortable, but sings with the artist portraying herself). A lesbian comes out to Julia and says it was because of Julia that she knew she was gay--Julia doesn't remember her encounter, which the woman says was skinny dipping and cuddling on the couch, implying that Julia doesn't recall it and saw it as innocent at the time.
Language:
A dozen or so f-words, a half dozen abuses of Jesus/God's name, occasional uses of damn, hell, etc.
Violence:
None.
Other:
Some social drinking.