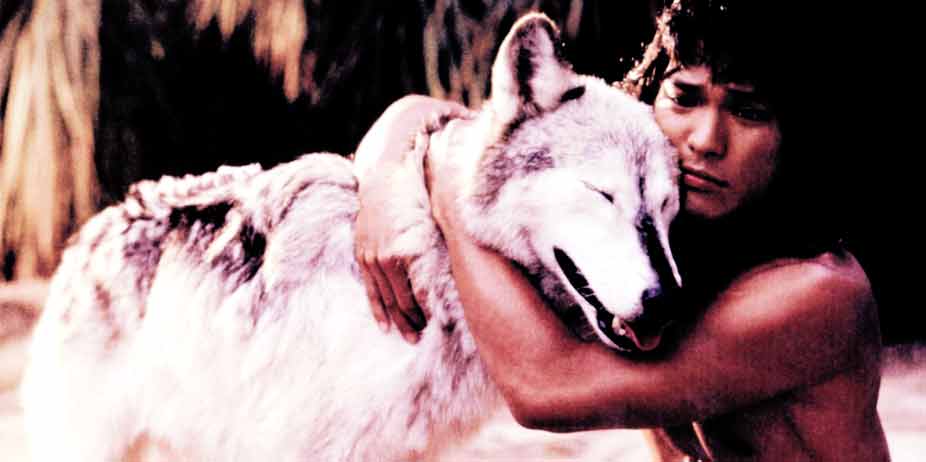 The Jungle Book (1994)
Perhaps this story isn't quite what Rudyard Kipling had in mind when he penned his classic novel, but for the romantics at heart -- and those who love high-stakes action capers -- it's the ideal compromise between the high society of a Victorian upper crust and the brutal British India. With a spattering of romance, a violent rivalry, and much animal instinct, The Jungle Book becomes larger than life. Our story opens in the frightening India jungle with a caravan of British soldiers traveling to the capital. Captain Brydon (Sam Neill) and his daughter Kitty are among them. Also along is Mowgli, a precocious five year old, and his father, who acts as a guide.
Along the way several officers, lead by the example of a less-than-agreeable native, hunt for pelts. This, they are told, will enrage the jungle's keeper, the magnificent but merciless Sher Kahn, a tiger. But they laugh off the warning and camp is made in haste. The two children befriend one another and Kitty gives Mowgli as a gift her mother's priceless bracelet. Before he is able to return it, Sher Kahn attacks in the night. Mowgli's father is killed saving someone else and the little boy is lost in the jungle. As the years pass, Mowgli (Jason Scott Lee) grows more and more like his animal friends; fast and cunning, sharp-toothed and dangerous. He's more animalistic than human, having been adopted by the wolf-pack. One day he hopes to meet Sher Kahn face to face and be accepted not as a man, but a creature of the jungle. Kitty's bracelet is his only link with the human world... until it is stolen by a monkey. He follows the beast to the mythical Monkey City. The tale is told that all the wealth of India was gathered there but the natives so infuriated the jungle that it closed in upon them, locking away forever the vast wealth from human hands. Taking a dagger and some clothes, Mowgli returns to his wolves.
His life is in peace until one day when he encounters the now-grown-up (and admittedly beautiful) Kitty Brydon (Lena Headey) in the jungle. Having taken a dare from one of her friends to cross the bridge between "civilization and the wilds," Kitty has strayed too far. Mowgli offers her a jungle flower, taken by her beauty. Frightened, she runs away -- right into the arms of her suitor, Captain William Boone (Cary Elwes). When he playfully stalks her in the jungle, Mowgli believes her to be in danger and attacks the officer. A few bullets and capers later, Mowgli ventures into the city to find Kitty but is captured by Boone. The officer finds his dagger and demands to know where he's stolen it from. In the meantime, Kitty has learnt of the bracelet and convinces her father this is the boy they lost to the jungle so many years before. With his permission and the aid of a British doctor (John Cleese), she begins to teach Mowgli the English language, as well as to educate him in proper British manners and taste.
Believing once Mowgli can be taught to speak, he could be persuaded to give him directions to the Monkey City, Booth regretfully leaves them to their studies. But there is more than a slight attachment forming, on both sides. Greed, envy, and the tropical climate will lead up to a thrilling climax, a long and winding trip toward destiny in which good will triumph over evil... and our hero will be tested in every way imaginable. The Jungle Book is a very good film, if a bit unbelievable. The music is absolutely haunting, the costuming utterly gorgeous; the acting is excellent from all major players, and the storyline unpredictable. It was a pleasure in particular to see Sam Neill portray a British officer; he never fails to shine on screen, while Cary Elwes' evil Booth manages to steal the show. The animal trainers in particular have done a magnificent job with the array of monkeys, serpents, tigers, bears, and wolves who make an appearance in the two-hour production. The cinematography in particular is praiseworthy, with gorgeous silhouettes and uses of unusual camera angles. However, the PG rating is a laugh. This may be the most violent PG film I've ever seen. Men are mauled by tigers and attacked by wolves; people fall to their death. One man is sealed in a sand-filled tomb in a heart-pounding climatic scene.
Others are shot and killed in a raid; Kitty's life is threatened numerous times. A man is killed by a snake (we see his horrified reaction, then a close up of the snake opening its fangs to the screen). Several times various characters are hit in the crotch. While not gracious or bloody, The Jungle Book has a high element of violence and frightening scenes which make it unsuitable for younger children. Sensuality is almost nonexistent unless you object to Mowgli running around without a shirt most of the time. Language is minimal to moderate -- you could count the profanities on one hand (most of them are compiled of British slang). For older viewers, The Jungle Book is a thrilling and romantic epic with gorgeous photography and the stirring magic of a British-India civilization. But I'd think twice before allowing the little kids to see it.