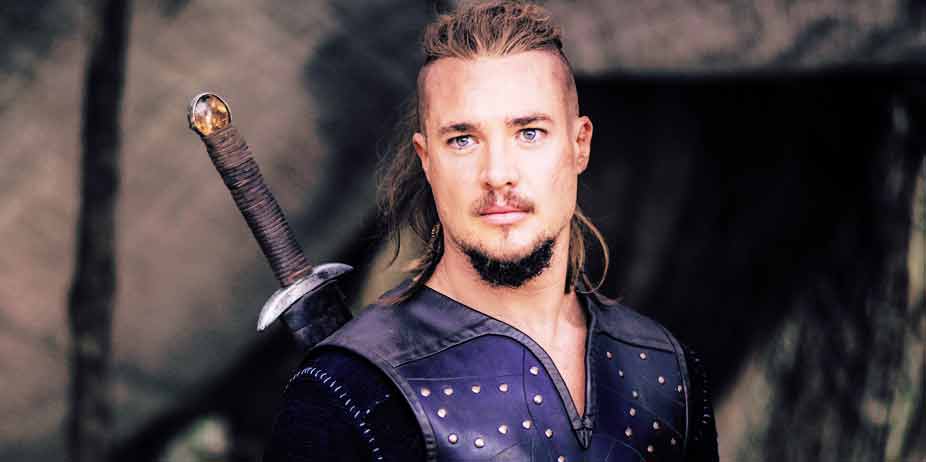 The Last Kingdom, Season Two (2017)
Based on a best-selling book series by Bernard Cornwell, The Last Kingdom continues the adventures of Uhtred (Alexander Dreymon), a Saxon-turned-Dane when kidnapped from his family as a child. He pledges his sword to Alfred the Great (David Dawson) and has just returned from defeating the Danes in Wessex. Uhtred looks forward to a quiet life, to reclaiming his lost kingdom and lands, and to ending his service to Alfred, whom he distrusts... only to discover the renegade Dane brothers Erik and Siegfrid have no intention of a peaceable retreat.
His subsequent repeated interactions with these two men land him a prisoner on a slave ship, until freed by his brother, who recruits him to rescue their sister from the man who murdered their Dane father. Uhtred's actions force him to surrender his sword again to Alfred, in order to escape trouble, and he comes in handy when the Danes overrun London, and then in a daring raid, prove their intention was never what Alfred first believed. As the series heads to its conclusion, it engages with a touching, tragic romance, and sees the development of Uhtred from a reckless youth into an intelligent young man of greater wisdom (though he still makes heartfelt mistakes).
The first several episodes founder, because they keep Alfred and Uhtred separate; their united paths make for a stronger script, and the last five episodes are so intense, interesting, and eventful I stayed up late one night to watch them all. The attempt to rescue his sister, his marriage to an intelligent, moderate woman (even though it starts out perilous), and Uhtred's increasing wisdom make for a stronger, more emotionally driven series than the first season. The vivid contrast between two such different men (the impulsive, reckless, risk-taking Uhtred, and the quiet, reserved visionary Alfred) is dramatic and powerful. It wraps up loose threads from last season, resolves plot lines, and introduces new ones, but has a sense of completion by the end.
The show wavers between realism and brutality, but it creates individuals to root for, who have a sense of moral fiber or at least mercy. Uhtred is less despicable and brutal this season, with more of a heart, and Alfred's unshakable foundation falters when confronted with potential tremendous loss. The costuming is wonderful to look at, though maybe not always accurate, and the gut-wrenching reality of what these people experience is never far from the audience's mind. The show knows how to hook our attention and hold it, and forces its characters to confront the darker side of themselves, as well as the challenges life throws at them. I could do with a little less gore (the blood flies fast and thick) and sex scenes (this one has way less than last season) but I can't deny, season two was a great way to spend an afternoon.

Sexual Content:
Four sex scenes (nudity, movement, noise; in one, a man is abusing a woman); threatens of rape. Various scenes of backside nudity / side nudity. Several glimpses of bare breasts.

Language:
Profanities, common slang, a coarse / vulgar terms for sex and women ('riding,' 'plowing a woman,' 'cock,' etc).

Violence:
Extreme and often gory. Slit throats spew blood. Limbs fly off. Men are hacked, skewered, and sliced. Swords explode through chests. Axes hue into skulls. Mass carnage in battle scenes.

Other:
Mentions of pagan gods / some harsh depictions of "Christians."