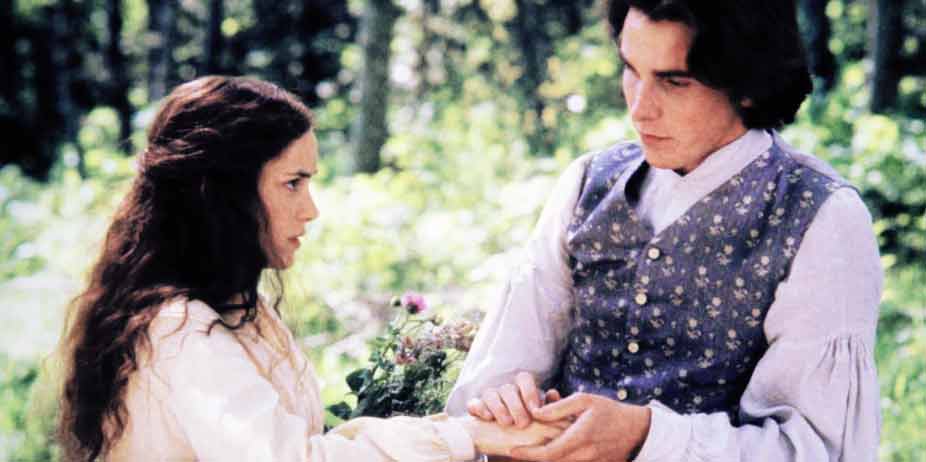 Little Women (1994)
I feel that a good adaptation is one that captures the heart of the novel, not follows it explicitly. Thus said, Little Women is one of my favorite films but has made the "most terrible adaptations of all time" lists of some of my friends. If you aren't looking for a straight-book-to-film adaptation, you will probably enjoy it as I do. Otherwise, you'll miss some of the novel's more soothing attributes.
The March sisters, Meg, Jo, Beth, and Amy, have always been happy, for they have one another, but as the war breaks, tearing the family apart from their father, they face a new series of challenges, learning lessons of love, life, and character along the way. Proper Meg is about to find her heart's desire, while Jo (Winona Ryder), the tomboy, strives to have her writings published, and the two younger girls (Claire Danes, Kirsten Dunst) are simply content to grow up. Though the March family is poor, upon Christmas morning, when it is discovered that a family by name of the Hummel's hasn't a stick of firewood nor bread to their name, the girls happily give away their magnificent breakfast. On their way to the Hummel's, they pass the Lawrence house, where Old Mr. Lawrence and his young grandson Theodore (Christian Bale) reside. Jo voices an interest in getting to know him better before her sisters, and soon has her chance at a New Year's party, where they stumble upon each other in a shadowed, curtained corner of the ballroom.
Meg twists her ankle dancing, and Theodore, who prefers to be called "Laurie," offers to take them home. He is soon invited into the close circle of the March home, brought into their complete confidence, and enjoys playacting with them for some time until he is old enough to attend collage. About this same time, young Amy undergoes a dreadful conflict at school, and is pulled out by her mother. Jo is then asked to take over her education, which both girls dislike but make the best of. One evening as Amy is getting over a cold, Jo, Meg, Laurie, and Laurie's red-headed tutor, Mr. Brooks, are off to an opera. Amy begs to go, but is informed by Jo not to be such a ninny-penny, and to stay at home and do her lessons in Algebra. Amy, furious, swears that she'll make Jo sorry. Upon returning from the opera, Jo is dismayed to see that Mr. Brooks and Meg are almost hanging upon each other. She dislikes the fact that Meg is growing up, and whisks her lovely sister away from the man abruptly.
On her way upstairs, she passes Amy, who is still sulking, and goes to write on her manuscript. But it's missing. Racing downstairs, she finds it burning in Amy's fireplace. With a shriek, she throws herself upon Amy, and a full-fledged war issues, after which Jo makes it clear that she'll never forgive the now-penitent Amy. However, time has a way of changing things, and after a terrible accident at the river, Jo must reexamine her thinking. Some time later, as Laurie is set to leave for collage, Jo discovers that Mr. Brooks has love intentions for Meg, and is appalled by the fact that Meg seems to like it. Their little squabble is broken up by the appearance of a telegram from Washington... Their father has been seriously wounded, and Mrs. March is strongly advised to go to him. She does so, leaving the house under the care of her little women. Unfortunately, things take a turn for the worse, and Beth falls under the power of scarlet fever. They are about to be put to the ultimate test, but whatever happens, the March family will remain a stronghold in one another through their faith, love, and happiness.
The touching saga of family, friendship, and growing up, Little Women is the ideal film for a wintry evening. It teaches many valuable lessons about pleasing oneself and writing from the heart, as well as providing an entertaining and even tear-provoking watch, and while it strays from the original novel slightly, it is still the best-loved film adaptation. Winona Ryder is much too pretty to play Jo, but makes the character vividly come to life with excellence. Claire Danes, Susan Sarandon, Kirsten Dunst, and Christian Bale are excellent supporting characters. The film itself is vivid and full of life, full of radiant costuming and delicate touches of life, as well as a stirring soundtrack, a mixture of romance, Christmas charm, and dramatic Victorian strains. Rated PG for no apparent reason, it's clean. There's no hint of impropriety or language, nor violence, and one must trust that the rating came from "mild thematic elements" such as the death of a side character, as well as a near-tragedy upon the lake, when one sister falls through the ice. It's charming, it's sweet, and it's a perfect romance, and I would recommend it in a heartbeat.