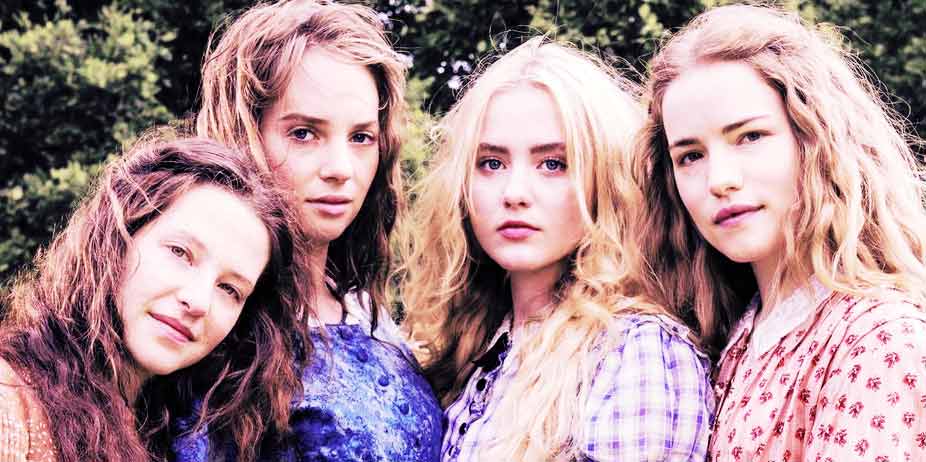 Little Women (2017)
Little Women is a difficult book to adapt, full of religious conviction and the four March sisters trying to overcome their flaws to attain a higher version of themselves. This is the first version to touch on but not delve deep into those struggles as it explores an old story anew.
Giggles fill the small room as four girls dance in the sunlight, and the door opens as Jo March (Maya Thurman-Hawke) brandishes the scissors from the kitchen. Snip, snip... and the March sisters send locks of their hair to their father, entrenched on the battlefield as Christmas settles a chill into Concord. When morning bursts upon them, Marmee (Emily Watson) comes home bundled from the cold to say she's just encountered poverty unlike she's ever seen before, in a local family without any breakfast. So, the girls give up their breakfast... and on the way, Jo meets the neighbor boy, Laurie (Jonah Hauer-King), who has just moved in with his curmudgeoney grandfather (Michael Gambon).
When the holidays end, the girls return to their usual routines with reluctance... Jo is off to tend grouchy old Great Aunt March (Angela Lansbury), Meg (Willa Fitzgerald) resumes her life as a governess to four small children, and Amy (Katheryn Newton) hastens back to the school where pickled limes are a forbidden treat. Homemaking and kitten-caring-for Beth (Annes Elwy), meanwhile, tries to muster the courage to cross the lane to play Mr. Lawrence's piano, as invited. But when Marmee receives an urgent telegram, their lives change forever on their quest to 'better themselves.'
Little Women is a book hard to condense into a short format, and for this reason, I question why the BBC allowed screenwriter Heidi Thomas (most famous for her brilliant Call the Midwife series) only three episodes. The first one has a wonderful pace even though it leaves things out (we're never told why Mr. Lawrence invites Beth to play his piano, and we never see the rest of the girls meet Laurie), the second episode feels like a stone skimming a pond (bouncing from small moment to small moment), and the third feels downright rushed, as we deal with Beth's diminished health, the birth of the twins, Laurie and Joe followed by Laurie and Amy, and Professor Bhaer. The series devotes almost no time to Jo's romance with Professor Bhaer; we skip from his visit to their home to years later with them running a boy's school. And, in that regard, I felt cheated. After almost three hours of Jo talking about how she'll never fall in love, and rebuffing Laurie's romantic advances, I did not get to see her fall in love, nor Amy and Laurie fall in love. Without the book context (and romances from previous versions), it feels a bit hollow.
I hate to point out its flaws, but when you bounce so much and never see the aftermath of anything, there's no payoff in emotional development terms; the first episode places great emphasis on their desire to better themselves, the second brings it up once or twice, and the third makes no mention of it, nor shows us how any of the girls have changed -- has Amy become less of a malicious brat? I don't know. Has Jo conquered her temper? I don't know. Has Meg learned to eschew pretty, expensive things for simpler pleasures? Given her marriage, one would assume yes. It feels like a problem with trying to cram four hours into three, so I blame the writer less than the format; Thomas has a knack for emotional depth and complexity, and she understands Jo March better than any adaptation I've seen. Her Jo is a tomboy through and through, who laments bitterly that being born a girl was life's greatest injustice to her, who struggles with her faith when Beth falls ill, and who philosophizes about how she both wants to be her old, more innocent and naive self, and does not want to let go of her current, more enlightened self.
The BBC knows how to provide a rich, luxurious backdrop and does so here; everything about the March girls' world feels lush and lovely, from their pretty-patterned dresses (and gloves stuck with lemonade) to the sunflowers that provide a symbol of their growth each season. The costumes are lovely, and the music is unusual, but has a twang that grows on you after awhile. The cast is marvelous, and I loved being able to spend more time with their father, a good-hearted, meticulous man with a few great one liners. There's depth in some of the conversations, thought-provoking ideas about life, growing up, moving forward, and leaving the past behind. It's good, but for me, it wasn't quite great.