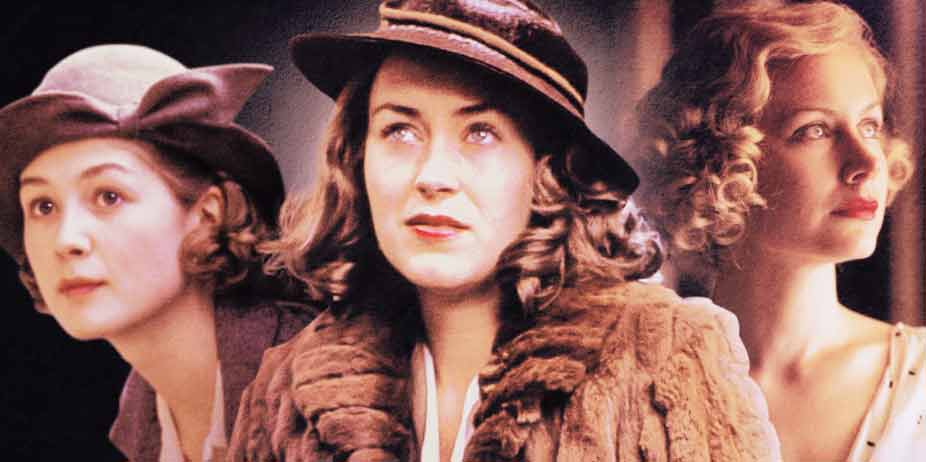 Love in a Cold Climate (2001)
Charming parodies of upper crust British life have existed for years, but Nancy Mitford's books are somewhat more cynical and nudge-nudge, wink-wink than most of them. This film adaptation of two of her best-selling novels follows the youthful exploits of distant cousins between the first and second world wars.
Abandoned by her promiscuous mother "The Bolter" (thus nicknamed for her tendency to bolt whenever a relationship becomes too tedious) at a young age, Fanny (Rosamund Pike) has relied on the love and support of her aunt and uncle and assorted cousins in order to see her through life. Now a young woman and facing the prospect of "coming out," she and her much loved cousin Linda (Elisabeth Dermot-Walsh ) are excited about the potential romance that will bring into their lives. The household is one of animal-loving chaos, with cats in every corner, chickens in the kitchen, and bunnies hopping through the front rooms. Most of the London socialites they encounter look down on country people, but Linda strikes the interest of a charming young man and is soon engaged, despite her father's (Alan Bates) protests. He doesn't approve of the German blood in his future son-in-law's ancestry.
Fanny is soon brought to another household, that of her childhood friend Polly (Megan Dodds). Having spent the last half dozen years in India in the company of her tiresome mother and her mother's friend and lover "Boy" (Anthony Andrews), Polly's evident disinterest in men causes her family no end of distress as one potential match after another is turned down flat. What ensues is a chaotic film of mixed relationships, troubling choices, and ultimate sarcasm. The wit really is wonderful because it's so obvious in the tone of the script. Everything about it screams blatant mockery, from the stiff upper lip of the socialites they encounter to the candid discussions on love. I enjoyed the film particularly in the first half, but the second half became bogged down in such mixed morality that it began to lose its appeal. Linda embarked on two adulterous relationships, and wound up the mistress of a known French philanderer.
While it is unclear whether or not Polly is sexually involved with Boy, he behaves very flirtatiously with the girls whenever their paths happen to cross. It's implied he gropes Fanny at a dinner party (his hand on her leg underneath the table). He eventually marries a woman less than half his age. A flagrantly gay character is later introduced and while he is probably the most likable character in the film, his outrageous flaunting of his sexual preferences is obvious. He references how cute other men are and, in a singular twist, the audience is left to wonder if he ran off with Boy. There are several blunt discussions on sex, and whether or not the British are too "sexually repressed," but nothing is actually shown except Linda basking in the "glow" with Alfred on several occasions. (He invites himself to her hotel room in Paris, and they kiss before the scene fades out.) Fanny is the only one to sustain a trusting, loving, honest relationship.
There is not much language aside from a few mild profanities and a couple abuses of deity, nor is there much violence, although audiences may be distressed at the sight of a bunny drowning (he is heroically rescued in a young man's attempt to win Linda's approval). I thought the wit and charm of the production was first class, but was disappointed that its sarcasm strayed into adulterous relationships and homosexuality. Though completely tongue in cheek, it makes for muddy waters for family navigation. The cast was brilliant and it reminded me a little bit of I Capture the Castle in terms of eccentricities, but it failed to live up to my expectations.