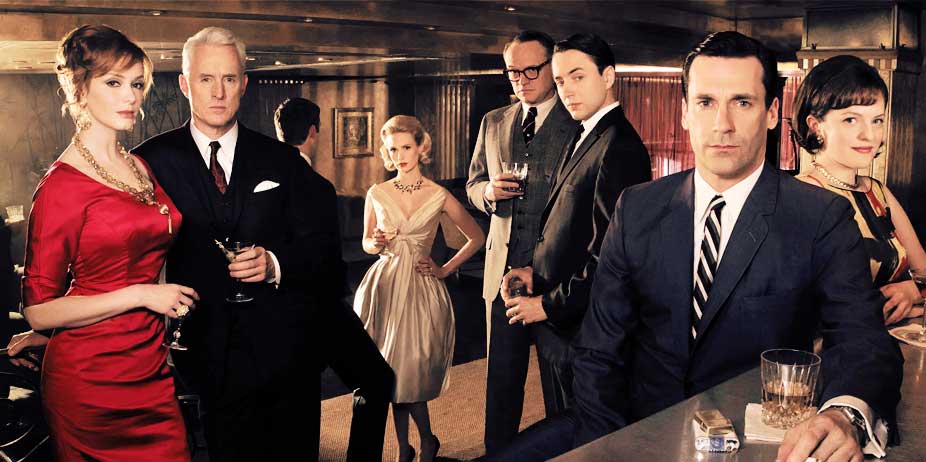 Mad Men, Season Two (2008)
One of the most clever shows on television, Mad Men's second season carried us further into the intrigues of the 1960's on Madison Avenue.
It's been several months since Peggy (Elisabeth Moss) returned to the advertising office where she is the first female copywriter, and everyone wonders what happened to her during her sabbatical. No one knows that she has squirreled away her illegitimate son in the home of her mother, or that she pays infrequent visits "home" to look in on him. There are rumors circulating about her among her mother's friends, but that does not seem to dissuade the interest of the local priest, Father Gill (Colin Hanks), from extending a hand of friendship and enlisting her assistance in writing advertisements for the church social. Peggy manages to squeeze it in-between her work responsibilities, aware that the head office manager, Joan (Christina Hendricks), is keeping a critical eye on her. Then too she must keep up with "the boys" -- most especially the enigmatic and brilliant Don Draper (John Hamm), and the newly married and ambitions Pete Campbell (Vincent Kartheiser), with whom she shared a brief romantic liaison.
Pete is contending with the recent death of his father due to an American Airlines crash, and Don is dealing with the aftermath of his many adulterous affairs. His wife Betty (January Jones) is interested in returning to her former profession as a model but also has a few doubts about her husband's fidelity. Then too, the firm is hoping to land some of the biggest clients in the industry -- including American Airlines. Playing out in the backdrop is the political changes of the times as well as the suicide of well-known actress and icon Marilyn Monroe. The strength of the series lies not with the characters, most of whom are unlikable and immoral, but with the history presented -- it's a study of culture and society within the early 1960's that explores the positives and negatives of the time. The chauvinism, sexism, and carelessness that went around hiding beneath charming smiles and strands of pearls. The most shocking instances are dramatic cultural clashes that reveal how much our culture has changed -- such as Betty not being concerned that her daughter is running around with a plastic bag on her head, or carelessly leaving napkins, paper plates, and disposable forks strewn all over the park after a picnic. It's fascinating to see what goes into planning an ad campaign, whether it is for a new brand of lipstick or a particularly clever lingerie poster that ties into popular celebrities.
The costumes and sets, the antique cars and picturesque neighborhoods, are all perfect -- but concealed beneath is a darker tone that reveals not all is as it appears. Housewives are bored and petty, husbands are notorious philanderers and sometimes blatant racists. It's an era in which sexual harassment is expected and women just live with it. In that respect, the series is fascinating, but difficult to recommend due to its emphasis on adultery. Many of the men in the firm are "seeing" other women, while their wives live in oblivion at home -- including Don, who is rather indiscriminate with his partners. We get the sense that he is "trying" to remain faithful to Betty and just failing miserably at it. Pete meanwhile has no problem meeting a girl in the elevator and going home with her -- even if he has a pretty little twenty-something wife waiting for him with a hot meal in her hand. Betty "sets up" a friend with a charming man at the stables and then is scandalized to find out later an affair resulted from it (well, what did she think would happen?).
Most of the sex is implied but there are three scenes that include movement (often, we see passionate making out, rolling around, undressing, and hands going up under skirts). One of the most shocking scenes involves a man raping his fiancée. It's not especially visually graphic, but the implication and the fact that she just "gives up" and allows him to do whatever he wants is emotionally disturbing. A man leaves his wife for a much younger woman in the office. There is some conversation about illegitimate children. Pete and his wife attempt to have children and visit a fertility clinic, which features some anatomical sketches on the walls. He is encouraged to give a "sample" and is shown glancing through some supplied girl magazines. One episode takes place in a strip club in which a busty woman dances around wearing only pasties on top. Other revealing garments, including lingerie, are shown on various main characters; once a woman's bare back is shown when she removes her bra. Homosexuality is explored in two episodes -- one of them is very subtle but leaves the impression that a character might trend in that direction; in "The Jet Set," a coworker reveals he is a homosexual. His associates are rather shocked by it. Other cautions involve a difficult episode in which Betty must deal with the grief of having her father succumb to the early stages of Alzheimer's (he forgets who she is and propositions her, while grabbing her breast), some scattered profanities, and a half dozen abuses of Jesus' name. A woman contemplates having an abortion (and decides against it).
It's rather a tiresome series in that I find it difficult to root for anyone, simply because just when you start to like a character, it seems as if they do something obnoxious. The introduction of Father Gill for three episodes was lovely, because it allowed an appearance of genuine faith as well as gave us a good man to respect. It's a thought-provoking look into a bygone era, and from what I understand, highly accurate for the time period and that particular profession, but all the same, so frequent of adultery isn't really to my taste.