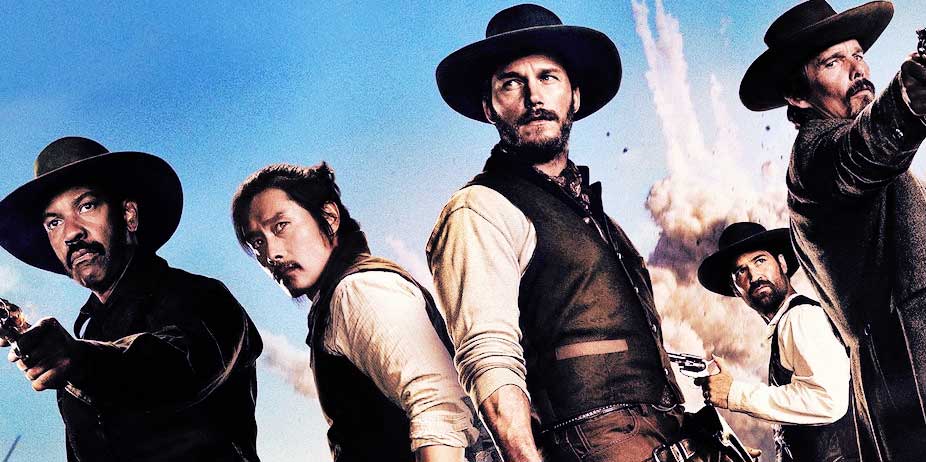 The Magnificent Seven (2016)
Reviewer: Gabriel Mohler
The Magnificent Seven is one of the best films of 2016. The title is well-earned by its smoldering cast (including two professing Christian actors, Denzel Washington and Chris Pratt), and director Antoine Fuqua has pulled off several feats with this film. First, he has redeemed himself from some of his more recent movies, like the forgettable Southpaw and the low-grade Olympus Has Fallen. Second, he has masterfully brought the western genre back to the big screen, leaving last year's The Hateful Eight in the dust. Thirdly, he made a remake that didn't stink—no, it didn't do everything better than the original, but it holds up worthily. And fourthly, this is probably his best film.

Many will see this film for Denzel Washington, Chris Pratt, and Ethan Hawke. But the not-so-famous actors give just as outstanding performances as these three. Vincent D'Onofrio, who most viewers will know from Jurassic World, plays a very emotional backwoodsman who has endured a lot throughout his years. This character is a devout Christian who is constantly heard praying and quoting Scripture, even in the midst of battle scenes. Byung-hun Lee, Manuel Garcia-Rulfo, and Martin Sensmeier are excellent representatives of their diverse characters as Chinese, Mexican, and Native American. Matt Bomer also has a brief, but memorable, appearance at the beginning. Haley Bennett steals every scene she is in, playing a grieving but strong woman whose husband was murdered. This is what causes her to hire the seven men to defend the town from a gang trying to take over it.

While the plot is quite simple, there is strong character development and contemplative discussions about how all the warriors feel about what they're doing. These things don't drag the film out unnecessarily, and the well-paced action flares up the screen in satisfactory time. My recommendation of this film does not come without caution. This is essentially a war movie. Sure, the war is fictional, it's confined to a single town, and it only lasts one battle. But it's a war nonetheless—an army against an army. Not all the protagonists are angelic heroes. Some of the recruits join for self-serving reasons, and a few are initially murderous outlaws. Chris Pratt's character is a sort of cowboy version of Han Solo—part womanizing, drinking gambler, and part heart of gold who wants to help people. However, the more these men work with the Godly heroes, the more they consider their own lives that they are about to risk for a righteous cause.

Several poignant scenes that take place in a church, such as when the seven men are encouraged to get right with God before going to battle. SPOILER ALERT—At the end, when the bounty hunter catches the ringleader, he takes him to the church and tells him to pray before his execution—END OF SPOILER. There are a few references to revenge, but the violent battle at the end is a necessary means to protect the innocent town. I also appreciated the film's realistic approach to war. This isn't one of those films where all the good guys survive because the bad guys can't shoot straight. No, good guys and well as bad guys die here.

This film definitely lived up to the rip-roaring, rollicking fun I expected, but was also more thought-provoking than I expected. And though there is some objectionable content here and there, I was very pleasantly surprised by the amount of Christian faith displayed. The Magnificent Seven is a magnificent movie!

Sexual Content:
The sexual content is all implied, and there is very little even of that. A few innuendos are made, and we see a few women that are apparently prostitutes (sadly part of the time period), but there is no explicit content or excessive immodesty. We also get a glimpse of a woman's cleavage as she bends over her husband, who has just been shot.

Language:
There are several utterances of the usual language you'd expect from a period-accurate western. D**n and s**t are probably used about five to ten times, and there are some misuses of God's name, as well—although sometimes it's hard to tell whether they're actually misusing it or crying out.

Violence:
The violence stays within its PG-13 boundaries, but on the heavy side. Almost every weapon of the period is used, from tiny Chinese darts to dynamite. There is very little blood, but that is made up for by a high body count.