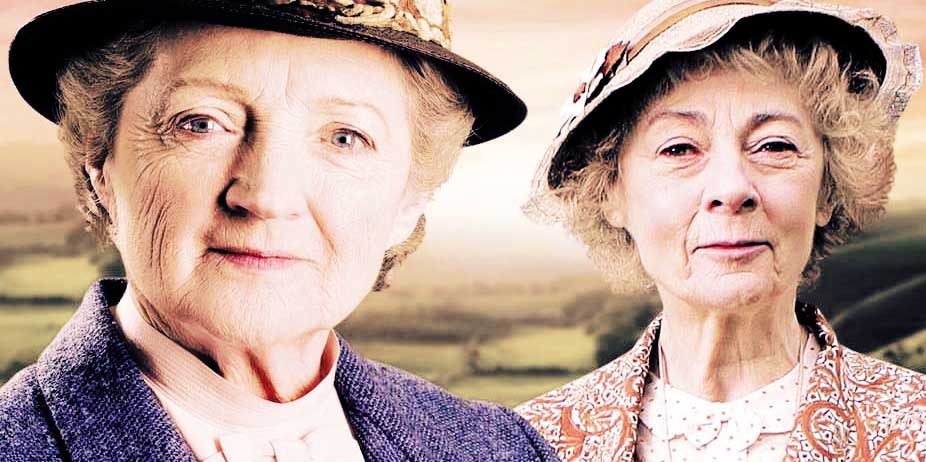 Marple: The Pale Horse (2010)
Reviewer: Rissi C.

Miss Jane Marple has become something of a dear, familiar character at my house. At first I was really skeptical about trying Marple because of the politically correct content but I've found that I can overlook it in favor of a generally good mystery and a fantastic gathering place for all British talent to appear on-screen in the same place. If you haven't yet seen your favorite Brit star, chances are likely at one point or another, you will.

A woman's dying confession to her priest is a list of random names that mean nothing except to her. Not realizing what he possesses but a caution man regardless, the priest mails off the list in a letter to a dear friend and is then murdered on the streets of London. Nestled in the quiet village of St. Merry Mead is Miss Jane Marple (Julia McKenzie) who is the one on the receiving end of the letter. She hasn't a clue as to why her friend sent her the list or what it means but she is about to find out when she reads the newspaper for the following day reporting the news of his tragic death. Realizing that there must be a reason behind this, Miss Marple heads off to the boarding house where he was summoned for the woman's confession and meets the woman's neighbor Paul Osbourne (JJ Feild). Looking through Mrs. Davis' room, Jane discovers the same list tucked inside her shoe, presumably for safe-keeping and a piece of note paper with the letter head of "The Pale Horse." With an obligation to get Father Gorman some justice, off Miss Marple heads to discover just what The Pale Horse is.

It is in fact a small rooming house run by three mysterious women, Bella (Jenny Galloway), Thyrza Grey (Pauline Collins) and Sybil (Susan Lynch) who their neighbors refer to as witches. Their only guests at present include locals Mr. Venables (Nigel Planer), a cranky man who lost the use of his legs to polio and Captain Cottam (Tom Ward), his wife Kanga (Holly Valance) and their housekeeper since their own home is undergoing construction work. When the captain mysteriously dies in his bed, Jane begins to suspect foul play. Despite the odd happenings at the inn and strange whispers, without solid proof that the women are doing anything illegal, Miss Marple must enlist the help of Mark Easterbrook (Jonathan Cake), an old friend of the inspector (Neil Pearson) and the newcomer Ginger Corrigan (Amy Manson). But if she isn't careful, she just may end up one of the killer's victims.

Oddly enough in the U.K., this was one of the four telefilms comprised of Marple's series five but during the later American airing and subsequent release on DVD, they chose to hold this one back for this past year's Masterpiece Theatre season, and just this winter released it as a single episode of the series. What this 2-disc set does include is not only this, the re-make of The Pale Horse but also the old version which is merely an Agatha Christie story that has nothing pertaining to Miss Marple. It was really entertaining to see the parallels writers drew between the two, and they did a really good job bringing those to light. Overall I think I preferred the remake and not just because of production values but because I was under the impression that Miss Marple was going to be a player in the older version – imagine my surprise when after forty-some minutes she still didn't appear! This re-make didn't impress me as much with its cast listing because apart from JJ (Northanger Abbey), I didn't recognize the names like I had before even though some of the faces seemed familiar. Still, the acting was phenomenal with seasoned performers that wove a good mystery with a surprise twist or two along the way.

Little content in intrudes in comparison to prior shows but there is an extra-marital affair (we see one scene of the two in bed together). Something of a supernatural theme is incorporated through a scheme that promises by setting a spell on someone, a person can solicit a murder without actually getting their hands dirty (the murderer must place a "bet" and then a curse is put on the victim). One séance-like scene is present as a woman summons spirits (she was supposedly naïve about the impact of her part – she thought it was all a joke). Even with its few flubs and mistakes, this is a solid addition to Marple. It has a lot going for it and I admired its capabilities to create a story that wasn't afraid to deviate from the older version. It didn't wind up being my favorite script of the bunch but I thoroughly enjoyed it.