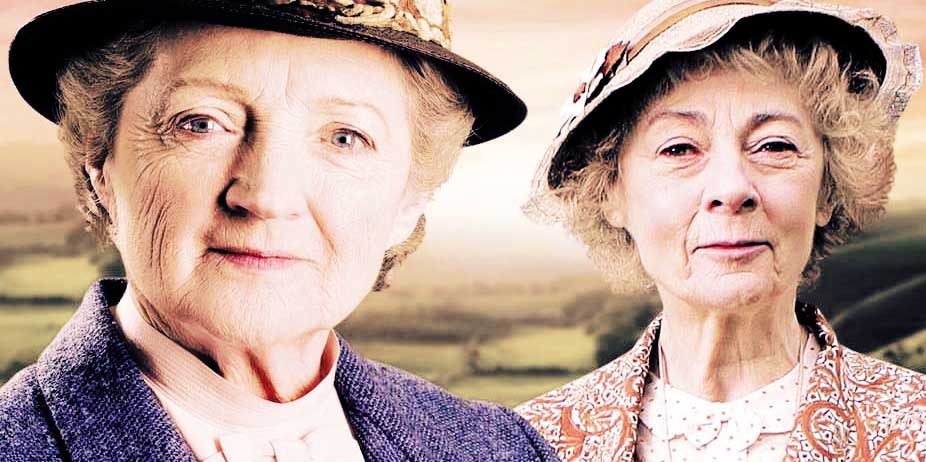 Miss Marple, Season Six (2013)
Reviewer: Rissi C.

Conflict surrounds these remade versions of Agatha Christie's series thanks to drastic changes from the book and the BBC introducing political correctness and modern ideals on previous eras. Thus far, neither issue has made me pull away.

Taking in the air in the Caribbean is just what the doctor ordered, so that's what Miss Jane Marple (Julie McKenzie) does. Indulging in a long stay at a resort, Jane is acquainted with her fellow guests, including an elderly Major (Oliver Ford Davis) whose loneliness makes him eager to reminisce about his days in the war with anyone who will listen – that person is most often Miss Marple. The owner of the resort, Molly Kendal (Charity Wakefield) – along with her husband, Tim (Robert Webb), hasn't long been the proprietor of the business her parent's ran and is keen to make a good impression on her wealthy clientele – even if that means some of the male guests mistake her kindness for flirting.

Among the guests are a free-spirited American couple (Charles Mesure, MyAnna Burning) and British couple (Alastair Mackenzie, Hermione Norris) who clearly share more just a supposed friendship, and a young artist turned priest. Then there is the staff – when a maid (Pippa Bennett-Warner) is found murdered by Molly, suspicion falls on the poor girl. Her guilt is made to look worse when it begins to look like she is going crazy, a fate Molly has feared considering her family past. But with Miss Marple waiting in the wings, there is a mystery to be solved and secrets to come to light.

Oddly enough the reactions to all three of these episodes could be very different. I know mine were. I felt like the first installment (A Caribbean Mystery) started off too slowly for its own good and by the time things ramped up, it was too far into the mystery to really give good storytelling (though there is a snazzy reference to the inception of James Bond); this was not so with the second episode (Greenshaw's Folly' which I adored (although this could have stemmed from my love of its cast, it seemed more than that). Then comes the "finale" titled Endless Night. This is probably the oddest episode I've seen yet, but its script is intoxicating! It pulls you in and makes you doubt your initial assumption, weaving back and forth between outcomes while hoping for the best. It's made all the more convincing by its cast.

This season is chocked full of guest stars -- including Joanna Vanderham (The Paradise), Kimberly Nixon, Tom Hughes (The Lady Vanishes), Joanna David, Fiona Shaw, Julia Sawalha (love seeing this Pride and Prejudice alum in anything) and Charity Wakefield from the BBC miniseries, Sense and Sensibility. There is probably no recognizable British talent that hasn't shown up in this series at some time or another and the current season (coming to ITV Summer 2014) is no different. Those who are fans of this "modernized" version of Agatha Christie's lovable sleuth will find more sensational drama at hand. The atmosphere is fabulous with settings that are beautifully indicative of the era (the 40's) and costuming that rises to match that. Fans of BBC mystery or Agatha Christie will find a solid set of installments in this latest Marple series. They're all parts fun detective mysteries and terrifying, which is what keeps things interesting!
Sexual Content: Episode one reveals two extra-marital affairs (as does episode three) and shows an unmarried couple talking in bed together. There is scene of a couple in a state of undress.   
Violence:
Multiple people die in the three episodes though the camera rarely shows much graphic – people drown, are stabbed or shot, someone is poisoned, another suffers a fatal fall and another has their neck sliced open.