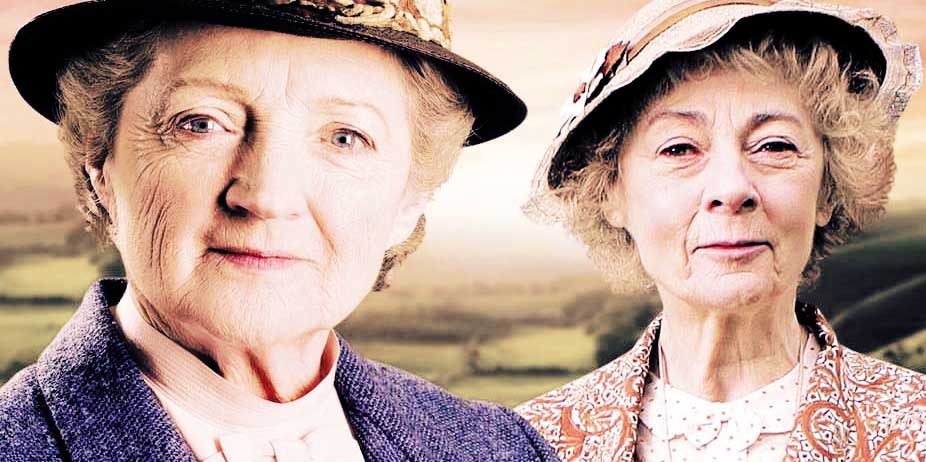 Miss Marple, Season Three (2006)
Reviewer: Rissi C.

A guest staying at the wealthy Tressilian family summer estate regales fellow guests with a chilling story of a past accident involving two children. The child is now grown and was acquitted of any wrong doing and, subsequently the possibility of murder but Fredrick Treves (Tom Baker) claims that thanks to a distinctive physical characteristic, he can identify this person. The other guests of Lady Camilla Tressilian (Eileen Atkins) include her former ward, Neville Strange (Greg Wise) and his wife Kay (Zoe Tapper); his ex-wife, Audrey (Saffron Burrows), her childhood friend, Tom Royde (Julian Sands) and Lady Tressilian's old school friend, Jane Marple (Geraldine McEwan). By profession, Neville is a tennis pro who still professes love for Audrey despite his affair with Kay being the cause of their failed marriage. Jointly, Audrey and Neville are the heirs to the Tressilian estate and its fortune, having been married at the time the will was drawn up… but having arranged the entire get-together between his two wives wishing them to be "friends," he causes intentional friction between them and the woman who basically raised him. And drives Kay closer to her former fiancé, Ted Latimer (Paul Nicholls) staying as a guest at a nearby hotel.

When two murders are committed and a frame-up is revealed, it's up to Miss Marple and police inspector, Mallard (Alan Davies) to put the pieces together. Anyone willing to overlook a few minor hiccups here and there will discover these puzzling enigmas as some of the finest series to grace the small screen. Of the four mysteries associated with series three, only one was more of a drag. Towards Zero is as clever as the rest of them in its execution, number of suspects and plot threads, but this time around, the killer had a deranged sense of justice… and love. Granted, it would be thought unnatural if the killer was made sympathetic since normally, you do not wish to like or relate to anyone turning out to be a culprit capable of murder but most of the previous set placed some semi-likable or at least "normal" persons in those roles. Because of the change in direction, thematic elements can leave shivers of uncertainty. Two of the four murderers are psychologically ill. One has a skewed idea of love and the other had no motive for murder – she claimed to have "loved" her female victim. Whether it was meant as more than mere fondness or went beyond that is unknown – the victim had planned to leave with another. Similarly in At Bertram's Hotel, eyebrows may be raised at two young ladies who stay together; they seem devoted to the other's well being and eventually admit, they would do anything for their future happiness. Neither case depicts anything physical or otherwise suggestive.

Social drinking is a large part of all the character's evenings. Distorted shots in filming sees the murders, as do flashbacks. They are committed with various motives and by different avenues; strangling, poison, gunshot wounds, etc. The most "graphic" was probably a bludgeoning; though the camera shows little of the actual murder, the body is on camera a handful of times. Little to no profanity is used. Every nuance bantered about in the writing, all the details that add up to one stupefying mystery is some of the most ingenious ever. There are some quips that make you laugh out loud, some that are poignant and others that are plain chilling. The finale, Ordeal by Innocence, is not the best in the lot because nearly all the characters are unlikable. Each are harboring secrets or hatred of anther person. It is really too bad because in all other regards, it is one of the best in terms of suspense and the cast. But no matter what, Marple offers a little something for everyone including popular British stars: Francesca Annis, Richard Armitage, Dan Stevens, Jane Seymour, Denis Lawson and Ruth Wilson, among others. And even better, each episode doesn't just have one big name, there are several! Once again, Geraldine is fabulous as Miss Marple; with a twinkle in her eye, some rambling facts that somehow fit together to make perfect sense, and a keen sense of observation (even when everyone thinks her silly), with Miss Marple on the job, the mystery won't be such for long.

The filming is appealing, setting the right mood for whatever a scene should require; whether feeling sadness or happiness or a petrifying fright. All those creaking stairwells and dreadful howls are there for a reason as is each insignificant piece of paper. Sometimes the mysteries' can seem to be "boring" – before you wonder at that, the only reason being that, as a viewer, we are near to bursting to uncover the "why, who and what" which of course, has to last till credits roll! Otherwise there might not have been a story at all. There is always murder and mayhem around the corner for the most unlikely detective.